With Windows 11, Microsoft made the decision to preinstall Microsoft Teams on the OS, making it even more accessible to users straight out of the box.  By default, Microsoft Teams is configured to launch automatically when you start your Windows 11 machine. While some find this feature handy, others consider it a tad intrusive or unnecessary, especially if they don't use Teams regularly. If you're one of those who'd like to prevent Teams from starting on startup, you're in the right place. This guide will walk you through the process of stopping Microsoft Teams from starting automatically on your Windows 11 computer.
Also see: How to Disable Startup Programs in Windows 11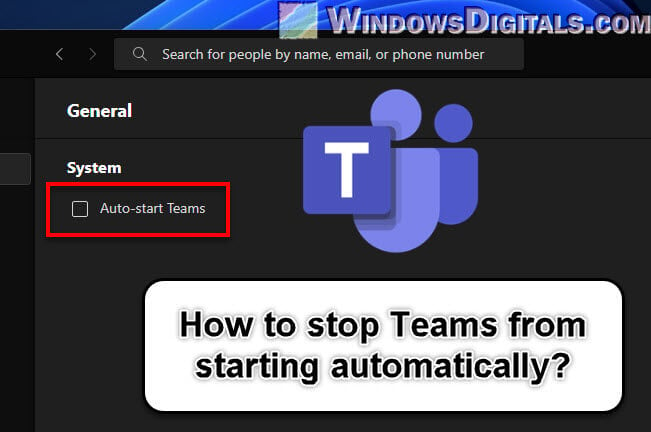 Method 1: Stop Microsoft Teams from starting automatically via its settings
This is perhaps the most straightforward method and involves tweaking some options within the Teams app itself. If you have Microsoft Teams already running, this would be an excellent place to start.
Open Microsoft Teams. If it's already running, you'll likely see it in your system tray. If not, search for "Microsoft Teams" in the Windows start menu and launch the application.
Once the application is open, click the three-dot icon next to your profile picture in the top-right corner. This will open a dropdown menu.
From the dropdown menu, click on "Settings".
In the Settings window, go to the General tab (it should be the default view).
Here, you'll find an option labeled "Auto-start application". Uncheck this box.
Close the Settings window. From now on, Microsoft Teams will not start automatically when you boot up your Windows 11 computer.
This method is recommended for those who just want to stop Teams from auto-starting but still plan to use it occasionally. It ensures you don't disable or uninstall any critical components.
Related resource: How to Unpin Chat From Windows 11 Taskbar
Method 2: Disable Teams as startup program using Task Manager
The Task Manager is a powerful built-in utility in Windows that provides detailed information about computer performance, running applications, and startup impact of programs. It's another effective way to control which apps boot up with your system.
Press CTRL + SHIFT + ESC together on your keyboard to open the Task Manager. Alternatively, you can right-click on the taskbar and select "Task Manager" from the context menu.
Once the Task Manager is open, navigate to the "Startup" tab.
Here, you'll see a list of all the applications that are set to start when your computer boots up. Look for "Microsoft Teams" in this list.
Once you've located Microsoft Teams, click on it to highlight or select it.
In the top-right corner of the Task Manager window, you'll see a button labeled "Disable". Click on this button.
By doing this, you've stopped Microsoft Teams from being a part of the startup sequence. It won't launch automatically the next time you start your computer.
This method is particularly useful if you're trying to improve the overall boot time of your PC, as you can review other applications in the startup list and disable any unnecessary ones.
Useful tip: How to Disable or Remove OneDrive From Windows 11
Method 3: Prevent Teams from starting automatically using the Windows Settings
With the evolution of the Windows operating system, many features once buried deep within system tools have become more accessible through the main Windows Settings interface. Stopping apps from auto-starting can also be managed via the Settings in Windows 11.
Click on the Start button (or press the Windows key) to open the Start Menu.
Choose "Settings" from the list of apps or search for it in the search bar.
In the Settings window, select "Apps" from the left sidebar.
Now, click on "Startup" under the Apps section.
A list of apps that are permitted to start upon system boot will appear. Browse through this list to find "Microsoft Teams".
Once you locate Microsoft Teams, you'll notice a toggle switch beside its name. Turn off this toggle to prevent Teams from starting automatically.
It's important to note that the Windows Settings interface offers a user-friendly way to manage startup applications. It provides additional details, such as the impact level of each startup app on the boot time. This can be useful for users looking to optimize their system's performance.
Handy guide: How to Know Which App is Using The Internet in Windows 11
Tip: Setting Microsoft Teams to "Away" when not in use
While you may have disabled Microsoft Teams from starting automatically, there might be occasions when you have it running but don't want to appear online or get frequent notifications. Setting your status to "Away" or "Do Not Disturb" can be a handy solution, especially when you're focusing on other tasks.
Open your Microsoft Teams application.
In the upper-right corner, click on your profile picture.
From the dropdown, hover over the "Set status message" option. This will further expand to show you various status options.
Here, you can choose:

"Available" when you're active and okay with interactions.
"Away" when you're not actively using Teams.
"Do not disturb" when you don't want to be interrupted by notifications.
"Be right back" if you're stepping away for just a moment.
"Appear offline" if you want to work in Teams without displaying online activity.

To automatically set your status to "Away" after a certain period of inactivity, go to "Settings" > "Status" and adjust the "Reset status after" setting.
Final thoughts
That wraps up our methods on how to prevent Microsoft Teams from auto-starting in Windows 11. Depending on your preference and comfort level with various system tools, you can choose the method that suits you best. Remember, it's always a good idea to regularly review and manage your startup apps to ensure your system boots swiftly and runs smoothly.