Nearby Sharing is a new feature first introduced in the Windows 10 April 2018 Update version 1803. It allows you to share photos and videos across devices and computers directly from the photo app. This post explains why is the nearby sharing Windows 10 not working and how to fix it.
It's been awhile since the feature was live. There are already lots of cases complaining about nearby sharing Windows 10 does not work as expected for some users. The major problem being people don't understand how it works and what it needed to work. Listed below are what you need to know about the nearby sharing Windows 10 not working problem.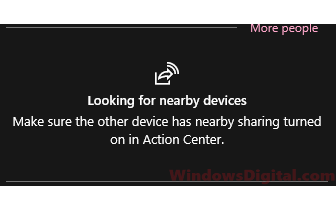 Fix: Nearby sharing Windows 10 not working
To fix any issue related to nearby sharing in Windows 10, we first have to understand how it works and what kind of connections it supports.
Well, the nearby sharing in Windows 10 will work on one of these conditions.
Computers or devices have to be connected to the same network either via Wi-Fi or Ethernet LAN cable.
Computers or devices are connected to each other via Bluetooth.
The user whom you want to share your photos with was added as a friend (people) in Windows 10.
Files can be shared via apps such as Facebook, Instagram, Line, OneDrive, Skype and Twitter.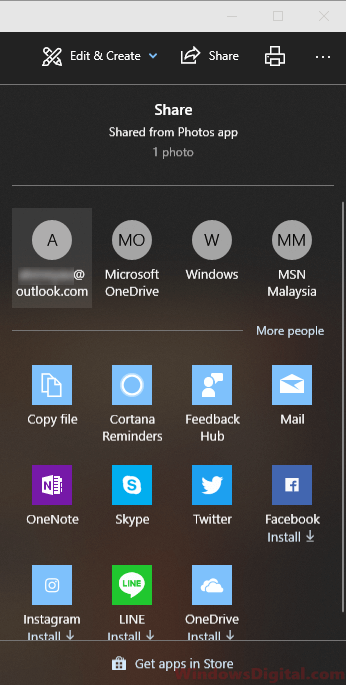 If you're sharing via home network, Bluetooth or through added people, both computers have to be running on Windows 10 April 2018 update version 1803 or later.
So, before you troubleshoot the nearby sharing Windows 10 not working issue further, make sure the conditions are met so that the devices can be found under the Share option.
Enable nearby sharing in Windows 10
By default, the nearby sharing is turned off in Windows 10. You will have to turn it on before your device can be found by others in the network, or to be able to share files with others.
Here's how to enable nearby sharing in Windows 10.
Go to start menu.
Click on Settings (gear icon on the left).
Select System.
From the left pane, select Shared experiences.
Under "I can share or receive from" drop down menu, select Everyone nearby.
Other computers or devices should then be able to find your device on the sharing option. Also, make sure the computers you want to share your files with have this option changed to Everyone nearby.
Enable Bluetooth on both computers
If you want to share via Bluetooth, make sure Bluetooth is enabled on both computers or devices and correctly paired with each other.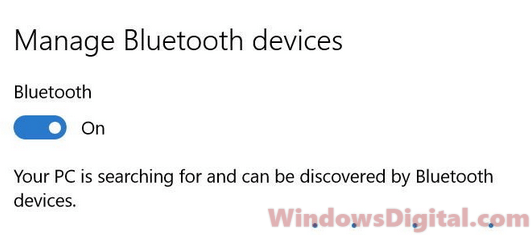 Besides, Microsoft has stated that the Nearby Sharing feature will only work for devices that support Bluetooth version 4.0 or later.
Though this shouldn't be an issue, but also make sure the two devices are close enough for them to be detected by each other via Bluetooth.
Change Network Profile to Private
If you're connecting via Wi-Fi or LAN to a home network, make sure the network profile you've selected is Private. If you choose Public, your PC will be hidden from other devices on the network and cannot be used for printer and file sharing.
Right-click the network icon on your task bar, then select Open Network & Internet settings.

Under network status, click on Change connection properties. Make sure both computers or devices have the Private selected instead of Public.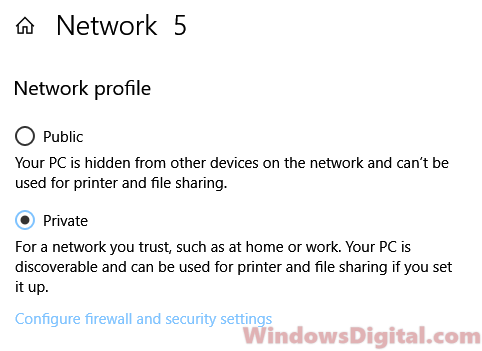 Private is for network that you trust, such as your home or work network where device discovery is allowed for printer and file sharing in the network. Public, on the other hands, is recommended when you're on a public network such as Wi-Fi in the airport, internet cafe, or a restaurant.
By changing it to Private, it allows discovery by other computers in the same network, thus, allowing Nearby Sharing in Windows 10 to work.