For many users, Microsoft Office 365 has been an integral part of their daily tasks, offering a suite of tools that optimize workflows. However, as with any software, occasional issues in the system can pose challenges. One such recurrent issue that has been a thorn in the side of many users over the years is the dreaded "Something went wrong [1001]" error when you open an office app, particularly Outlook. This error, seemingly appearing out of the blue, can disrupt tasks and waste valuable time. This article aims to provide a comprehensive guide to understanding and resolving the Microsoft Office 365 Outlook 1001 error.
Linked issue: Microsoft Edge "Something went wrong, but we resolved it"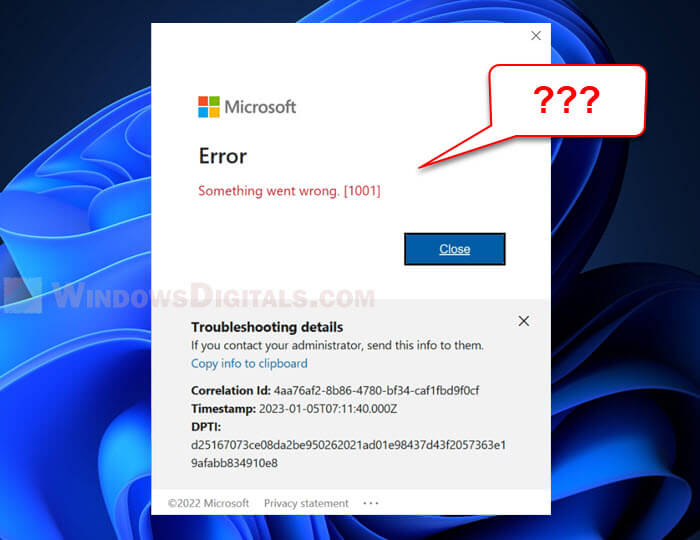 A brief overview of the Microsoft Outlook 1001 Error
The "Something went wrong [1001]" error in Microsoft 365, particularly with Outlook, often manifests without any clear trigger. For many users, the problem appears sporadically, adding to the frustration. The underlying cause can vary, but it's typically linked to issues with account authentication or corrupted cache files.
While Microsoft has been aware of this issue, with multiple patches and updates released over the years, the problem still persists for some. Understanding the root causes can help in pinpointing the right solution and ensure that the error is not only resolved but also prevented from recurring in the future.
Authentication issues: The most common cause is related to authentication problems, especially if users have recently changed their password or have multiple accounts connected.
Corrupted user profile: Sometimes, a corrupted user profile can lead to this error. The data associated with the user's profile might have inconsistencies causing Outlook not to open correctly.
Registry key conflicts: Certain Windows registry keys related to Office 365 might conflict with the application's smooth functioning. If these keys are corrupted or have incompatible data, it can trigger the error.
Third-party software interference: Third-party software, especially security applications, might interfere with Office 365's algorithms and performance, leading to such issues.
Server-related problems: If you're using Outlook in a terminal server environment, there might be specific server-related configurations or issues causing the error.
Also see: How to Check Office 365 User License Using PowerShell
How to fix the Microsoft Office 365 Outlook "Something went wrong [1001]" error
In the subsequent sections, we'll break down a step-by-step approach to resolving the Microsoft 365 Outlook 1001 login error.
Step 1: Close all Microsoft 365 applications
Before making any changes or troubleshooting, it's imperative to ensure all Microsoft 365 applications are closed. This includes Outlook, Word, Excel, PowerPoint, Teams, and any other application associated with the suite. Closing these applications will ensure that any changes made will be effective upon restarting.
Save any unsaved work to avoid potential data loss.
Navigate to each open Microsoft 365 application.
On the top right corner, click the X or go to File > Exit to close the application.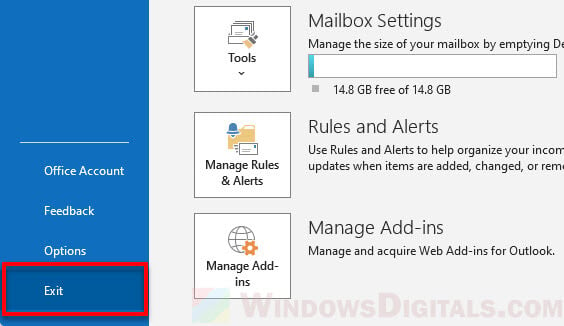 Step 2: Sign out of your Microsoft account from any 365 app
Now, you will need to reopen one of the 365 apps and sign out of your Microsoft account, in order for the subsequent steps to work.
Open a Microsoft 365 application, such as Word or Excel.
Go to File > Account.
Under the "User Information" section, click Sign Out.
Confirm any prompts to fully sign out.
Once you've signed out, it's recommended to restart your computer before proceeding to the next steps. This ensures that all changes are applied correctly.
Step 3: Delete "IdentityCache" and "OneAuth" folders
Corrupted cache files can be a culprit behind the Outlook 1001 error. By navigating to a specific directory, you can delete the IdentityCache and OneAuth folders, which are known to store cache files for Microsoft 365.
Press the Windows key + E on your keyboard to open File Explorer.
Navigate to C:\Users\<username>\AppData\Local\Microsoft, replacing <username> with your actual username.
Locate the IdentityCache and OneAuth folders.
Right-click on each folder and select Delete.
Confirm any prompts to fully delete the folders.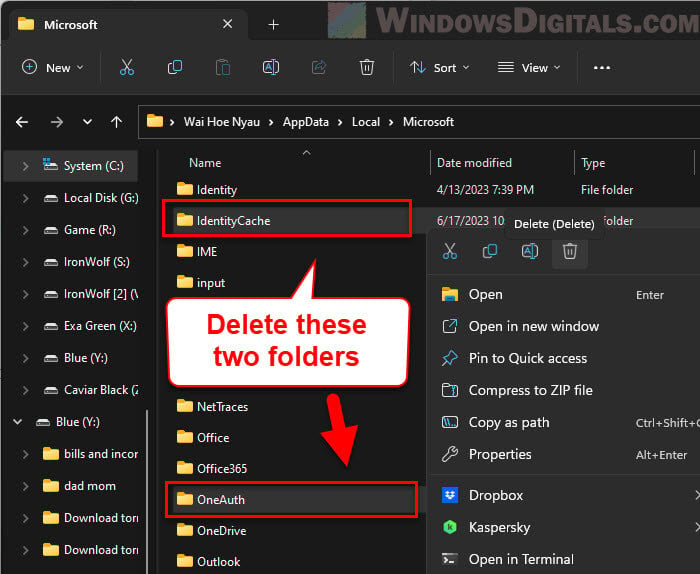 Step 3: Clear cached credentials
Cached credentials can sometimes become corrupted or outdated, leading to authentication errors. Clearing these credentials can often resolve such issues, allowing for a fresh start when logging back into Microsoft 365 applications.
Press the Windows key + R on your keyboard to open the Run dialog box.
Type control and press Enter to open the Control Panel.
Ensure the view is set to Small icons and locate and click on Credential Manager.
Under the Windows Credentials section, look for any entries related to Microsoft or Office.
Click on each entry and select Remove or Delete.
Confirm any prompts that appear during the removal process.
After completing these steps, it's crucial to restart your computer once again. This ensures that the changes take effect and prepares the system for a fresh login to Microsoft 365 applications.
Step 5: Locating and deleting specific files
Now we'll need to delete a specific folder called Microsoft.AAD.BrokerPlugin_cw5n1h2txyewy that may also be one of the culprits causing the Outlook 1001 error. Before moving ahead, it's crucial to know that you'll need administrator access to successfully navigate and delete the specific files. Here's what to do:
Log off from the current user profile on your computer.
Now, log in as an administrator. This is essential because there's a specific folder that can't be deleted by standard user accounts.
Once logged in as the administrator, open Windows Explorer.
Navigate to the following directory:

C:\Users\<username>\AppData\Local\Packages

Note: Replace <username> with the actual username of the person experiencing the issue.

In this directory, find and delete the folder named:

Microsoft.AAD.BrokerPlugin_cw5n1h2txyewy

After deleting the folder, log off from the administrator account and log back in using the affected user's credentials.
Step 6: Deleting the Outlook profile
This is an important but sensitive step, so ensure you proceed with caution:
Warning: Before proceeding, ensure you do not have any locally stored accounts in Outlook. Deleting the Outlook profile will remove all data associated with it. Make sure to back up any important data before proceeding.
Navigate to the Control Panel.
Locate and click on the Mail (Microsoft Outlook) option.
A window titled "Mail Setup – Outlook" will appear. Here, click on the Show Profiles… option.
In the subsequent window, you will see a list of all the profiles set up on your computer. Highlight the profile named Outlook.
Once highlighted, click on the Remove button to delete this profile. Follow any prompts to confirm the deletion.
Step 7: Re-login using word
After completing the previous steps:
Open Microsoft Word on your computer.
Use it to log into your account by entering your email address and password.
Complete your 2FA (Two-Factor Authentication) prompt. After this, you should successfully log in without any hindrance.
Step 8: Setting up Outlook profile again
With the previous steps completed:
Open Microsoft Outlook.
Follow the prompts to set up your Outlook email profile once more.
Once completed, your Outlook should operate without any issues.
Related resource: How to Get Outlook to Open Links in Chrome on Windows 11/10
Alternate solution: Fixing the Outlook 1001 login error through Registry
Based on the shared responses from various users on Reddit and Microsoft forums, an alternative solution that has proven successful for some involves modifying the Windows registry. Before proceeding with this method, it's essential to note that editing the Windows registry incorrectly can lead to system instability. Always ensure you create a system restore point or backup your registry before making any changes.
Open the Registry Editor:

Press Win + R keys on your keyboard.
Type "regedit" and press Enter.

Locate and delete a specific registry key:

In the Registry Editor, navigate to the following path:

HKEY_CURRENT_USER\Software\Microsoft\Office\16.0\Common\Identity\Identities

Right-click on the Identities key and select Delete.

Restart your computer:

After deleting the registry key, close the Registry Editor.
Restart your computer to ensure changes take effect.

Check for login issues:

After the system restart, try logging into the affected application or service to check if the issue persists.
It's also important to note that in certain environments, like terminal server setups, users have had success by cleaning up specific folders and the above-mentioned registry keys. However, if none of the solutions work, it might be beneficial to contact Microsoft Support or consider resetting the user profile. As always, exercise caution and ensure backups are in place before making significant system changes.
Final thoughts
In most scenarios, the Microsoft 365 Outlook "Something went wrong" 1001 login error can be traced back to a corrupted user profile or residual cached credentials. Addressing these specific areas, either through profile reset or cache cleanup, often resolves the problem. It's essential to approach solutions with caution, ensuring backups are in place, and always consider reaching out to professional support when in doubt.