I just woke up to rush my works on my laptop earlier this morning. When I open Microsoft Edge like I usually would, it suddenly shows an error message that reads "Something went wrong, but we resolved it" and tells you that Microsoft Edge couldn't start properly, so we had to clear some data to get you back to browsing.
I used to have several tabs opened before I close Edge and go to sleep. Since I set it to open previously opened pages when I launch Edge, Edge will open the tabs I left opened yesterday when I launch it again next time. But this time when the error kicks in, it clears all my opened tabs and browsing history! That's truly unacceptable. Microsoft, you can't simply clear users' history data without their consent just because there is a problem launching Edge.
This post is to show you what this Microsoft Edge "Something went wrong but we resolved it" error is about, how to recover Edge deleted browsing history, and what you can do when you encounter this error.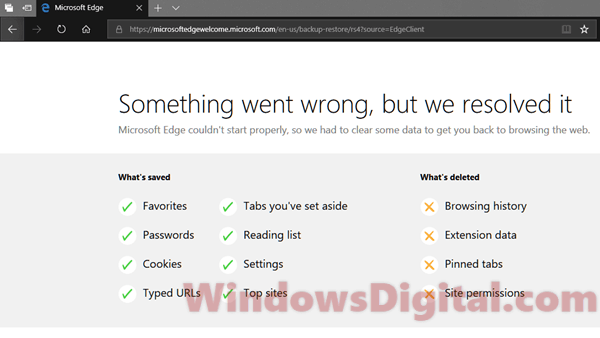 Microsoft Edge Something went wrong but we resolved it error
So, when Edge crashes this way, what you actually lose are your browsing history, extension data, pinned tabs and site permissions. These are all important data that we couldn't afford to lose and I have no idea how this can be an automated action in Microsoft Edge to solve a common crashing issue.
Browsing history is among the most important data users rely on. Some people don't always prefer to save a webpage as favorite or bookmark a site when that site is just not that important, but still a crucial page that we think we may come back again. That's what browsing history are meant for. The system can't just remove the browsing history just because Edge cannot be launched. At the very least, you must ask approval from the user.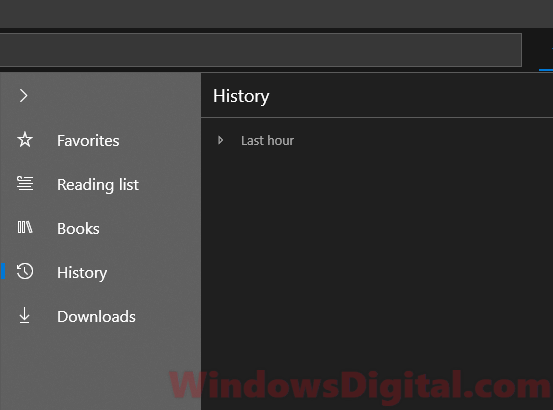 Though, they will retain your favorites, saved passwords, cookies, typed URLs, tabs you've set aside, reading list, settings and top sites. So, whenever you think a tab is something you would come back for, you will have to save it as favorite now just in case similar case like this happen again.
In most other browsers such as Mozilla Firefox and Google Chrome, ironically, when they crash, at most they would only remove cache and cookies which usually cause the problem. History, by right, would have nothing to do for anything like a software crash. It's just plain text data. Nevertheless, Edge would still remove it when it crashes.
What would cause Edge to perform this action
The Something went wrong but we resolved it welcome screen is an after result of a crash event where Microsoft Edge cannot be opened or had crashed recently.
This can happen when you have way too many tabs opened and something just gone wrong. Thus, Edge crashes and perform the "remove your browsing history and some data" to solve the problem automatically action. It could also be caused by nonfunctional or buggy extension in Microsoft Edge.
How to retrieve or recover lost Edge History
Unfortunately, after researching for hours, I can't seem to find a way to recover the history removed by Edge itself. Even a Microsoft MVP from Microsoft answer confirmed that there is no way to recover deleted browsing history in Edge. It make sense since the history files are already hard removed from your hard drive.
Unlike Internet Explorer, which the history folder can be found in the C:\Users\username\AppData\Local\Microsoft\Windows\History, Edge store history in a .dat database file. When it's deleted, it'll be removed forever.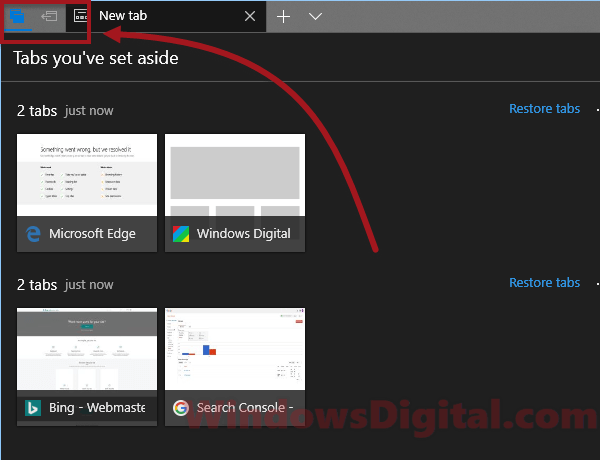 My advise is, stay away from Edge and use Chrome or Firefox instead if you rely on opened tabs and history. If you prefer Edge, just make sure to bookmark whatever webpages or tabs that you think (even the slightest chance) you would come back to them later. You can also Set this tab asides to temporary save the tab in the Tabs you've set aside list. This list will not be removed by the error.