Updating Minecraft to the latest version is essential to ensure the game's stability and access to new content. Normally, Minecraft Java or Bedrock editions on Windows 10 or 11 should update automatically when the game is launched. However, there may be cases where the game fails to update, even after multiple restarts.
If you're having trouble updating Minecraft, this guide will show you how to update the Windows 10 edition of Minecraft manually. We'll also discuss some common causes of update issues.
How to update Minecraft in Windows 10 or 11
First, make sure you have the Windows 10 Edition of Minecraft, which can be updated through the Microsoft Store. Other editions, such as Minecraft Pocket Edition, won't update automatically through the Windows Store.
To check for updates manually, follow these steps:
Go to the start menu.
Search for and open the Microsoft Store.
Click on the triple dotted icon at the top right corner of the Store and select Downloads and updates.
Click on Get updates.
After clicking the "Get updates" button, the Microsoft Store will check for and install the latest updates for each application you've installed on your Windows 10 system through the store, including Minecraft for Windows 10.
When all updates are installed, a message will appear that reads "You're good to go". Your Minecraft for Windows 10 should now have the latest updates installed.
Minecraft not updating on Windows 11/10
If Minecraft fails to update, try uninstalling Minecraft for Windows 10 and reinstalling it. Caution: This may result in losing your saved games. Ensure you back up your save files before uninstalling. To uninstall Minecraft, navigate to Settings > Apps & Features. Select Minecraft for Windows from the list of apps, then click Uninstall. To reinstall, return to the Microsoft Store, search for "Minecraft for Windows 10," and click the Get button. A fresh installation will ensure you obtain the latest version of Minecraft from the Microsoft Store.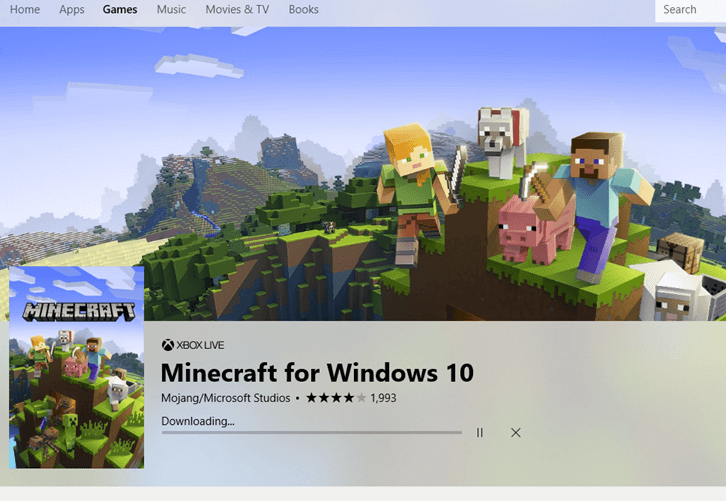 Minecraft not on the list of apps in MS Store
If Minecraft Windows 10 Edition is missing from the list of installed apps in your Microsoft Store, it's likely you have a different edition of Minecraft or installed it outside the Microsoft Store. If you're certain you have the Windows 10 Edition, try uninstalling your current Minecraft version (Warning: This may result in losing your saved games. Ensure you back up your save files before uninstalling) and reinstalling it through the Microsoft Store.
When on the Minecraft for Windows 10 page in the Microsoft Store, if you see a Buy button, ensure you are signed into the Microsoft account that owns the game.
When I update Minecraft, I receive "Try that again, Something went wrong" error
If you encounter an error message with error code 0x80070490 when trying to update Minecraft, this code relates to a Windows Update error. Ensure your Windows 10 is up-to-date by going to the Start menu, searching for, and opening the Windows Update settings. Click the Check for updates button to search for the latest available Windows updates. After updating Windows 10, attempt to update Minecraft for Windows 10 again.
If all else fails, consider contacting Minecraft customer support for assistance. Alternatively, as a temporary solution, try running Minecraft using an Android emulator like Andyroid or Bluestacks on your Windows 10 PC.
Why update Minecraft
Updating Minecraft is essential not only for the latest features and content, but also for bug fixes and stability improvements. Developers release updates regularly to fix known issues and ensure that the game runs smoothly on different platforms. If you don't update your game, you may encounter bugs or crashes that can disrupt your gaming experience.
While Minecraft updates should happen automatically, it's always a good idea to check for updates manually, especially if you're experiencing issues with your game. Automatic updates can sometimes fail due to various reasons such as internet connection problems or store issues. Checking for updates manually ensures that you're using the latest version of Minecraft available.
How often to update Minecraft
Developers typically release Minecraft updates every few months, but the frequency can vary depending on the edition and platform. It's recommended to check for updates periodically and update your game as soon as possible to avoid any issues that may arise from using an outdated version.