Updating your Minecraft to the latest version is crucial for game's stability as well as getting new contents in the game. Usually, Minecraft Java or Bedrock edition on Windows 10 or Windows 11 should update itself automatically when you launch Minecraft. However, there are cases where the game just wouldn't update itself to the latest version no matter how many time you restarted it.
If you are having issues with Minecraft not being able to update itself, this guide will show you how to update Minecraft Windows 10 edition (also applicable to Windows 11) manually and things you need to know that might be the cause your Minecraft can't update itself.
How to update Minecraft in Windows 10 or 11
Make sure your Minecraft is of Windows 10 Edition which can be updated through the Microsoft Store, but not other editions such as Minecraft PE (Pocket Edition) which won't update itself through Windows Store.
If you have Minecraft Windows 10 Edition, to check for update manually, do the following:
Go to start menu.
Search for and open Microsoft Store.
In the Store, click on the triple dotted icon at the top right corner and select Downloads and updates.
Then, click on the Get updates.
After clicking the "Get updates" button, Microsoft Store will then check for and install the latest updates for each applications you have ever installed on your Windows 10 system through the store, including Minecraft for Windows 10.
When all updates are installed, it will show a message that reads "You're good to go". Your Minecraft for Windows 10 should now have the latest updates installed.
Minecraft not updating on Windows 10
If it doesn't work, try to uninstall Minecraft for Windows 10 and reinstall it again (Doing so may lose your save games. Make sure to backup your save games before uninstalling.). You can uninstall Minecraft by going to the Settings app > Apps & features. Select Minecraft for Windows 10 from the list of apps and then click on Uninstall. To reinstall it, go back to the Microsoft Store. Search for "Minecraft for Windows 10", and click on the Get button. A fresh installation will guarantee that you get the latest version of Minecraft from Microsoft Store.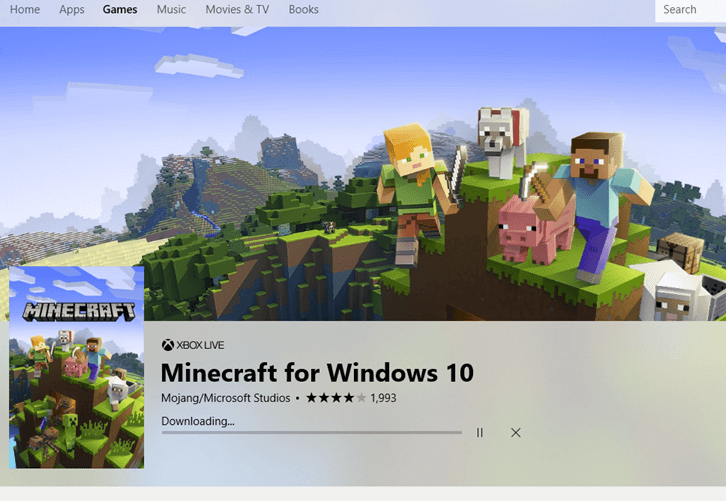 Minecraft not on the list of apps in MS Store
If Minecraft Windows 10 is not even on the list of installed apps on your Microsoft Store, it probably means that you have other edition of Minecraft or that you installed Minecraft outside of Microsoft Store. If that's the case and if you are sure that your Minecraft is of Windows 10 Edition, you can try to uninstall your current Minecraft (Warning: Doing so may lose your save games. Make sure to backup your save games before uninstalling), and reinstall it through Microsoft Store.
When you are in the Minecraft for Windows 10 page in Microsoft Store, if you see a Buy button, make sure that you have signed into your Microsoft account that owns the game.
When I update Minecraft, I receive "Try that again, Something went wrong" error
If you receive error message upon trying to update with error code 0x80070490, since the error code is relating to Windows Update error, make sure that your Windows 10 is up to date. To check for updates, go to start menu, search for and open Windows Update settings. Click on the Check for updates button to check for latest available Windows updates. After updating your Windows 10, try to update your Minecraft for Windows 10 again.
If nothing else works, you may want to contact Minecraft customer support to ask for help. Alternatively, as a temporary solution, you may want to try running Minecraft through an Android emulator such as Andyroid or Bluestacks on your Windows 10 PC.