Windows April update version 1803 is, in my humble opinion, by far the update that causes the most number of problems to a wide range of its Windows 10 users. The game lag and slow performance issue is just one of many gigantic problems that hit the users so hard they would rather roll back to a previous build, just like me. This is also common for laptop lag spikes when playing games in Windows 10, regardless if your notebook on battery or not.
Well, this post is to suggest you things you can do when your Windows 10 PC is getting an obvious performance hit, game lag and hang, slow interfaces, etc after installing any major Windows 10 update. Neither us nor anyone else have the solid solution for these problems. It's a compatibility issue which can only be solved by Microsoft or the hardware's manufacturers.
Update: This article is updated to reflect changes in the recent Windows 10 October 2018 Update version 1809.
Run Windows Update and install Latest drivers
Yes, I'm sorry I'll have to bring this up again. Like I said, only Microsoft or the hardware's companies can fix the root of the problems. When something is fixed, they will be included in the next Windows Update, or in the new hardware driver releases.
So, if you haven't already tried to run Windows Update again, run it now and see if there's any new update that might bring the bug fixes. Also, check with all your hardware's manufacturers for their latest drivers, particularly your graphic card's drivers. Be it an AMD ATI or Nvidia video card, find and download the latest driver for your video card from their websites respectively.
Rollback to an earlier build prior to the update
So, this is actually what I've done because nothing works for me at the moment. Rolling back to the earlier build solve all post-update problems for me.
Windows 10 April update, for now, is extremely unstable. If you follow Windows 10 news, you would know not a single day passes without new bug or problem reports about the Windows April update. I would recommend to just temporary rollback your PC for now, and wait until it's stable before you install the update again. Microsoft always need more time.
Here's a short guide on how to rollback your Windows 10 to a state prior to the update.
Go to Start menu.
Click Settings (the gear icon on the left).
Go to Update & Security.
Select Recovery from the left panel.
Under Go back to a previous version, click Get started.
Click a couple of Next and it should start rolling back.
When you have done rolling back, remember to disable Windows Update or delay it from updating. Just keep clicking remind me later or remind me days after when prompted for Windows update.
If it shows "We ran into a problem and won't be able to take you back to the previous build. Try resetting your current build instead" during the rollback, it means that Windows 10 doesn't have a copy of its previous version, thus, unable to perform the rollback. If this is the case, you can either try to reset your Windows 10 or re-install the entire OS (and stop the Windows Update after that).
Intel or Toshiba SSD issue with Windows April update
This issue has been widely reported. Most users with SSD from Intel, Toshiba or Samsung encounter serious performance issue with their SSD after the Windows 10 update.
If your game is stored in the SSD, move to another drive and try to play it again. Try to download and install the latest firmware for your SSD. Other than that, there is currently no fix to this problem other than waiting for the next bug fix release. If you can't wait for it, rollback and stay away from the update.
Display problem (including games) in Windows 10 after update
If you have an AMD video card, there's a very high chance that you would come across some random display problem in Windows 10 after the Windows April update.
If you have problems such as Windows or game fps fluctuating, incorrect screen resolution, black screen, green screen during full-screen apps or games, read this: How To Fix Display Problem in Windows 10 After Update.
Slow ALT + TAB switching when in full-screen game
If this is your problem, try to turn off notification and enable game mode in Windows 10 using focus assist.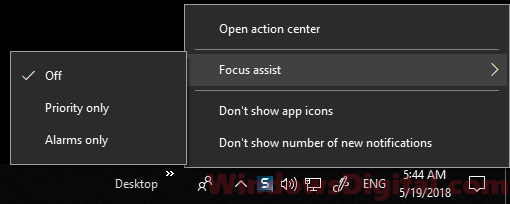 Focus assist is a new feature introduced in Windows April update capable of temporary turning off all notifications from Windows 10 that would disturb or force minimize your game. It works as if you have game mode enabled in Windows 10.
A few tips for the game lag and slow performance issue after Windows 10 Update
If your graphic driver suddenly stops working in the middle of your game, you can quickly restart it by pressing this magic combination of keys: Win+Ctrl+Shift+B. This will force your graphic driver to restart. The screen may flicker and goes black for a while during the process before it comes back on.
The better way of updating your graphic driver is to uninstall it first instead of directly applying new installation on top of the existing driver version. It's also recommended that after uninstalling your video driver, run Windows Update to have it install the driver, instead of installing the one from your manufacturer. This would sometimes help to fix compatibility issue as the drivers provided by Windows are usually tested to work with the latest build.