Google Maps is accessible through any web browser on Windows PC or other OS. It is also available as a downloadable app on most mobile devices such as Android and iOS devices. However, if you want to download Google Maps and use it like an app on Windows 10 or Windows 11 PC, with the introduction of Progressive Web Apps, it is now possible to download and install Google Maps via browsers that supports PWA, and use it like an individual app on Windows 11 or Windows 10.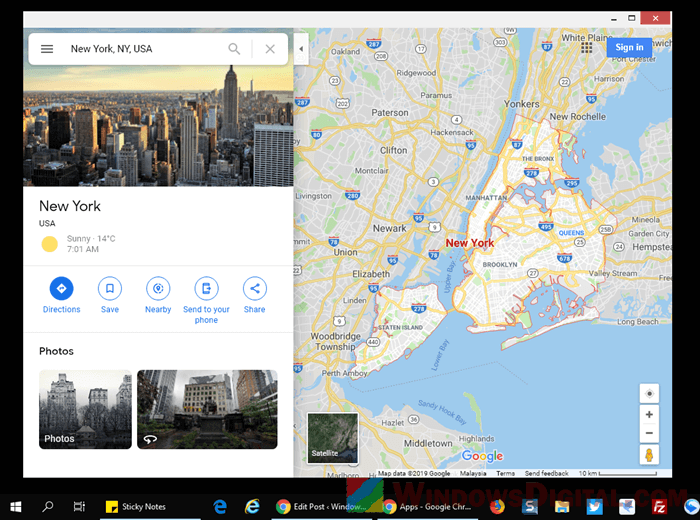 Download Google Maps for Windows 11/10
Install Google Maps as PWA via Chrome or Edge (2021)
If you want to run Google Maps in a standalone window as if you are running it individually as an app, you can install Google Map as a Progressive Web App (PWA) via Google Chrome or Microsoft Edge Chromium in Windows 11/10.
To summarize, a PWA is a web application that can be "installed" on your Windows system through browsers that supports installing PWA such as Google Chrome and Microsoft Edge.
To install Google Maps on Windows 10/11 via Chrome, follow the steps below.
Open Chrome browser and go to maps.google.com.
Click on the Option button (triple dotted icon) at the top right corner in Chrome's window, and then select Install Google Maps.
Next, when asked for confirmation to install the app, click Install.
After installing the Google Maps app, Google Maps will immediately opened in a standalone window, separated from the Chrome browser.
To quickly open the installed Google Maps app next time, you can launch it from the Start menu, or by pinning it to Start or taskbar. To do so, click on Start, right-click on Google Maps, then select Pin to Start, or More > Pin to taskbar.
The screenshot below shows how it looks like after pinning Google Maps to the taskbar.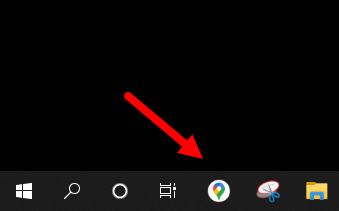 As for Microsoft Edge, here's a screenshot that shows where the install button is to install Google Maps app as PWA on Windows 11/10.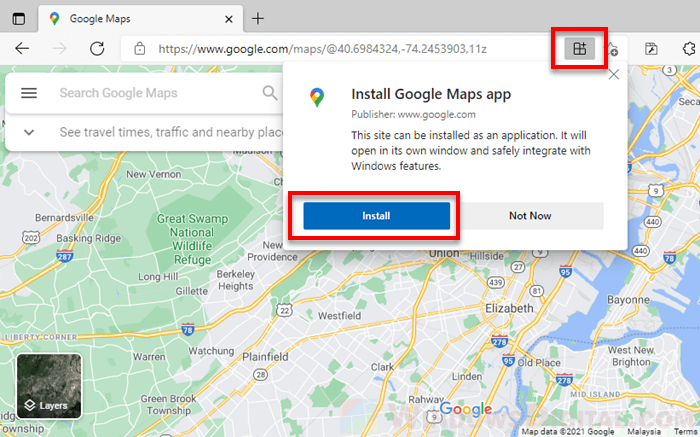 After installing Google Maps on Edge, you can pin it to Start or taskbar on Windows 10/11 by following the same steps in the instruction above. When you open the app, Google Maps will be opened on its own window like a standalone app.
As for how to download offline maps for Google Maps PWA, it is currently still not possible to do so on the Google Maps PWA on Windows. It may be possible in the future if Google decides to add the feature in the Google Maps PWA. For now, if you need offline maps, you can try to use Windows Map instead (read below to learn how to install Windows Map on Windows 10/11).
App Launcher for Google Maps (no longer works)

The easier way to open Google Maps is by adding this extension called App Launcher for Google Maps to your Chrome browser. It allows users to open Google Maps that is separate from a browser tab or window, as if you are opening Google Maps individually as an app.
The concept of this chrome's extension is to provide users a much more easy way to access Google Maps. It does also loads faster than you normally loading Google Maps from a browser window. The main functionality of the app is to launch Google Maps. So, it supports everything the standard Google Maps does.
Open Google Chrome and go to this page (Update: It seems the developer has removed the extension from Chrome store. For now, try the alternative below or use Google Maps on your mobile phone to download offline maps).
Click on Add to Chrome button to add App Launcher for Google Maps extension to your Chrome browser.
Once added, you can launch Google Maps from your Windows 10 start menu. You can also pin it to the start menu so that it can be easily launched next time by right-click the app and then select pin to start.

Alternatively, you can launch Google Maps from the Chrome's Apps page. Here's a few ways to quickly access to the Chrome's apps page:

Click the on Apps icon from the bookmark toolbar as shown in the screenshot below.
Alternatively, you can enter chrome://apps onto your chrome's address bar to access to the Apps page.

Click on Google Maps to launch it.

Google Maps should then open in a standalone window.
Google Maps Alternative on Windows 10/11 – Windows Map
If you insist to use a map app or program offline without relying on a web browser or any other program, the best Google Maps alternative for Windows 11/10 is Windows Maps. Windows Maps, developed by Microsoft, is made specifically for Windows and can be easily downloaded from the Microsoft Store.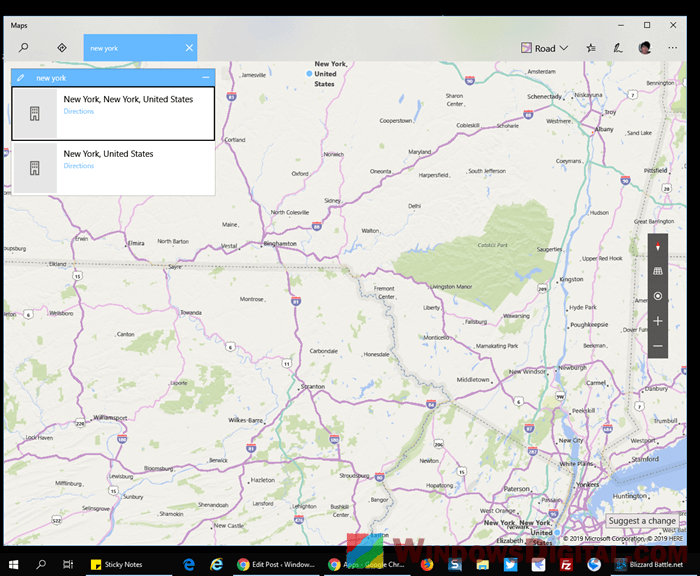 To download Windows Map on Windows 11/10, open Microsoft Store. Make sure you are signed into your Microsoft account. Search for Windows Map in the store and then click the Get button to install it. If it's already installed, you should see the Launch button instead. Click on the triple dotted option icon beside the button and click Pin to start or taskbar for easier access.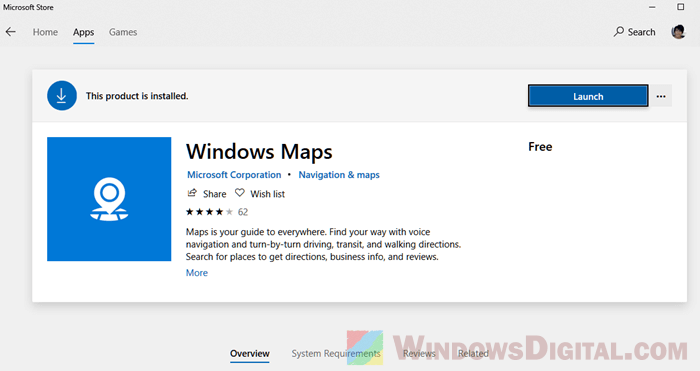 Google Earth Offline for Windows 11/10
If you are looking for just an offline map for Windows 10, you may want to try Google earth offline installer for Windows 10. Read more here: Google Earth Free Download for Windows 11/10 Offline Installer (PC).