Not even the best software in the world can be 100% compatible and problem-free with all types of computers and devices. Google Earth Pro, despite developed by probably the most powerful internet giant in the world, will sometimes shows signs of freezes, crashing, not responding, slow, locks up, won't open, black screen upon launching, or simply not working on Windows 11 or Windows 10. Here's what you can do to fix the Google Earth Pro not working, not responding or other issues on Windows 11/10.
Depending on the performance of your computer and the internet connection speed you get from your ISP, some issues such as Google Earth Pro not responding, slow or won't open on Windows PC can be caused by your computer or internet connection itself.
Since the data and images are loaded only on demand, if you have a slow internet connection, Google Earth Pro may seem to be very slow when loading your views or may even become not responding out of a sudden.
How to fix Google Earth Pro not working on Windows 11/10
Use the repair tool in Google Earth Pro
In most cases where Google Earth Pro freezes, crashes, not responding, or not working, it can be solved by simply running the repair tool in Google Earth Pro.
To launch the repair tool, in Google Earth Pro before it freezes or crashes, quickly click on Help from the menu. Then, select Launch Repair Tool.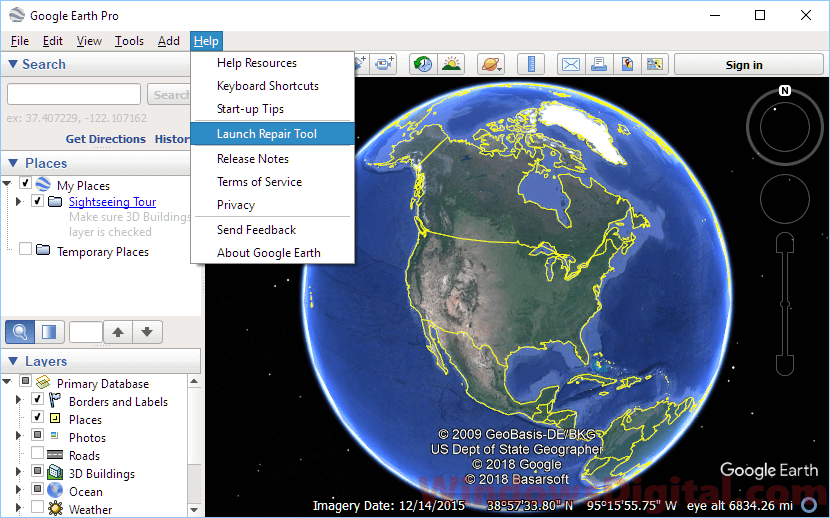 In the Repair Google Earth window, try each and every option from the list until you find one that works to fix your Google Earth Pro not working issue.
Clear disk cache
Switch between openGL and DirectX
Turn on Safe Mode
Turn off the atmosphere
Restore default settings
Delete My Places
Generally, running the first repair to clear the disk cache of Google Earth Pro should usually fix the problem.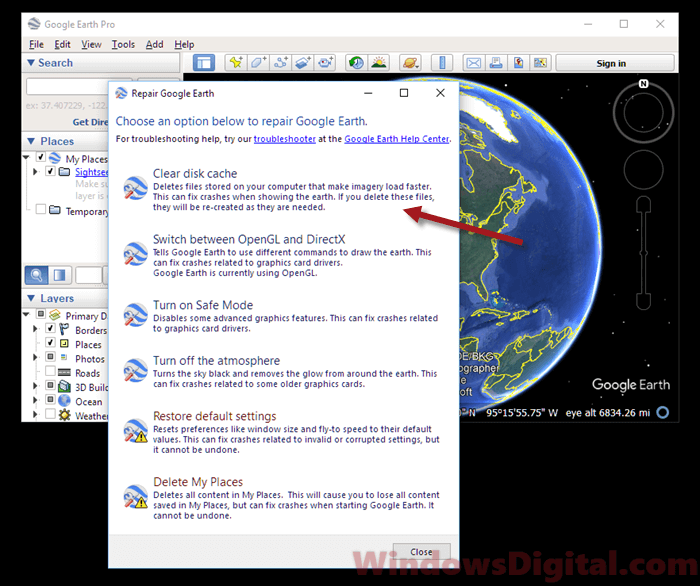 Update or reinstall Google Earth Pro
If there is a bug or compatibility issue between Google Earth Pro and your Windows PC, try to update or reinstall the Google Earth Pro.
To download the latest version of Google Earth Pro, read Google Earth Free Download for Windows 11/10.
Download older version of Google Earth Pro
If the Google Earth Pro not working or other issue started after updating to installing a new version of Google Earth, you may want to try to download and use an older version of Google Earth Pro.
You can go to this page for a list of latest and old versions of Google Earth Pro free download for Windows 10/11.
Update graphic card's driver
Google Earth Pro is a software that would use your graphic processing unit, meaning that it relies on your graphic card to run. If your graphic driver is outdated, has a bug, or is currently incompatible with the latest version of Google Earth Pro, try to update your graphic card's driver to see if it fixes the Google Earth Pro not working or responding on Windows 10 or 11 issue.
To update your video driver, you can download the latest driver from your graphic card's manufacturer websites such as Nvidia.com or Amd.com. You can also run Windows Update or use the Device Manager in Windows to update your graphic driver.
Adjust the memory or disk cache size
Another way to fix the Google Earth not responding, freezes or crashes issue is that you can try to adjust the memory and disk cache size for Google Earth Pro.
Doing this can also boost the overall performance of Google Earth Pro on your Windows PC. To increase the allowable memory and disk cache, open Google Earth Pro. From the menu, click on Tools and then select Options. Next, go to the Cache tab. From there you can change the memory cache size and disk cache size Google Earth Pro is allowed to use.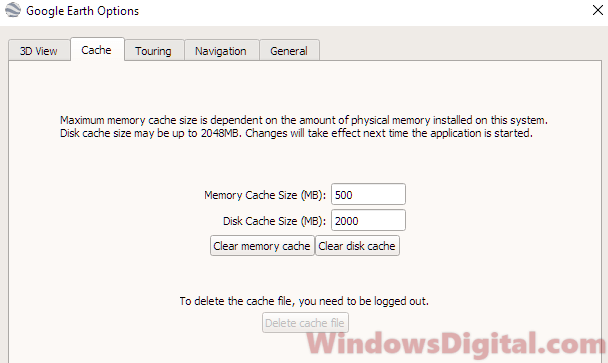 In the same window, you can also try to click on the Clear memory cache and Clear disk cache to see if it fixes the issue.
Google Earth Pro Windows 11/10 error 1603
The Google Earth error 1603 in Windows 11/10 means that Google Earth is already installed and you can't install it now unless you remove it.
This usually happens when users accidentally deleted the desktop shortcut for Google Earth Pro and thought that it was removed or not exist in your Windows PC. If that's the case, you simply have to go to the Google Earth Pro directory and create a shortcut of the Exe launcher on your desktop again. The folder is usually located in C:\Program Files (x86)\Google\Google Earth Pro\client.
You can, of course, uninstall Google Earth Pro first via add or remove program, then re-launch the Google Earth Pro installer again, and see if the issue can be resolved.
Google Earth keeps spinning
If your issue is about Google Earth keeps spinning when you mouse is idle, check if you have the "Enable Controller" option enabled. Click on Tools from the menu and then select Options. Go to the Navigation tab. Make sure the Enable Controller option is disabled.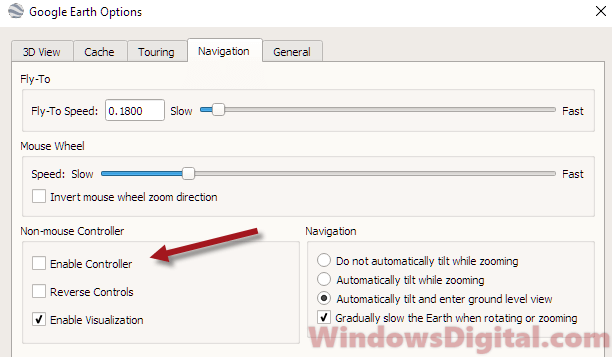 This often happen when you have input devices such as a gaming controller currently plugged and active in your Windows 10/11 computer. Google Earth will attempt to use the controller as well when spinning the Earth for you. If you don't want to use any non-mouse controller in Google Earth Pro, make sure to disable the option outlined above.
Google Earth keeps showing blurry images
First off, you need to know that not all satellite images are in high-resolution. In most cases, high-res imagery are only available when you view large cities with high population. Rural areas or inhabited areas will generally have lower quality images.
If you're viewing a city and yet the images there are still blurry in Google Earth, try to clear the disk cache to allow Google Earth Pro to reload the images from scratch. Try to also turn off the Anisotropic Filtering in Google Earth Pro by going to Tools, then Options from the menu. Next, go to 3D View tab and then select Off for Anisotropic Filtering.