Since USB 3.0 was introduced and came on the market, many users prefer the USB slim portable CD or DVD optical drive or burner/writer over the classic internal ATAPI/IDE or SATA DVD drive, due to simplicity and convenience as it can be easily carried around and detached/attached.
As Microsoft began to push Windows 11 upgrades, some users are facing problems with their external DVD drives not being detected or not working after upgrading to Windows 11.
This guide shows you several workarounds and solutions you can try to fix the issue if you have an external DVD drives that stopped getting detected in Windows 11, and how to download and install external DVD drivers for Windows 11.
Also see: How to Eject USB or External Hard Drive in Windows 11
External DVD Drive not detected in Windows 11
Download external DVD driver from manufacturer's website
The very first thing you should do is to manually find and download the driver for your portable DVD driver from its manufacturer's website, if there's an available updated driver for Windows 11. Most manufacturers have their own driver download sites that allow their customers to download updated drivers for their products.
Try to do a search on Google using your external DVD drive's brand and model as the keyword to look for its driver. If there is, download and install the driver and restart your computer to see if Windows 11 will detect it again.
Related: How to See What Drivers Are Installed in Windows 11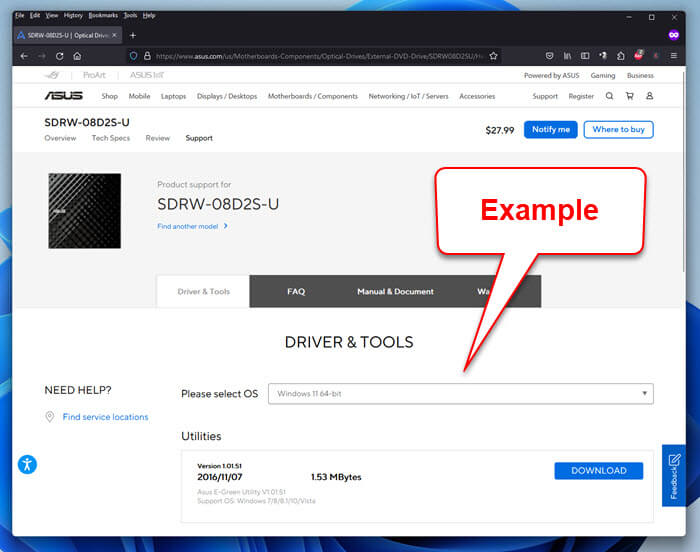 Run Windows Update
Windows Update is your next solution if you cannot find the right driver manually. Microsoft has a driver repository that will help automatically detect and install the right driver for most of your hardware when you run Windows Update.
Read: How to install or update driver in Windows 11
To run Windows Update in Windows 11, press Win + i to open Settings and select Windows Update from the left pane. On the right, click Check for updates to allow Windows to check for any available updates your computer needs.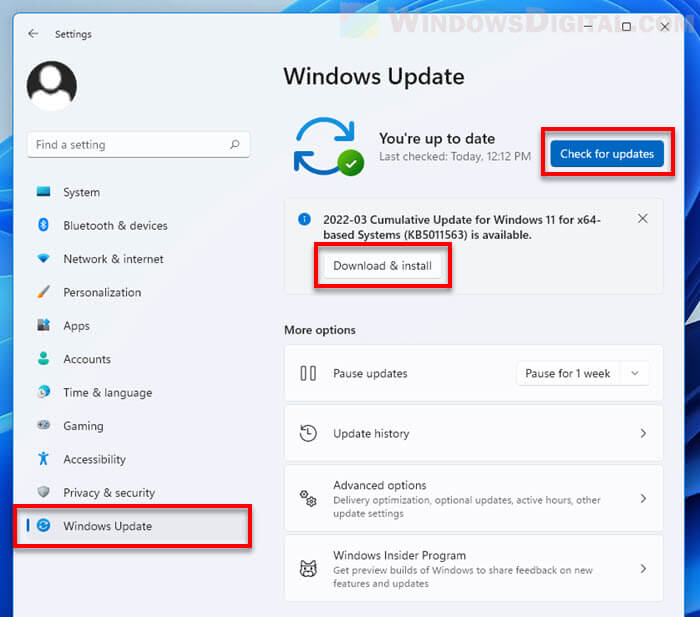 Check optional updates (driver updates)
In the meanwhile, you should also check the optional updates section to see if there is any driver updates suggested by Windows Update. You can access the optional updates by navigating to Settings > Windows Update > Advanced Options > Optional updates.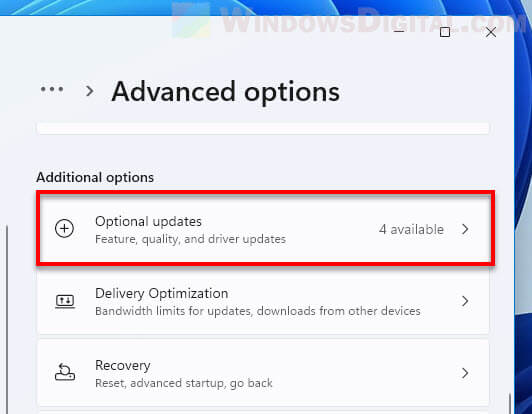 From there, you can see a list of driver updates (if any) recommended by Windows Update if you have a specific problem. If there is any driver that relates to your external DVD drive, USB ports, etc., you may want to install it.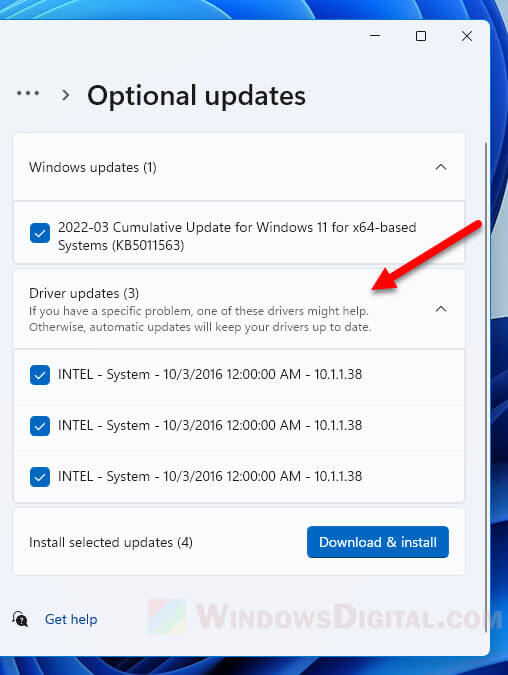 Update external DVD Driver via Device Manager
You can also try to manually update the external CD or DVD drives via Device Manager in Windows 11. To do so, search for "Device Manager" via Start and open it.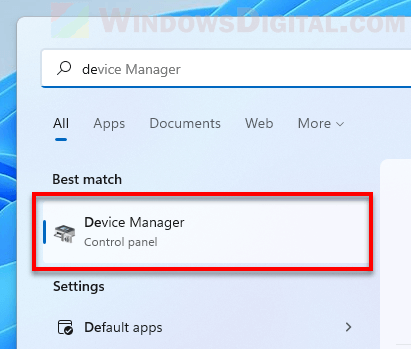 In the Device Manager window, select "DVD/CD-ROM drives" to expand the category. Right-click your portable DVD drive and click Update driver. Then, follow the on-screen instructions to update the driver for the device.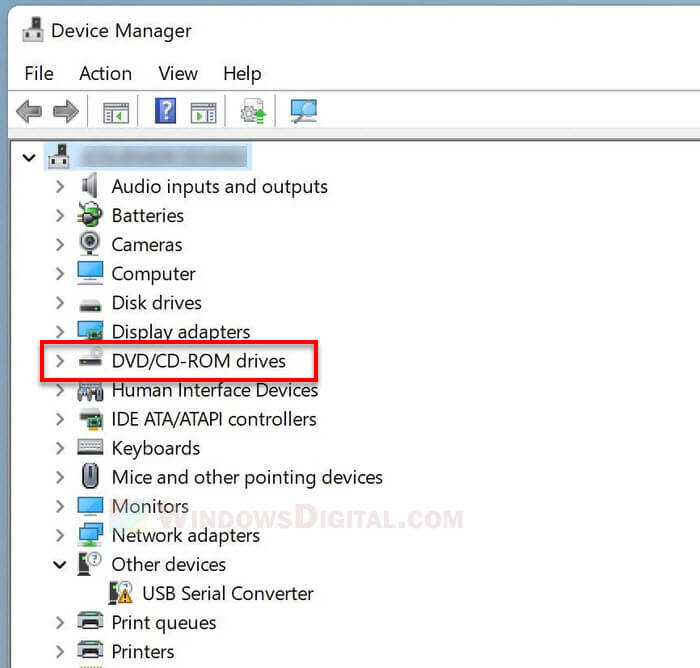 Uninstall the existing external DVD Driver
Uninstalling a driver will allow Windows to automatically detect the hardware again and reinstall the right driver for it on next restart or upon running Windows Update. This is often a solution when a driver issue occurs or a hardware suddenly stop working properly.
Learn more: How to Uninstall Drivers in Windows 11
Try to uninstall the existing external DVD driver and restart your computer. You can do so by first opening Device Manager via Start, expand the DVD/CD-ROM drives category, right-click your USB portable DVD drive and select Uninstall device. After that, restart your computer and see if the problem is resolved.
Install external DVD driver using the driver CD (if any)
Drivers can sometimes be corrupted in the process of major upgrades due to compatibility or other issues. If your USB portable or external DVD drive comes with a driver CD, use it to reinstall the driver and see if it works.
Also, try the external DVD drive on another computer to verify if it's broken. If none of the above helps to get your portable DVD drive working, you may need to buy another external DVD drive that support Windows 11 (or at least has a driver for Windows 11).