Malicious programs or incorrect software installation may cause changes in the proxy settings in Windows 11 or Windows 10. Unintended or incorrect proxy settings can cause connection issue such as unable to load any webpage or very slow when loading webpages.
This guide will show you how to disable any proxy setting you may have in Windows 11/10 permanently.
Disable Proxy Settings in Windows 11/10
Previously in past versions of Windows, we have to go through Internet Explorer and to the internet options to configure proxy settings. Though changing the settings through IE should still work in Windows 10 or 11, there is a better place to configure proxy settings in Windows 11/10 now. Here's how to do it.
Go to Start Menu or Cortana.
Search for Settings and open it.
Select Network & Internet.
From the left pane, click on Proxy.
Under Automatic proxy setup, switch on Automatically detect settings option.
Under Manual proxy setup, disable Use a proxy server option.
Close the settings window and restart your PC.
It is now much easier to disable proxy or configure any proxy settings via the Settings app in Windows 10 and Windows 11 as compared to the proxy settings in Internet Explorer. If for any reason you have to rely on Internet Option to change the proxy settings, here's how.
Open Internet Explorer. Click on the Settings icon and select Internet Options. Go to the Connections tab, then click on the LAN settings. Enable Automatically detect settings and disable Use a proxy server for your LAN. Click OK and reboot your computer.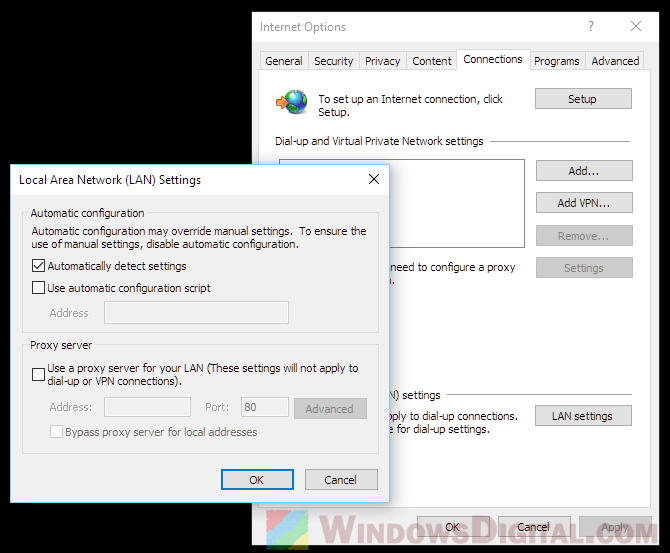 However, some has reported that when they try to set the proxy settings to automatic via LAN Settings in Internet Explorer, the automatic proxy settings checkbox will sometimes be grayed out, making it impossible to be applied.
If that's the case, the method using the settings app above should help to disable the proxy settings and set it to automatic in Windows 11 or 10.
Disable proxy settings via Registry
If none of the two methods above works to successfully disable the proxy settings in Windows 11/10, you can try the registry method instead. Caution: Registry editing may cause serious problem and may potentially corrupt your operating system if incorrect changes are made. Please continue at your own risk.
Press Win+R key to open Run window.
Type regedit and hit Enter to open Registry Editor.
In Registry Editor, navigate to the following registry path.

HKEY_LOCAL_MACHINE\Software\Policies\Microsoft\Windows\CurrentVersion\Internet Settings

Double-click on the ProxySettingsPerUser registry.
Change the Value to 1.
If the ProxySettingsPerUser registry key doesn't exist, create it by right-clicking anywhere on the right pane in the Internet Settings registry path, and click on New > DWord (32-bit) Value. Name it ProxySettingsPerUser and set its value to 1. This should disable any proxy settings and set it to automatically detect settings.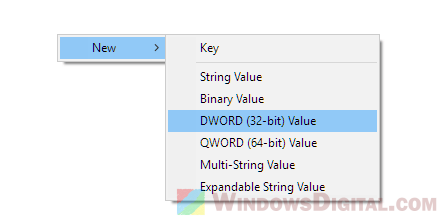 Close Registry Editor and reboot your PC for it to take effect.
If your proxy problem persists
The proxy settings in the Settings app is correlated with the proxy settings in Internet Explorer. So, if the problem persists after trying to disable it, you may want to try to reset Internet Explorer settings. Be warned that doing so will also reset the security and privacy settings such as sites you've whitelisted and blacklisted and will wipe the parental control settings as well.
Here's a quick guide on how to reset IE settings.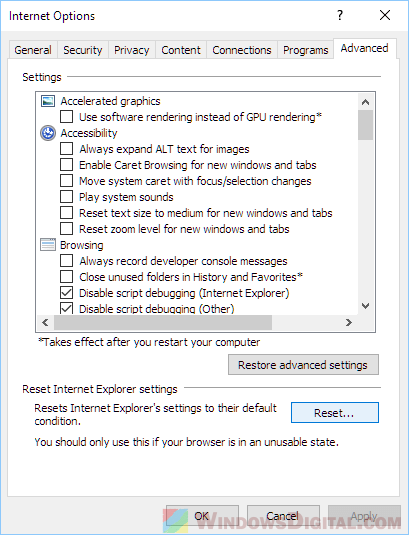 Open Internet Explorer in Windows and click on Internet Options. Go to the Advanced tab. Under Reset Internet Explorer settings, click on the Reset button.