Why do we need to change Windows 10 update download location? When you run Windows Update on Windows 10, it will first download all the required installation files onto your primary hard drive – the drive where your Windows 10 was installed and stored, usually on the C:\ drive. It will then install the updates from the downloaded files. When all updates are installed, the installation files will be deleted.
During the process, especially if it's a major update, if your drive is already showing red and ran out of space, Windows 10 update would possibly be interrupted due to insufficient storage space to store the installation files. In this case, we will have to change Windows 10 Update download location folder to another drive with more available space in order to allow the update process to go on.
Change Windows 10 Update Download Location
What we are about to do requires administrator privileges. Make sure you are logged in to your Windows 10 as an administrator. Otherwise, it won't allow the system file renaming and process stopping which we are about to do later.
Firstly, we need to stop the Windows Update service so that it allows us to make changes to its files. Right-click on your taskbar, then select Task Manager. Go to Services tab. Look for the service called wuauserv. Optionally, you can sort the name for easier viewing to find the service. Right-click on wuauserv and click Stop.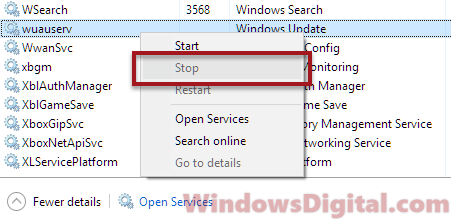 We'll use Symlink, or often known as Symbolic link, to change Windows 10 update download location. A created symlink acts as a shortcut folder which refer to another folder of your preference. It's OK if you don't understand it. Just follow the steps below and the symlink will be created in no time.
Change old path and create a new windows 10 update download location
The default location of where Windows 10 downloads its update installation files is in C:\Windows\SoftwareDistribution. Change this path to C:\Windows\SoftwareDistribution_old.
Create a new folder in the drive where you want the Windows 10 update downloads to be stored. The folder can be any name, for example, E:\NewWindowsUpdateLocation (or whichever drive or folder's name of your liking).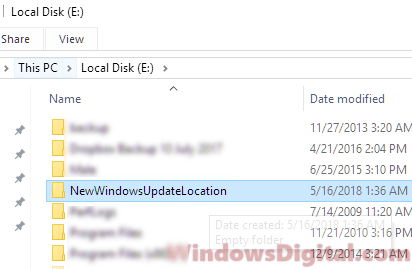 Create Symlink to connect the two paths
This is the step to make the magic happens. Go to Windows Search or Cortana, search for command prompt. Right-click command prompt from the result and select Run as administrator. This is important as the command we're entering require admin privilege.
In the command prompt, enter the following command. Replace the name of the latter folder path to the new folder you've created earlier.
mklink /j C:\Windows\SoftwareDistribution E:\NewWindowsUpdateLocation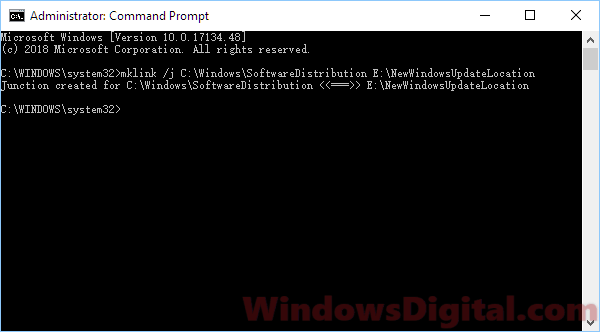 When the command shows Junction created, it means the symlink is successfully created. You will see a shortcut link in C:\Windows\SoftwareDistribution. Although it would still look like Windows update downloads are stored in this location, but it's actually pointing to the new path as instructed in the created symlink.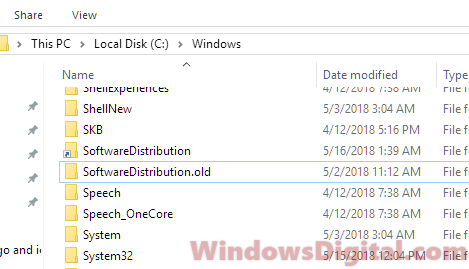 Optionally, you can move all the folders in the SoftwareDistribution_old folder to the new Windows 10 update download location you've created earlier so that Windows Update doesn't have to re-download things it had downloaded earlier again.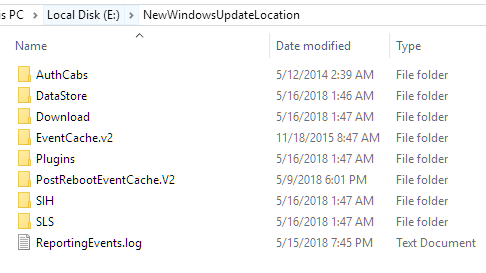 If you don't copy them over, Windows Update will download all over again instead. If you decide to let Windows 10 update download afresh, you can delete all the files in SoftwareDistribution_old as they are no longer being used.
Now, you will need to restart the Windows Update process you've disabled earlier. Go back to the Task Manager. Go to Services tab and search for wuauserv. Right-click it and click Start. You can now try to run Windows Update again by going to Settings > Update and Security > Windows Update. Then, click on Check for Update.
If you see Access is denied when you enter the command in CMD, even though you run the command prompt as administrator, or if you can't rename the Software Distribution folder in C:\Windows, boot your Windows 10 to safe mode and repeat the steps again. This should help if Windows Update can't be stopped in the previous session, or that you have problem with your admin privilege in Windows 10. Hope this guide will help you to change Windows 10 Update download location successfully.