Activating your Microsoft Office software is a crucial step to unlock its full suite of features. While many users opt for online activation, there are scenarios where activating by phone may be more convenient or even necessary. This article serves as a comprehensive guide to help you activate Microsoft Office 2021 or 2019 via phone, detailing each step of the process. Whether you're facing internet connectivity issues, have security concerns, or simply prefer a voice-guided activation, this guide has you covered.
Also see: Will Microsoft Office 2010 Run on Windows 11?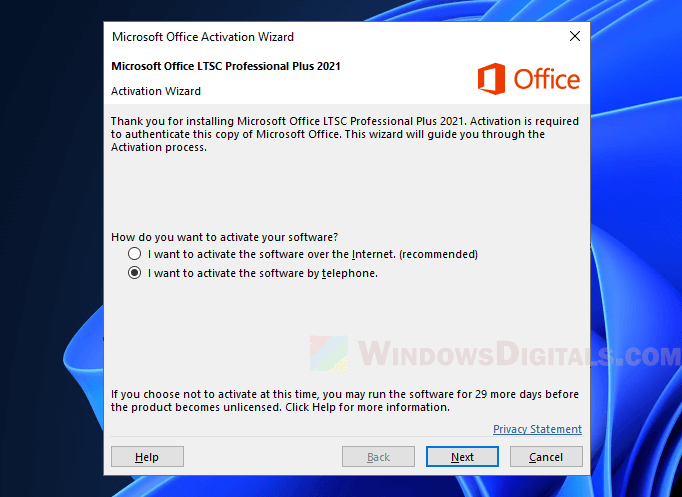 Prerequisites
Before you begin the phone activation process for Microsoft Office 2021 or 2019, there are some requirements you need to ensure:
Genuine Microsoft Office product key: Make sure you have a valid product key for the version of Office you're trying to activate.
Phone line: A phone line is needed to call Microsoft's automated activation service.
Computer access: You'll need access to the computer on which Office is installed to complete the activation process.
Administrative rights: You should have administrative permissions on the computer to run the activation.
Installed Microsoft Office Suite: Ensure that the Office suite is already installed on your computer, but not yet activated.
Note that the prerequisites might vary slightly depending on your location and the specific version of Office. Always refer to official documentation for the most accurate information.
Related concern: What is OInstall.exe (Virus?) and its ties to Office 2019/2021
Step-by-step guide for activating Office by phone
Activating Microsoft Office by phone involves a series of steps that must be followed carefully to ensure a successful activation. Below is a detailed walkthrough to guide you through each step of the process.
Finding the product key
Your Microsoft Office product key is a 25-character code that is often found in your product packaging or in the email receipt if you purchased it online. Here's how you can find your product key:
Physical copy: If you have a boxed version, the product key is usually printed on a sticker inside the box or on the card.
Digital purchase: Check your email for a receipt that includes the product key. Sometimes it can be found in your account on the retailer's website.
Pre-installed: If Office came pre-installed on your computer, you should find a sticker on your device with the product key, or it may have been included in the paperwork.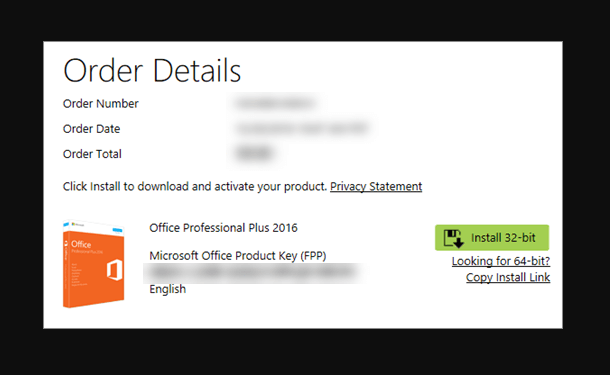 Related resource: How to Find Windows 11/10 Digital License Product Key
Initiating the phone activation
To initiate the phone activation process, follow these steps:
Open any Office application like Word, Excel, or PowerPoint.
If you are not already prompted for a product key, go to the '"File" menu and click on "Account" at the bottom of the navigation pane.
Under "Product Information", click on "Activate Product".
Choose "I have a product key" and enter your product key.
You will then be prompted to choose how you want to activate your software. Choose "I want to activate the software by telephone" instead of "Internet".
Noting down the installation ID
After choosing to activate Office by phone, you will be prompted to generate an Installation ID. The Installation ID is a unique code that you will provide to Microsoft's automated system during the phone call. Follow these steps to generate it:
Upon selecting the option to activate Office by phone, a new window will appear displaying your Installation ID. It will be a long string of numbers grouped into several fields.
Make a note of this Installation ID, as you will need it during your phone call.
Making the call
Once you have your Installation ID, you're ready to make the call to Microsoft's automated activation service. Here's how:
In the "Activate office over the telephone" window, select the country or region you are calling from. It will then display a toll-free number that you can call. Most countries have a number with a free call at the expense of Microsoft.
Dial the toll-free number and follow the automated prompts.
When asked, enter the Installation ID using your phone's keypad.
Listen carefully to the automated system. It will provide you with a Confirmation ID once it verifies your Installation ID.
Keep a pen and paper handy to write down the Confirmation ID.
Entering the confirmation ID
After you've received your Confirmation ID from the automated phone system, you'll need to enter it into the Microsoft Office activation wizard to complete the activation process. Here's how:
Return to the "Activate office over the telephone" window on your computer, where you previously found your Installation ID.
You'll see a series of empty fields labeled for the Confirmation ID (A to H). Carefully enter the Confirmation ID that you noted down during the phone call.
Once all the fields are filled, click on the "Next" button to finalize the activation.
If everything was entered correctly, a message will appear confirming the successful activation of your Microsoft Office product. You can now close the activation window and enjoy all the features of your Microsoft Office suite.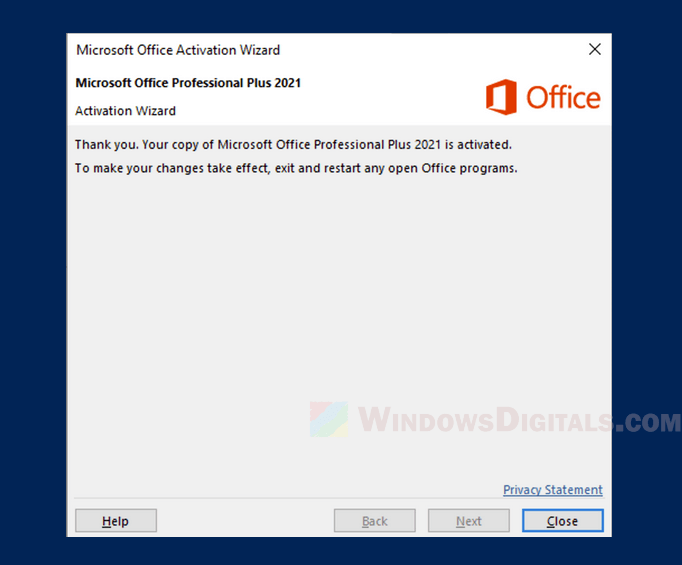 Useful guide: How to Check Office 365 User License Using PowerShell
Important points
This method of activation is generally legal as long as you have a valid license or product key for Microsoft Office.
Costs for the phone call may apply depending on your region and the telecommunication service you are using.
If you're having issues with the phone activation, you can often speak to a customer service representative for assistance.
Pro tip: How to Transfer Windows 11/10 License to Another Computer
Common Office phone activation issues
Even when following guidelines closely, you might encounter issues during the activation process. Here are some common problems and how to resolve them:
Error messages during activation
If you encounter error messages like "Product Key Invalid" or "Activation Failed," double-check your product key for any mistakes and try again. Ensure that you're entering the key for the correct version of Microsoft Office.
Cannot reach the automated phone system
If you're having trouble connecting to Microsoft's automated phone system, ensure you are dialing the correct toll-free number based on your geographical location. If the issue persists, try calling at a different time.
Did not receive a confirmation ID
If the automated system didn't provide a Confirmation ID, ensure that you've correctly entered your Installation ID. If everything seems correct but you're still not receiving a Confirmation ID, you might need to contact Microsoft support for further assistance.
Activation wizard won't open
If you're having trouble accessing the activation wizard in Microsoft Office, try running the application as an administrator. If the issue persists, a repair install might resolve the problem.
Linked issue: Windows 11 Not Activated After BIOS Update
Why would you want to activate Office by telephone?
While online activation is often more straightforward, there are various reasons why activating Microsoft Office 2021 or 2019 by phone might be the more suitable option for you. Here are some scenarios:
No internet access: If you're setting up a computer that doesn't yet have internet connectivity, phone activation is a useful alternative.
Security concerns: For those who are particularly cautious about sending sensitive information like a product key over the internet, phone activation offers a sense of added security.
Troubleshooting fallback: In instances where online activation fails repeatedly due to server errors or other technical issues, phone activation serves as a reliable backup method.
Office in a corporate or restricted environment: In some corporate or highly secure environments, online activation may be disabled or restricted. In such cases, phone activation can be a practical solution.
Frequently asked questions
Can I activate older versions of Microsoft Office by phone?
Yes, phone activation is available for several older versions of Microsoft Office, though the steps may vary slightly. Check the specific guidelines for your version.
Is phone activation free?
The phone call to Microsoft's automated activation system is typically toll-free, but it's a good idea to check the specific rates for your location.
Can I use the same product key on multiple computers?
Microsoft Office product keys are generally for single-use only. If you have a multiple-license key, you can activate it on more than one computer, but each activation will require its own unique product key.
What happens if I lose my confirmation ID?
If you lose your confirmation ID, you'll need to go through the phone activation process again to obtain a new one.
How long does phone activation take?
The phone activation process usually takes just a few minutes but may vary depending on your location and the time of day.
Conclusion
Activating Microsoft Office 2021 or 2019 by phone is a straightforward process, albeit one that requires careful attention to detail. Whether you're without internet access, concerned about security, or facing technical glitches with online activation, phone activation is a reliable alternative. Always double-check your product key and make sure you write down both the Installation ID and the Confirmation ID accurately during the process. Keep your wits about you when navigating the automated phone system, and don't hesitate to contact Microsoft support if you run into any issues.
---