Cold Turkey is a software that allows users to block distracting websites and apps for a certain amount of time. It is a useful tool for those who struggle with self-control and need help in staying focused. However, there may be times when you need to uninstall Cold Turkey during a block, whether it's because you need to access a website or you've changed your mind about the block.
In this article, we will explore some methods to help you uninstall Cold Turkey Blocker while a block is still active on Windows 11 or 10.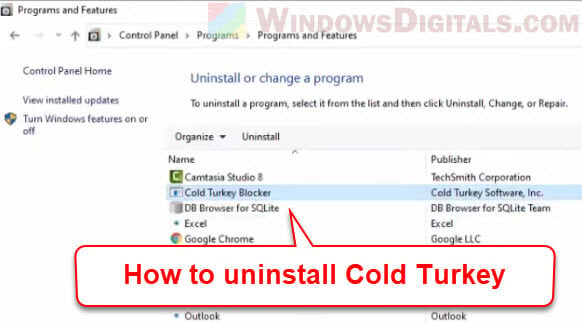 What is Cold Turkey software?
Cold Turkey is a productivity tool designed to help users avoid online distractions by blocking certain websites and applications for a specified period. With Cold Turkey, you can create custom blocklists of websites and applications that distract you from your work or studies. You can set a timer for each blocklist, ranging from minutes to days, during which you won't be able to access the blocked content.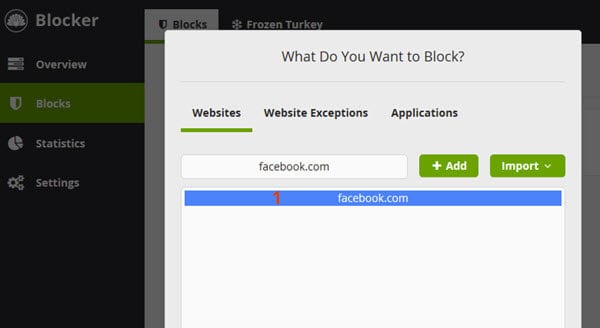 The software is available in two versions: Cold Turkey Blocker and Cold Turkey Writer. Cold Turkey Blocker is the more popular version and is used to block websites and applications. Cold Turkey Writer, on the other hand, is designed to help writers stay focused by providing a distraction-free writing environment.
Cold Turkey is available for Windows and Mac operating systems and is easy to install and use. It has a user-friendly interface that allows you to create and manage blocklists, and it also offers customization options such as password protection and the ability to schedule blocks in advance.
See also: How to Block a Website Such As YouTube in Windows 11
Understanding why Cold Turkey cannot be uninstalled during a block
Cold Turkey blocks websites by modifying your computer's "hosts" file. This file contains a list of IP addresses and their corresponding domain names. When you try to access a website, your computer checks the hosts file first to see if there is an IP address associated with the domain name. If there is, your computer connects to that IP address. If there isn't, your computer performs a DNS lookup to find the IP address.
When you install Cold Turkey, it modifies the hosts file to redirect blocked websites to the IP address "0.0.0.0." This effectively prevents your computer from connecting to the website, regardless of the DNS lookup. When you try to uninstall Cold Turkey while a block is active, the hosts file is left in a modified state, preventing you from accessing the websites that were previously blocked.
Additionally, Cold Turkey also installs some system services that run in the background. These services are responsible for enforcing the website blocks and preventing users from accessing blocked websites. When you try to uninstall Cold Turkey, these services can prevent the uninstallation process from completing successfully.
In summary, Cold Turkey cannot be uninstalled during a block because it modifies the hosts file and installs system services that prevent the uninstallation process from completing. It's important to keep this in mind when trying to remove Cold Turkey from your computer.
Related issue: How to Block Websites on Chrome Without Extension
Reach out to Cold Turkey's Support
The first thing you should try is to contact Cold Turkey's support and explain your situation. Tell them why you want to uninstall the software and ask for instructions on removing the block or uninstalling the software from your computer. You can find their contact details on the Cold Turkey website.
Try setting your computer's time past the block time
One possible method to uninstall Cold Turkey during an active block is to adjust your computer's system date and time to a future time when the block will no longer be in effect. Here are the steps to follow:
Access your computer's date and time settings and manually adjust the system time to a time beyond the end of the current active block.
Open Cold Turkey and remove all blocks that are not currently active.
Restart Cold Turkey. Once restarted, you should notice that all blocks have been removed except for the currently active one.
Restart your computer to ensure that the changes in the system time take effect.
When Cold Turkey launches again, it should detect that the current active block has already ended, and will no longer be actively blocking anything.
Remove the current active block and proceed uninstalling Cold Turkey.
It is important to note that changing the system time on your computer can potentially cause problems with other programs and applications, so it is crucial to reset the system time to the correct time once you have completed the Cold Turkey uninstallation process. Additionally, this workaround may not work in all cases, depending on the nature and severity of the block, so it may be necessary to explore other options as well.
Advanced method to uninstall Cold Turkey during a block
If the previous methods do not work for you, there's another option you can try to uninstall Cold Turkey completely during a block. Although it's a bit more involved, some users have had success with the following steps:
First, open the "msconfig" program by typing it into the search box and hitting enter.
Once inside msconfig, navigate to the "Startup" tab and locate the checkbox for Cold Turkey. Uncheck it. If you are using Windows 11, click "Open Task Manager" in the Startup tab to access the list of startup programs.
Then, go to the "Services" tab and click the checkbox labeled "hide all Microsoft services." This will hide any important system services that you must not disable.
Locate the service for Cold Turkey, which will likely be labeled as "KCTRP", and uncheck it as well.
Click the "Apply" button and restart your computer.
Once your computer has restarted, navigate to the "hosts" file located at:

C:\windows\system32\drivers\etc\hosts

Right-click the file and select "properties." Make sure that the "Read only" box is not checked. If it is, uncheck it and click "Apply".
Open the file with a text editor and delete any lines that contain "0.0.0.0" or URLs that you previously blocked with Cold Turkey.
Save the file and close the text editor. If you can't save the host file after editing due to permission error, read: Access Denied when Editing Hosts File in Windows 11/10.
Finally, remove Cold Turkey from your computer using the standard "Add or remove programs" feature on Windows 10, "Apps & feature" feature on Windows 11, or drag the app to the Trash on Mac computer.
This method has worked for some users who needed to uninstall Cold Turkey during a block. Keep in mind that it's important to follow the steps carefully and avoid disable important services or deleting any important files. By doing so, you should be able to successfully remove Cold Turkey completely from your computer even when a block is active.