Teamfight Tactics, or TFT, has garnered a significant amount of attention in the online gaming community. To enhance their gameplay and strategize more effectively, many players turn to tools like the Mobalytics overlay. However, what do you do when this helpful tool refuses to work on your Windows or Mac machine? In this article, we'll guide you through the potential pitfalls and provide solutions to get your overlay back in action.
Also see: How to Allow an App Through Firewall in Windows 11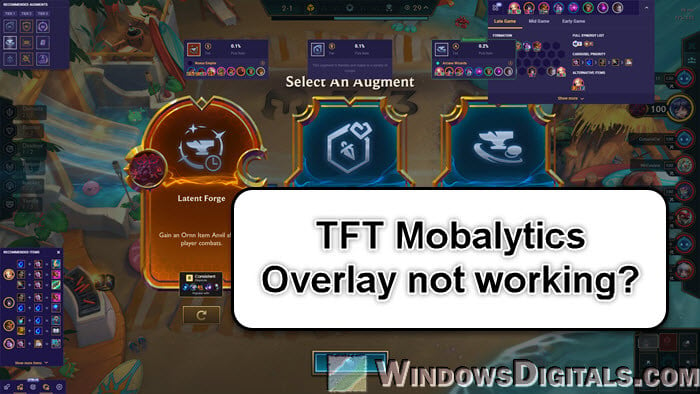 TFT Mobalytics overlay not working
Mobalytics offers a real-time overlay with insights, statistics, and actionable recommendations during TFT gameplay. The inability to access this overlay can arise from software conflicts, outdated versions, or mere misconfigurations. Let's explore these in detail.
1. Update everything
Compatibility is the key. New software patches can sometimes render third-party tools like Mobalytics non-functional due to changes in the code or system operations.
League of Legends Client: Regular game updates might interfere with third-party tools especially those with overlay features. Always ensure you're on the latest version.
Mobalytics application: To stay relevant and functional, Mobalytics rolls out updates that address compatibility issues. Regularly check for updates to avoid glitches.
Operating system & graphics drivers: Try to update your graphics drivers and see if the issue can be resolved. For Windows, access "Windows Update". For Mac, go to "System Preferences" then "Software Update".
2. Admin rights and permissions
For overlays to function, they need permission to "draw" on top of other applications, making administrative rights crucial.
Windows: Right-click Mobalytics and choose "Run as administrator". This ensures that the application has the necessary rights to function over TFT.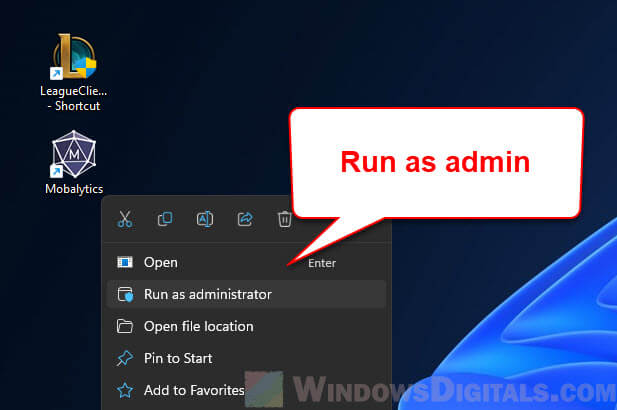 Related resource: Give Admin Permission/Rights to User in Windows 11/10
3. Conflicting overlays and software interference
Some applications with overlay features might utilize the same resources or operational paths, causing interference.
Temporarily disable overlays from other apps like Discord or Nvidia's GeForce Experience. If Mobalytics starts working, you've found your culprit. Consider toggling overlay settings in the conflicting software or using them one at a time.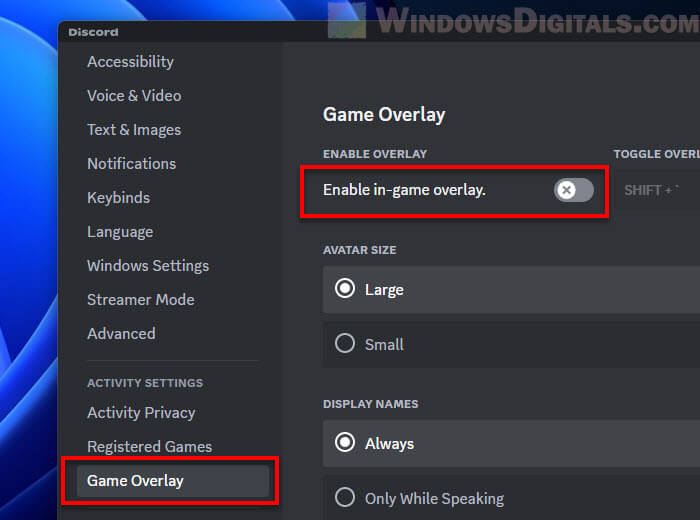 4. Tweak your graphics settings
Overlays may not work correctly depending on your game's display settings. Overlays interact uniquely with different display modes, which can lead to them not showing up in some configurations.
In TFT, alternate between "Fullscreen", "Windowed", and "Borderless". One mode might prove more overlay-friendly than the others. Remember, every system responds differently, so what works for one user might not work for another.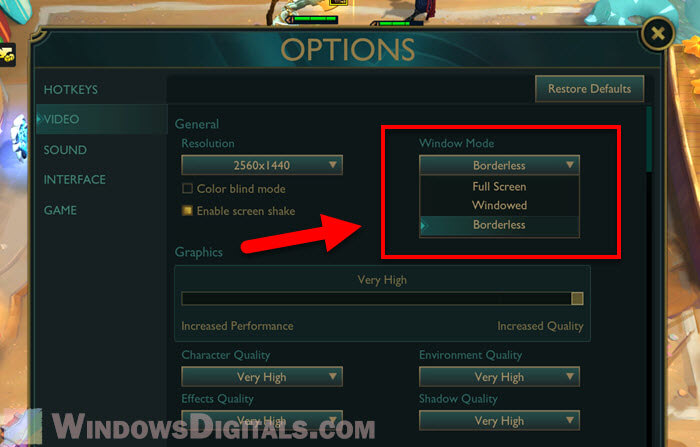 Related resource: How to Go Full Screen on Windows 11/10 Apps or Games
5. Firewall and antivirus interactions
While security software protects against malicious threats, they can sometimes misinterpret overlays as intrusive.
Windows: Ensure Mobalytics is allowed in "Windows Defender Firewall". It ensures the application can communicate freely with the TFT client. Since Mobalytics runs on Overwolf, you'll also want to make sure that Overwolf is allowed through the Firewall.
Mac: In "System Preferences" > "Security & Privacy" > "Firewall", verify Mobalytics' permissions. Adjust them if required.
6. Reinstallation might just be the key
Over time, application data can become corrupt or configuration files may misbehave, leading to unexpected glitches. Reinstallation ensures that you're working with clean, updated files directly from the source.
Remove Mobalytics from your system. Reinstalling ensures that you're working with clean, updated files directly from the source. Download the latest version from Mobalytics' official website.
Some Windows users on Reddit suggested a more thorough approach when standard solutions fail. They recommended navigating to the %appdata% directory by pressing Win + R and entering "%appdata%". Once there, find and delete the Mobalytics folder. After this, proceed with uninstalling and reinstalling the Mobalytics application. Many users reported success with this deeper cleansing method, noting that the overlay worked perfectly post-reinstallation.
For Windows users facing persistent issues, this additional step can often make the difference, ensuring that any residual, possibly corrupted data isn't hindering the functionality of the freshly installed application.
7. Check the communities and forums
Often, unique problems have already been addressed by others in the community.
Online platforms, including communities and forums like Reddit, as well as Mobalytics' official channels, channels can be excellent resources. It's likely that other users have encountered similar issues, particularly following specific updates or during certain time frames, and have shared their insights, solutions, or workarounds.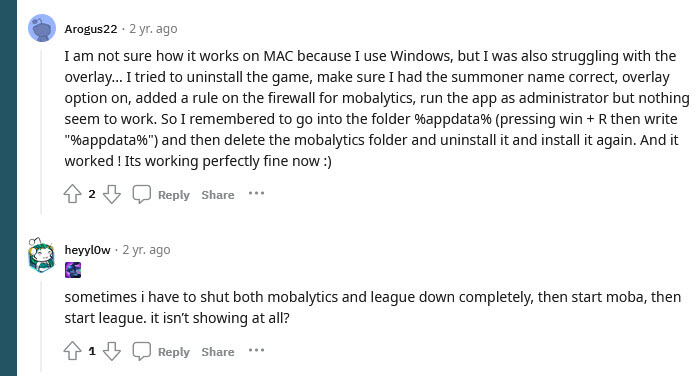 8. Contact support
Sometimes, issues might be more complex than general troubleshooting can solve.
Consider reaching out to Mobalytics' support team. Detailed information about your system, software versions, and a description of the problem can expedite the resolution process.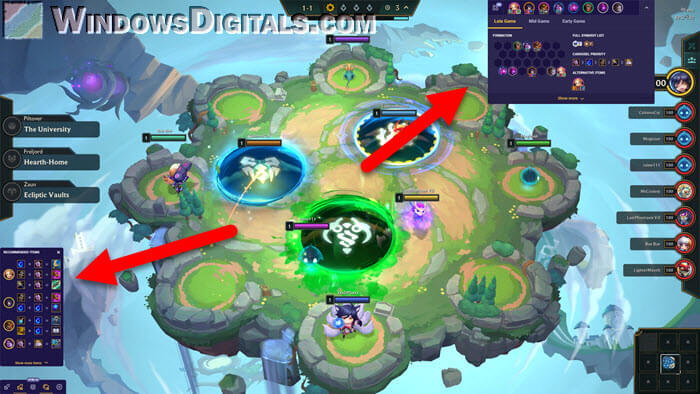 Conclusion
At its core, the main reason the Mobalytics overlay might stop working often comes down to updates. Keeping both TFT and Mobalytics app up-to-date usually sets things right. Additionally, the app needs the right permissions to work properly. Without administrative rights, it can't display the overlay over TFT.
If you've tackled these common issues and still face problems, especially if they're tied to unique situations, turning to forums like Reddit for help can be your best bet. Many players share their experiences there, and you might find the solution you're seeking.