Using Instagram on your PC can feel restrictive, especially when you compare it to the seamless user experience provided by the mobile version. The good news is, there's a way to use the Instagram mobile version on your PC that unlocks more features than the desktop version. This comprehensive guide will walk you through accessing and using the mobile interface of Instagram right on your desktop or laptop computer.
Also see: How to Find Someone By a Picture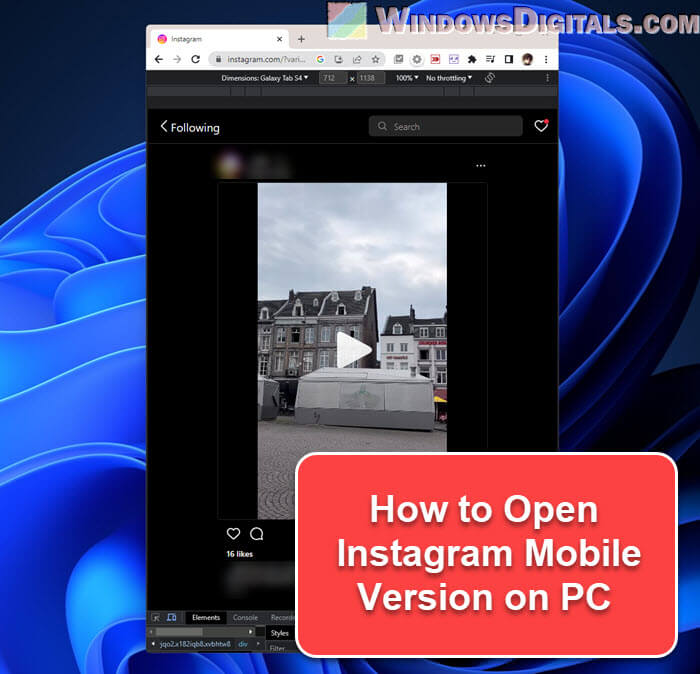 Open Instagram mobile view using browser developer tools
A fairly straightforward and uncomplicated method of accessing the Instagram mobile view on your desktop PC is by leveraging the power of your browser's developer tools. Here are the step-by-step instructions to guide you:
Start by opening your preferred web browser. For this method, Google Chrome or Mozilla Firefox are recommended due to the robust set of developer tools they offer.
Navigate to the Instagram website and log into your Instagram account using your username and password.
Next, right-click on any part of the Instagram page and select "Inspect" from the context menu that appears. This action will bring up the developer tools of your browser on one side of the screen.
Look for the icon in the developer tools window that looks like a combination of a smartphone and a tablet. This icon is generally referred to as "Toggle device toolbar" in Google Chrome and is found in the top left corner of the developer tools window. For Mozilla Firefox users, this icon is usually situated in the top right corner and is labeled "Responsive Design Mode".
Upon clicking this icon, the Instagram page will refresh, and you will be presented with the mobile version of Instagram on your desktop. Now you can enjoy the mobile experience of Instagram right on your desktop.
Useful tip: Create Website or Application Shortcut on Desktop using Chrome
Use Instagram mobile version on PC via Android Emulator
For a more holistic and immersive experience, consider using an Android emulator. An Android emulator replicates a mobile device environment on your desktop or laptop, allowing you to access Instagram as mobile on PC. This method could be more appealing if you prefer a near-authentic mobile Instagram experience on your PC. Follow these instructions:
First, download an Android emulator. There are several emulators available out there, but Bluestacks and Nox Player are widely used due to their reliability, user-friendly interface, and extensive features.
After you've successfully installed the emulator, open it. You will be asked to log in to your Google Play Store account. If you don't have one, you'll need to create one. This is a standard procedure, as it simulates the Android ecosystem on your PC.
Once logged into the Google Play Store, search for Instagram in the search bar. Click on the app from the search results and click "Install" to download Instagram onto your emulator.
After Instagram is installed, open the app within the emulator, sign in to your Instagram account, and there you go! You're viewing Instagram mobile on your desktop.
Linked issue: Instagram "Something went wrong, please try again" (Fix)
Navigating Instagram mobile on desktop
With either the browser developer tools or the Android emulator method, you now have the Instagram mobile version on your PC. The interface now closely resembles what you would typically see on a mobile device, allowing for a more immersive Instagram experience.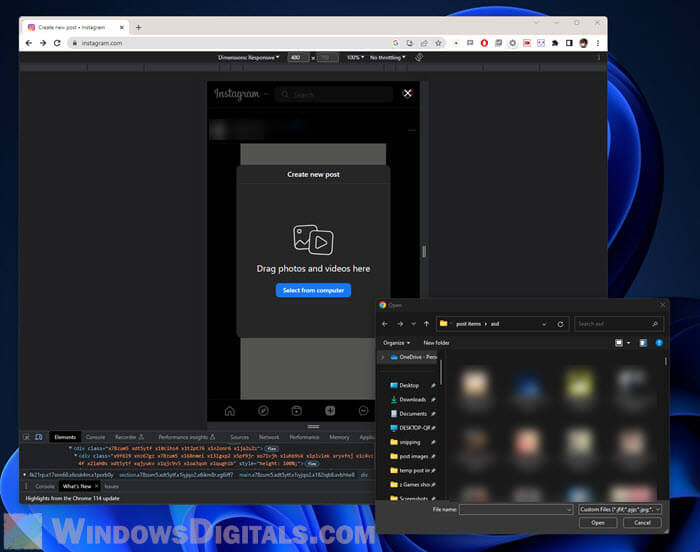 You can now upload photos directly from your PC – a feature not traditionally available on the desktop version. Moreover, you have access to your direct messages right on your desktop and can even upload to and view Instagram Stories. These additions can transform your Instagram usage, making it feel like you're using Instagram in Windows like a smartphone.
Related resource: How to Share Files From Android to PC Wirelessly
Limitations and benefits
Despite the enhanced experience, it's important to note that accessing the Instagram mobile view on your desktop online does come with certain limitations. Video uploading might not always work as smoothly as it does on a mobile device, and you might not be able to upload multiple photos at once in a single post. Furthermore, some filters and editing features that are available on the mobile version might not be accessible.
However, these minor inconveniences are generally overshadowed by the benefits. The most significant advantage is the capability to navigate Instagram using a mouse and a keyboard, which can offer more precision and speed than a touchscreen. Viewing Instagram on a larger screen can also make photo viewing and editing more enjoyable. Plus, whether you use the browser method or an emulator, you get to access more features than the standard desktop version, resulting in an improved user experience.
End notes
Learning how to open Instagram mobile view on PC can greatly enhance your Instagram browsing experience, particularly if you're a heavy user or a content creator who spends a considerable amount of time on the platform. While the steps for each method might vary slightly depending on the web browser or the emulator you use, the overall process remains largely the same.
We hope this guide helped you understand how to access the mobile interface of Instagram or any other website on your desktop PC. Don't hesitate to share this with others who might want to learn how to open mobile app like Instagram on their PCs. And of course, if you have any questions, feedback, or other tips, please share them in the comments.