Some apps and programs in Windows 10 have the ability to send you notification with an alert sound whenever triggered by an event. This can get annoying if the notification pops up too frequently, especially for apps such as Dropbox which notifies you whenever a photo or file is synced.
This guide will show you how to turn off notification sound of an app in Windows 10 while still being able to receive notification quietly. You can only turn off notification sound on an app-by-app basis. There is no single option to turn off all notification sounds from all apps at once.
In this guide, we will use Dropbox as an example, but you can use the same instruction for any other app that you want its notification sound to be turned off.
Turn off notification sound in Windows 10
To turn off notification sound of a specific app in Windows 10, follow the steps below.
Go to start menu.
Click on Settings (the gear icon on the left).
Select System.
From the left pane, click on Notifications & actions.
Scroll down to the list of apps and find the app that you want its notifications sound to be turned off.
Click on the app.
In the next window, toggle off the option that reads Play a sound when a notification arrives.
That particular app should now show notification banners quietly without any alert sound.
There is a lot more you can do apart from just turning off the notification sound in the notification settings. As you can see from the last screenshot above, you can disable the notification of an app entirely to not receive any notification from this app in the future. You can also disable only the notification banners but retain the app's ability to show notification in the action center.
You can even fine-tune the priority of notifications from any app to have them show on top of other apps' notifications in the action center.
If you want to just disable all notifications from all apps, which we don't recommend, you can go to the Notification & actions setting (step 4) and toggle off the Get notifications from apps and other senders. This will block all apps from sending you any more notification in your Windows 10 PC.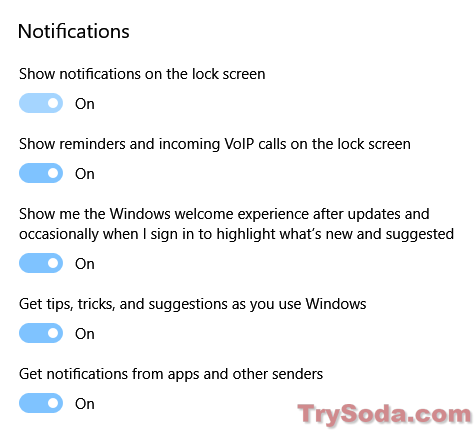 From the same notification setting page, you can toggle off any notification that you don't want to see in the future. For example, you can turn off notification from the tips, tricks, and suggestions as you use Windows, reminders and incoming VoIP calls on the lock screen, notification on the lock screen, the Windows welcome experience after updates, and the highlighted what's new and suggestions when you sign in to Windows.