If you are bothered with annoying desktop notifications popped by Chrome such as Facebook notifications or advertisements from random sites, here's how to turn off Google Chrome notifications on Windows 11 or Windows 10 from sites of your choice.
Also see: How to Disable Desktop Pop Up Notifications on Windows 11
Why disable Chrome notifications?
Notification is a useful feature in Windows 11/10 but it can be annoying when the notifications keep popping up too frequently. It can sometimes force minimize your app or game while you are at it.
The most common notifications from Google Chrome are the notifications prompted by Facebook. If you are logged into your Facebook account on Chrome, whenever there is a notification or new message in Facebook Messenger, Chrome will send you a notification pop up via Action Center on Windows 10 desktop.
Imagine you are a part of a Facebook Messenger group and the group members are very active in the chat, you would probably get non-stop pop up notifications from Chrome whenever someone chat in the group.

Some sites like producthunt.com also forces some advertisements notifications pop-ups through Chrome on Windows 11/10. When they are allowed to send notification from your Chrome browser, these sites will gradually prompt mostly ads related notifications on your desktop.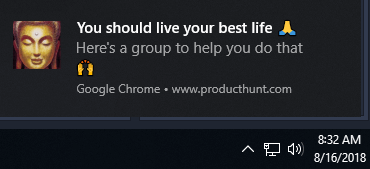 Related issue: Chrome or Firefox keeps opening new tabs on its own
How to turn off Chrome notifications on Windows 11/10
To turn off Google Chrome notifications from certain sites or all sites on Windows 11/10 laptop or desktop PC, follow the steps below.
First, open Google Chrome.
Click on the triple-dotted icon at the top right corner, then select Settings.
Scroll down to the end and click on the Advanced link. Update: Skip to step 4.
Under Privacy and Security, click on "Content Settings". Update (2022): The content settings is now called "Site Settings". You can simply search for "site settings" using the search bar in the Chrome settings page.
Then, click on Notifications.

To turn off Chrome notifications from all sites, disable the Ask before sending option.
To block only certain sites, beside Block, click on Add. Then, enter the site address which you want to block and click Add.
If you see the culprit site on the Allow list, remove it from the list.
When you've done with the settings, close Google Chrome and restart your computer. Chrome should now stop sending you notifications to your desktop from sites that you've blocked earlier.
It's worth noting that if you're browsing with Incognito mode (private mode), Chrome will not send any notification on Windows.
Use adware cleaner to turn off Chrome notifications
The method above should do the trick to turn off any unwanted Chrome notification on Windows 10/11. If the problem persists and a notification is still popping up despite already blocking it on Chrome, it may be caused by an adware or malware trying to hijack your Chrome settings and forces its sites to the allow list. If that's the case, you will need to scan your PC with an antivirus program or an Adware cleaner software.
There are a lot of programs, even some prominent ones, will force advertisement pop-ups via Chrome notification on Windows 10. These programs don't appear as virus or dangerous ware to some antivirus programs.
If even an adware cleaner is unable to identify the problem software, you may have to manually recall what you've installed earlier that have the highest chance to cause the issue, and try to remove it.