Windows 10 comes with a feature known as Windows Hello. Windows Hello provides users with alternative and usually quicker Windows sign-in options such as PIN (Personal Identification Number), Face Recognition and Fingerprint. If you have PIN set up previously on your Windows 10 laptop or desktop and wish to remove it now, this short tutorial will show you how to do it.
The Windows hello PIN is not tied to your Microsoft account; It is only tied to your computer or device. A thief with your password can sign into your Microsoft account from anywhere but with your PIN, he can only sign into that particular device. The point here is that if you have several Windows 10 devices which all have PIN set up on them, removing the PIN from one device doesn't remove the PIN from the others.
How to Remove PIN From Windows 10 Login
To remove PIN login from Windows 10 startup, follow the steps below.
Note: If you're using face or fingerprint recognition, they will stop working if you remove your PIN.
Go to Start menu. Search and open Settings.
Click on Accounts.
In the left sidebar, select Sign-in options.
Under "Select a sign-in option to add, change or remove", click on Windows Hello PIN.
To remove your existing Windows Hello PIN, click on the Remove button.
When asked for confirmation, click Remove again.
You will then be asked to enter your Microsoft account's password for verification. Enter your password and click OK.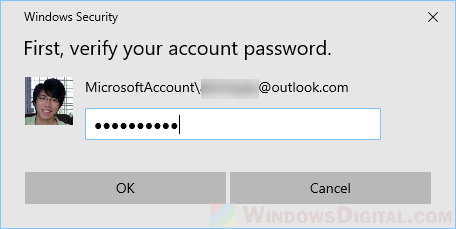 That's it! Your PIN should be removed now.
Windows Hello PIN Remove button grayed out
If you can't click on the Remove button because it's grayed out under Windows Hello PIN, it means you have the "Require Windows Hello sign-in for Microsoft accounts" option enabled. Disable it and the PIN remove button will be clickable again.
The "Require Windows Hello sign-in for Microsoft accounts" option is on the same Sign-in options settings window. Click on the toggle button to turn it off. Close Settings and re-open it to refresh the settings window. The remove button under PIN should be clickable again.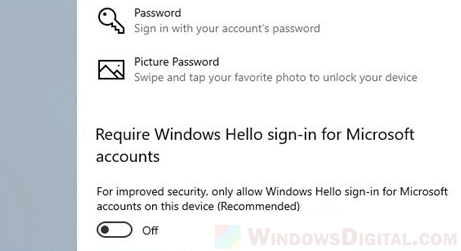 What happen after PIN is removed?
Now that you've removed the PIN from your Windows 10 system, the next time you start up your computer, Windows 10 will likely ask for your account's password that you used to login before you set up your PIN.
If your the account you used to sign into your Windows 10 is a Microsoft account (username ends with @outlook.com), the password cannot be removed because it's an online account. However, if it's a local account, you can remove the password from Windows 10 login, or simply create a local account without password, so your computer can boot into Windows without PIN, password or any sign-in options. For a tutorial about this matter, read: How to create local admin account without password on Windows 10.
How to remove forgotten PIN from Windows 10
If what you want is to remove the PIN and bypass the security login to sign into your Windows 10 account, you can't do that without signing into Windows first. However, you can reset your PIN on the startup lock screen by clicking on the "I forgot my PIN" link and enter your Microsoft account's password. It will then allows you to set up a new PIN to login to your Windows 10 PC.