The symptom of this specific error where Facebook Messenger would show Error Loading Media is that the app couldn't load the photos or videos from your gallery. Thus, making sending photos or videos through Facebook Messenger impossible. Here's a few workarounds you can try to fix the issue.
Some users reported that the problem usually happen on their Android OS smartphones specifically Samsung Galaxy s7 or other similar series, especially after a firmware update. The Facebook Messenger Error Loading Media issue will cause the app to fail loading your pictures (such as GIF), photos and videos when you select them from the gallery.
Fix: Facebook Messenger Error Loading Media
Clear Data and Cache for Media Storage
In most cases, clearing the data and cache for the Media Storage system app should solve the issue. Here's how to do it.
On your Android phone, open the Settings app.
Go to Apps or Default Apps.
Tap on the triple-dotted icon on the upper right corner of the Apps menu.
Select Show system apps. Note that this may vary from device to device. The purpose here is to allow the apps list to show system apps.
From the list of apps, look for Media Storage and tap on it.
Tap on the Clear Data button and then the Clear Cache button.
Reboot your device. Once your device fully loaded, reboot again.
Open Facebook Messenger and retry sending photos or videos again.
When you press on Clear Data, it will usually prompt you a warning message that the application data will be deleted. Please know that this will not delete your photos and videos. It is only deleting how the app remember your media and where to find them to list them on the gallery for you. Your photos and videos are still physically exist in your memory card. A simple restart will allow your phone to re-sync the media to your gallery again.
If you find that your gallery becomes empty after clearing the data of Media Storage, do not panic. Just reboot your device again and your photos and videos should be loaded back to the gallery app again. If it doesn't, let your phone idle for a few minutes (for the system to re-sync your media files) and check again later. Your photos and videos should appear in the gallery app right after.
After clearing the data and cache for Media storage system app, verify if the Facebook Messenger Error Loading Media issue is resolved.
Other solutions – Facebook Messenger Error Loading Media
If the above method doesn't work to fix the issue, try to also clear the data and cache for the Facebook Messenger app. Follow the outlined instruction above until you see the list of apps. Look for Facebook Messenger app. Tap on it and then tap Clear Data and Clear Cache buttons.
Alternatively, you can also try to reinstall the Facebook Messenger app, preferably also reinstall the Facebook app since they are interrelated. Reboot your device after re-installation and see if it solves the Facebook messenger error loading media error.
The error could be due to Network error on your Android device. You may want to try resetting your Network settings. It usually can be found from Settings > Backup & reset > Network settings reset. This will reset all your WiFi and internet connection settings. You will have to reconnect to your WiFi and other network again after reset.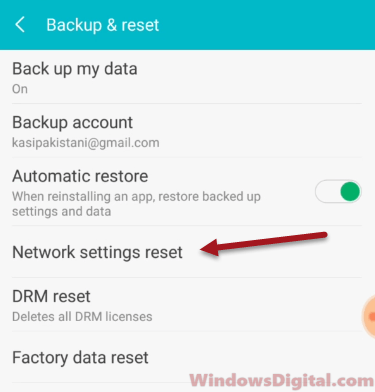 If nothing works, it may be a compatibility bug between your device, the Android firmware and the Facebook messenger app. The only choice left is to wait for next Facebook Messenger app update or an Android firmware update that hopefully will have the bug fix for the Facebook Messenger Error Loading Media issue.