Frequently when we receive a message on Facebook Messenger embedded with a link to a video, photo or an article, it may show up as Facebook Attachment Unavailable – This attachment may have been removed or the person who shared it may not have permission to share it with you.
This guide will show you what actually happened, what does the error mean in Facebook Messenger and how to possibly fix the issue.
Also see: Facebook Messenger shows "Error Loading Media"
Facebook Messenger shows "Attachment Unavailable" error
What does Attachment Unavailable mean in Messenger?
The Facebook attachment unavailable error, as it suggests, implies one of the following situation.
The attachment, which can be a video, photo or an article post, is either removed by whoever uploaded it, or you do not have the permission to view it. As for permission, it can be due to the attachment was set to only viewable by friends of the uploader when you're obviously not a friend of this person. It can also be you had the permission to view the file earlier, but you lost the permission afterward which makes the attachment unavailable to you in FB messenger.
If that's the case, there is nothing you can do except to ask the uploader to change the privacy settings of the attachment so that you can see it.
Read: How to Find Recently Watched Videos on Facebook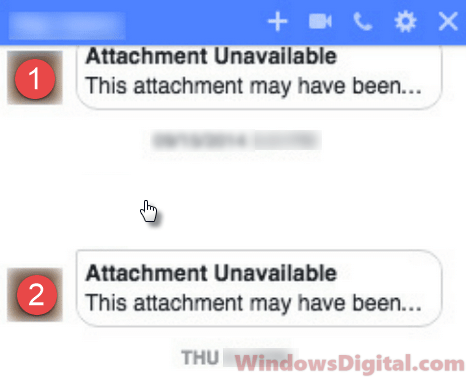 What is privacy settings for an uploaded attachment or post?
When you upload a photo, video or post a link to an article, you can set it to be only viewable by any group of people you prefer. For example, friends only, friends of friends, family, public, only me or custom for more custom group of people. This is what we called the privacy settings of a post or an attachment.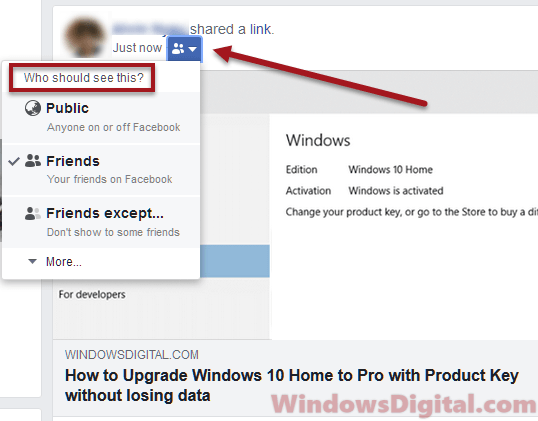 So, if you are the uploader and you would like the friends of your friends to be able to view your uploaded content when your friends share it, be sure to set it accordingly. In this case, the friends of friends option should be sufficient.
Also, it's worth mentioning that the privacy settings of the post can be different from the privacy settings of the uploaded photos or videos.
Let's say you've uploaded a photo that is set to be only viewable by your closed friends. Then, you share this photo as a post on your Facebook wall and you set the privacy settings of this post to public. When you or a friend of yours share this particular post to any group on Facebook messenger, the privacy settings of the original photo will take effect and will still show Facebook Attachment Unavailable error.
Recommended Tip: How to Find Someone By Picture on Facebook
Share content from a Facebook Group vs Public Facebook Pages
It is now no longer possible to display or share content of any kind from a Facebook Group, unless both parties – the sender and the receiver, on the Facebook messenger are members of the group. If you share a post from a Facebook group to your Facebook messenger group where you are the only member of the Facebook group, it will always show up as Facebook Attachment Unavailable error for anyone in the messenger group who sees it.
As for a public Facebook page, however, you can share any post from it to your Facebook messenger group. It will be viewable by your friends in the group as long as the privacy setting is set to be public by the uploader.
Uploader or Facebook removed the photo or post
If you share a post of which the attached photo have already been removed by the owner or Facebook, it will show up as Facebook attachment unavailable error on your Messenger group. Even the person who share it will see the same error if the attachment is non-existent.
This is often the case when a viral post that breaks Facebook's regulations is shared widely, and Facebook finally decides to bring it down and remove the post. That particular post that has been shared on any messenger group will then show up as Facebook Attachment Unavailable error.