If you're an avid gamer and use EA's Origin or the new EA App platform to play your favorite games, you may have encountered a frustrating error message indicating that "Your credentials are incorrect or have expired. Please try again or reset your password." This error can prevent you from accessing your account and playing your games, leaving you wondering what to do next.
In this article, we'll explore the possible causes of this issue and provide solutions to help you regain access to your account.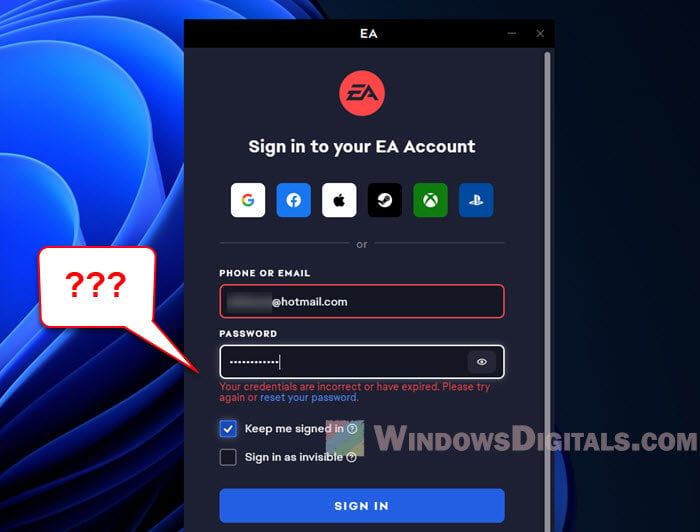 What is EA App?
EA App is a platform created by Electronic Arts (EA) that allows gamers to buy, download, and play their favorite games on PC. EA App, previously known as Origin, offers an extensive library of games, from classic titles to the latest releases, making it a popular choice for gamers. However, some users have reported issues when logging in to their Origin account, with error messages indicating that their "credentials are incorrect or have expired."
Also see: How to Move Origin Games to Another Drive Without Redownloading
Possible Causes of the "Your Credentials Are Incorrect or Have Expired" Error
The following are some of the most common reasons why you might be seeing the "Your credentials are incorrect or have expired" error when trying to log in to the EA app.
Incorrect login credentials
The most common cause of the error is that the user enters incorrect login credentials, including a wrong username or password. Make sure that you are using the correct email address associated with your Origin or EA account, and that your password is entered correctly. If you are not sure, try resetting your password to gain access to your account.
Hacked or compromised account
If you suspect that your account has been hacked or compromised, it is possible that someone else has changed your password. In this case, you may not be able to log in with your old credentials. Try resetting your password to regain access to your account.
To protect your account from being compromised, it's important to take steps to secure your login information. Use a strong, unique password and enable two-factor authentication if possible. Avoid sharing your login credentials with anyone, and be wary of suspicious emails or messages that ask for your personal information.
Issues with login servers from EA's side
Sometimes, login servers from EA's side can experience issues that may cause the "Your credentials are incorrect or have expired" error. These issues can occur due to a variety of reasons, including server maintenance, downtime, or unexpected technical problems.
If the problem is caused by EA's servers, there may not be much you can do to resolve it on your end. However, you can try to log in again later to see if the issue has been resolved. You can also check EA's social media accounts or the EA Help website to see if there are any known server issues affecting users.
Corrupted EA App or Origin cache
Another cause of the error can be a corrupted Origin or EA App cache. If you have tried all of the above solutions, clearing the cache may help fix the problem. You can also try clearing your browser cache if you are encountering the issue while logging into EA.com.
Inactive account that requires re-logging in
If you haven't used your account for a long time, you may need to log in again. Your account may have been deactivated due to inactivity. Try logging in again to reactivate your account.
Related issue: How to Fix Game Stuttering on Windows 11
Solutions for the "Your Credentials are Incorrect or Have Expired" Error
If you're experiencing the "Your credentials are incorrect or have expired" error, there are several steps you can take to fix it:
Double-check your login information
One of the most common causes of login errors is incorrect login information. Make sure you're entering the correct email address and password when logging into the EA App. Also, ensure that you're not making any typos when entering the login information.
Reset your password
If you've forgotten your password or suspect that someone else has access to your account, you can reset your password. You can do this by visiting the EA website and selecting the "Forgot your password" option. You will then receive instructions on how to reset your password.
Suggested read: How to Show FPS in Games on Windows 11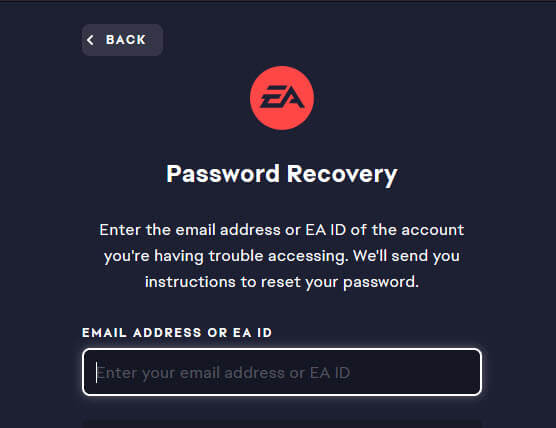 Clear EA App cache
Clearing the cache can often resolve issues with the EA App. To clear the cache, follow these steps.
Click the three dashes in the far-left corner of the EA app.
Select Help.
Click on App recovery.
Then, select Clear cache.
Clear browser cache if you are logging into EA.com
If you are logging into EA.com and encountering the "Your credentials are incorrect or have expired" error message, clearing your browser cache may help. When you visit a website, your browser stores certain files to improve your browsing experience, including images, scripts, and website data. However, sometimes these files can become corrupted, outdated, or simply too large, causing issues with website functionality.
By clearing your browser cache, you can remove these stored files and give your browser a clean slate to work with. This can often resolve login issues, such as the EA invalid or incorrect credentials issues.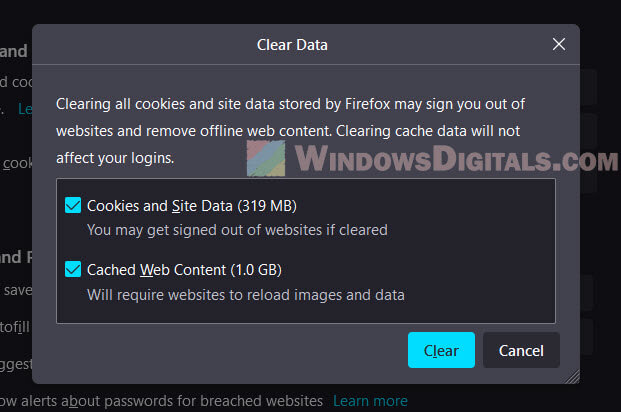 Contact EA support
If you've tried the above solutions and are still experiencing login issues, it may be time to contact EA support. You can visit the EA Help Center and choose the "Contact Us" option to speak with a support representative. They will be able to assist you in resolving the login error and get you back to playing your favorite games.
With these solutions, you should be able to resolve the "Your credentials are incorrect or have expired" error and continue enjoying your favorite EA games. Remember to keep your login information up-to-date and clear the cache regularly to prevent login issues from occurring in the future.