If you believe that you have installed TeamViewer and chose the free version that is for personal and non-commercial use only, and yet you still get the "TeamViewer your trial period has expired" error message, here's why the error appears and how to reset or fix TeamViewer trial version expired on Windows 10.
The TeamViewer trial version expired message will usually appear after a couple of days of using it. When it shows up, you will no longer be able to use TeamViewer until you buy a license from them. If you are using TeamViewer for personal use only, here's how to fix the TeamViewer trial expired issue.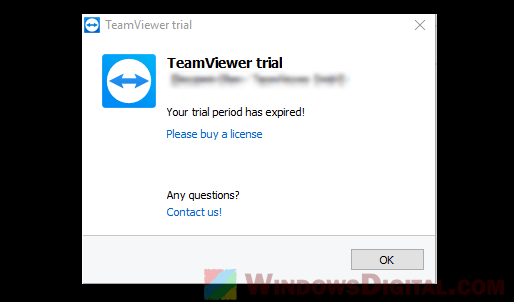 Why do I see TeamViewer trial version expired?
Well, TeamViewer basically has two versions – a free version for home and personal use, and the other for businesses which requires subscriptions. In most cases where you receive the TeamViewer trial expired message, it's most likely because you have accidentally chose the commercial version when you installed TeamViewer earlier.
How to fix TeamViewer trial version expired
If you believe that you have chosen commercial version accidentally and that you are using TeamViewer for personal use only, in order to fix and reset TeamViewer trial version expired, you will have to completely uninstall it, including removing its registry and all of its related folders, and then install the free version of TeamViewer. Here's how to do it.
Like mentioned above, the first thing to do is to completely remove TeamViewer from your system entirely. Firstly, on Windows 10, go to start menu and search for Add or remove programs. Open it and then from the list of apps, look for TeamViewer. Select it and click on Uninstall.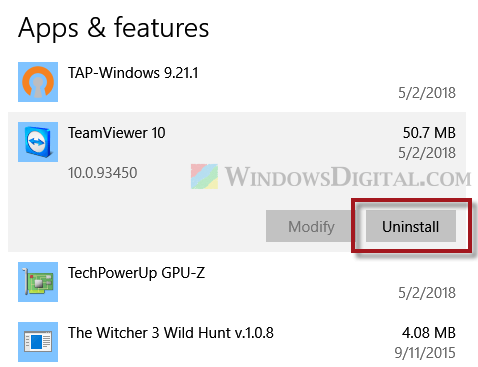 Once uninstalled, on Windows 10 desktop, press Win+R to bring up to Run window. Type in %Appdata% and then click OK. Delete the TeamViewer folder from the Appdata directory.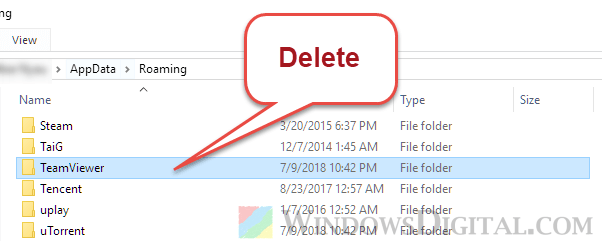 Next, go to the TeamViewer directory, usually in C:\Program Files\TeamViewer, and delete the TeamViewer folder if it still exists.
Now that all the TeamViewer related folders are removed, it's time to also delete its related registry in Windows 10. Caution: Registry editing may cause serious problem and may potentially disable your operating system if incorrect changes are made. Backup your registry before making any changes by choosing File then Export in the Regedit. Use Registry Editor at your own risk.
Go to start menu and search for regedit. Open it and navigate to the following registry paths and delete the TeamViewer registry folders.
Computer\HKEY_CURRENT_USER\Software\TeamViewer
Computer\HKEY_LOCAL_MACHINE\SOFTWARE\WOW6432Node\TeamViewer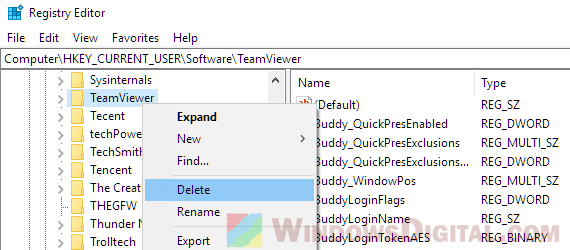 Once deleted, restart your computer. After that, follow the steps below to reinstall TeamViewer free version.
Reinstall TeamViewer Free Version – Reset TeamViewer Trial
By following the instruction above, TeamViewer should be completely removed from your Windows 10 computer. To reinstall TeamViewer again, go to TeamViewer official website and select the "Download for free for personal use" to download TeamViewer free version.
Once downloaded, run the TeamViewer setup and follow the on-screen instruction to install it on your PC. When ask if you are to run it for personal or commercial use, be sure to select for personal use only. This should fix the TeamViewer trial version expired on Windows 10 issue.
However, if you are running Windows Server operating system on your computer, TeamViewer will automatically be classified as commercial use. If that's the case and you are really only using TeamViewer for non-commercial and personal use only, you can try to use this form (TeamViewer official support) to request TeamViewer to remove the trial period for you.