Have you tried to shut down your PC only to find that it stuck at a screen that reads "Closing 1 App and Shutting Down" every single time? This article explains what it means and how to get around the issue.
Closing 1 App and Shutting Down Windows 10
What does it mean?
The message basically means that Windows 10 is trying to close 1 or x number of apps or programs that you have run prior to shutting it down, before it will shut down itself.
Normally, this particular process should be done by itself if it can successfully close the said app. Otherwise, it will stuck at the screen until you click on the Shut down anyway button. In some cases, if Windows 10 fails to get past this screen, it will jump right back to your desktop as if nothing has happened.
So, the issue lies on the problem app or program that Windows fails to close and terminate. It is this app that prevents Windows from shutting down.
How to fix the problem?
The solution is pretty straight forward – fix or remove the program or app that prevent Windows from shutting down.
When the Closing 1 App and Shutting down screen appears, you should see the problem app icon with a message that says "This app is preventing shutdown". This can happen in two different scenarios:
Windows is able to show the app icon that is preventing shutdown.
Windows does not show the problem app's icon. But instead, it shows a blank icon which sometimes appears as task host window with little to no info of what was the app that Windows fails to close.
You know which app is preventing shut down
If it's the former situation, just make sure to close the app entirely before clicking Shut Down in Windows 10. If the problem persists, you can then decide what to do with the problem app, whether to remove it or have a look in the program to see what causes it to not close and what you can do about it.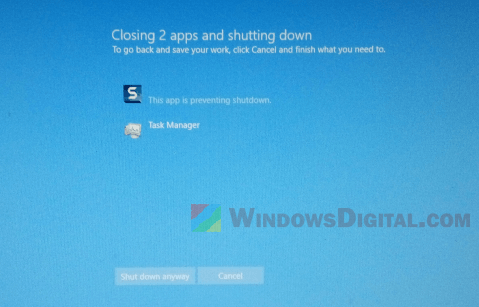 Closing 1 app and shutting down screen shows task host window or no icon
If it's the latter where it shows a blank app icon or the task host window, which you have no idea what app or program is causing the issue, the only way is to check on the Event Log in Windows 10. You can find detailed information of what was the last application that Windows fails to close with its .exe name. Here's how to view it in the Event Log in Windows 10.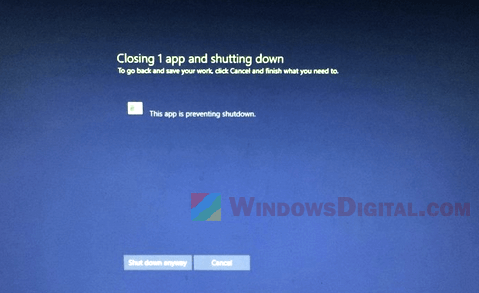 Go to start menu in Windows 10.
Search for Event Viewer / Event Log and open it.
On the left pane, expand Windows Logs and click on Application.
From the list of info, look for the "information" which matches the date and time when you last seen the Closing 1 app and shutting down screen, with the Winsrv as the Source.
Double-click on it and you should be able to see the name of the app or program which Windows fails to close on your last shut down attempt.
Now that you have the exe name of the application which causes all the troubles, you can decide if you want to remove it or manually close the app every time before you shut down your PC.