In this guide, you will learn how to open and view SVG file on Windows 10, and how to be able to preview SVG thumbnails in File Explorer on Windows 10.
What is an SVG file? SVG, shorts for Scalable Vector Graphics, is a type of file that uses XML-based text format to describe how an image should appear. Since text is used to describe how the image appears in an SVG file, the image can be scaled to any size without losing quality. SVG format is most commonly used for frequently scaled images such as icons, logos and illustrations.
How to open SVG file in Windows 10
The easiest way to open and view an SVG file is by opening them in one of the modern web browsers. Most modern web browsers such as Mozilla Firefox, Google Chrome and Edge Chromium do provide rendering support for SVG format files.
If you do not have Firefox or Chrome, you can use the Windows 10 built-in browser – Microsoft Edge to open SVG files.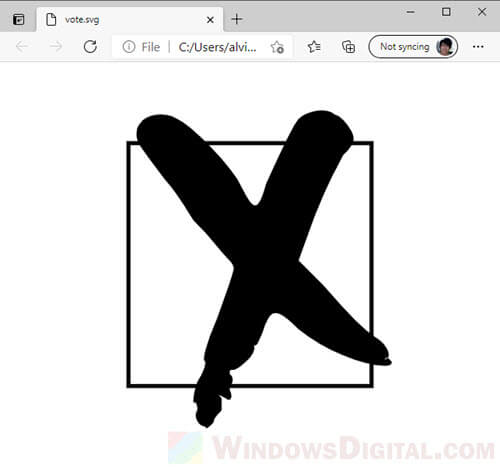 To open an SVG file in Edge, right-click on the SVG file, hover your mouse cursor to "Open with", then select Microsoft Edge.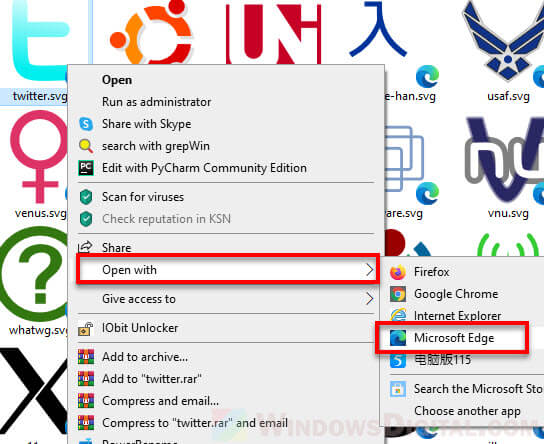 If Edge is not listed on the "open with" list, click Choose another app instead and then look for Microsoft Edge from the list of apps.
By default, SVG file format does not have a default app set to open it on Windows 10. To set a default app to open all SVG files so that you don't have to right-click and "open with" every time you want to open an SVG file, do the following.
Press Win + i keys to open Settings in Windows 10. Navigate to Apps > Default apps. Next, click on "Choose default apps by file type". Scroll down the list and look for .svg file format. Once you found it, click on the "Choose a default" button next to it and then select Microsoft Edge to set it as the default app to open all SVG files in the future.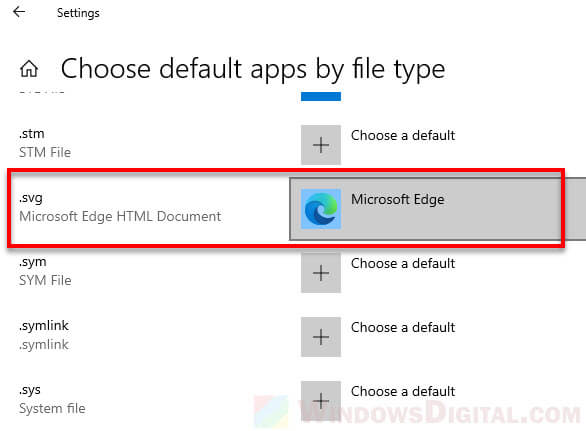 If you want to edit or create an SVG file, you need to use an apps that supports creating SVG such as Adobe Illustrator or Inkscape. Since these apps are used to create SVG files, you can, of course, view SVG files using one of these apps.
Since an SVG file is made of text that describes how the image appears, you can also open an SVG file in a text editor such as Notepad++.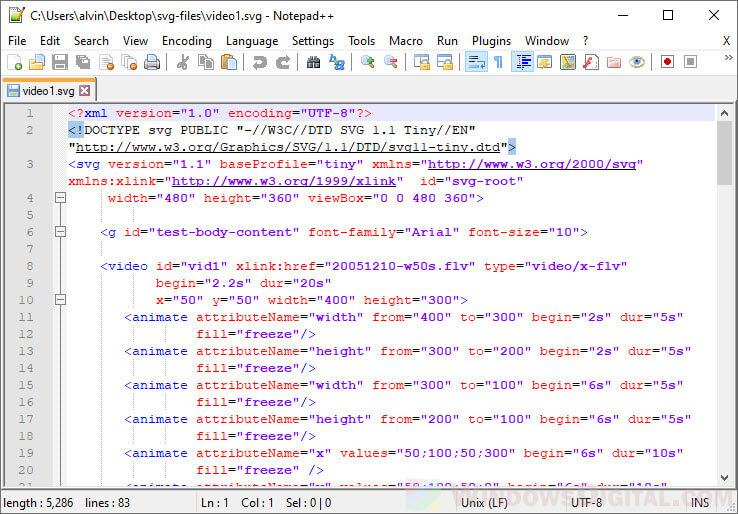 How to view SVG thumbnails on Windows 10
For all other image formats, you can view the thumbnails directly from the file explorer prior to opening them. As for SVG files, by default, they don't show thumbnails in the File Explorer. To enable preview of SVG files' thumbnails in File Explorer, you need to download and install a Microsoft software called PowerToys.
The screenshots below show how SVG files' thumbnails appear in File explorer before and after using PowerToys.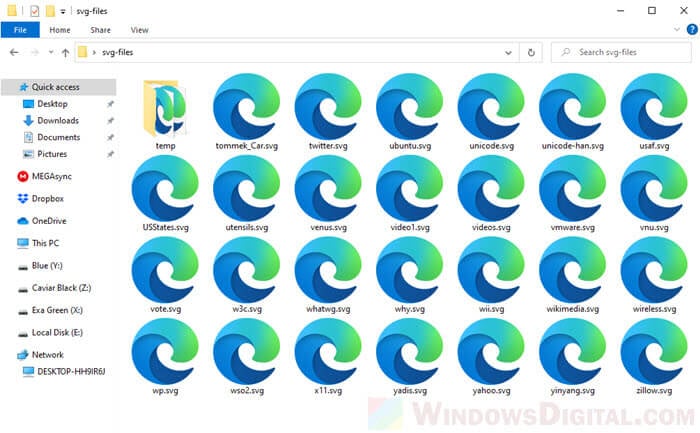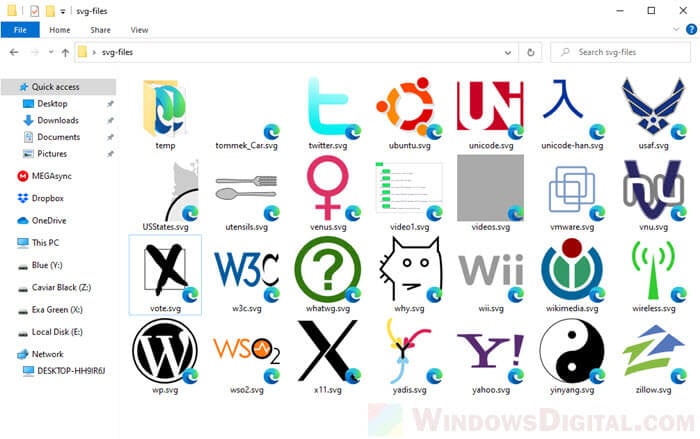 Microsoft PowerToys is a set of useful utilities for power users to enhance their experience in Windows 10, thus the name, PowerToys. Previewing SVG files in File Explorer is one of the features in the tool.
Download PowerToys from https://github.com/microsoft/PowerToys/releases/. If you have no idea where the download link is on a GitHub release page, scroll down to skip all the changelog (for the latest release) until you see "Assets". The download link can be found under "Assets".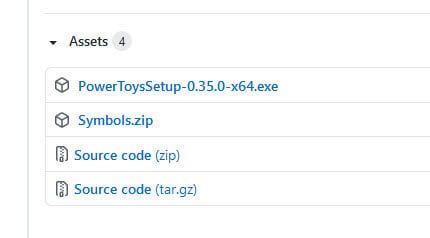 Download the PowerToys setup .exe file and install it.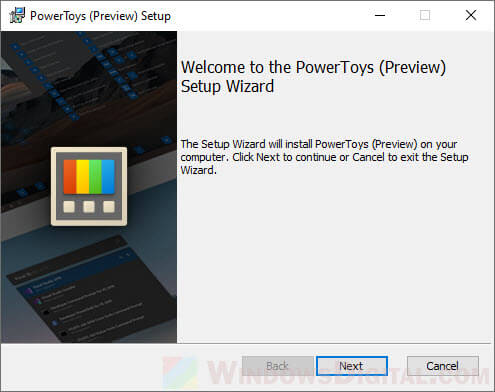 Once installed, open PowerToys from the desktop shortcut (or search for and open it from the start menu). Click on the Settings button in the app.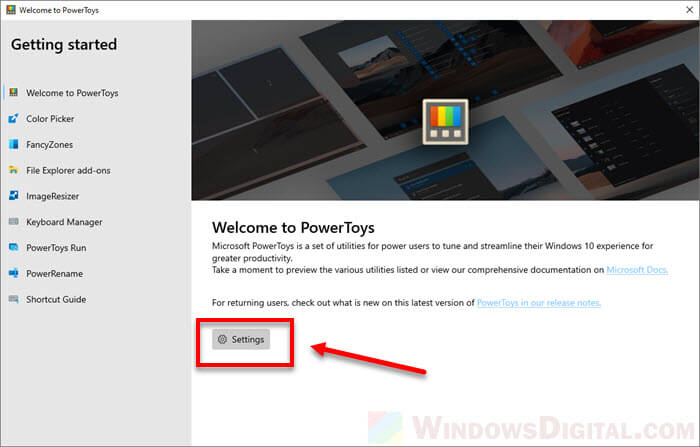 In the General settings, under Administrator mode, click on Restart as administrator, so that you can make changes to some settings that require administrative privileges.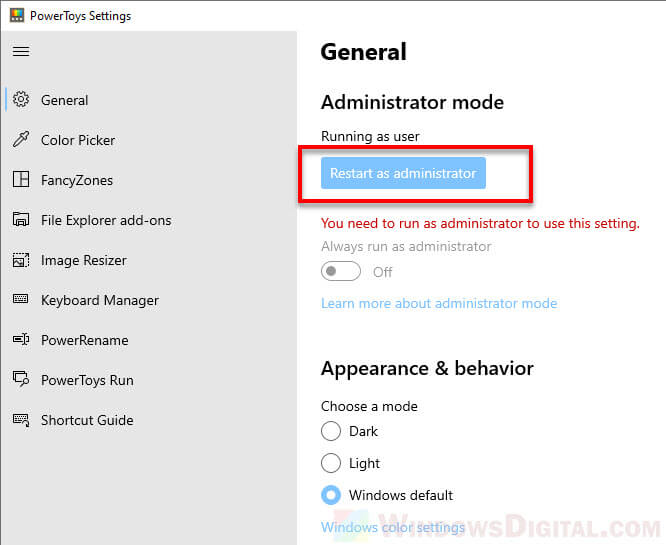 Once the program is restarted, go back to the Settings, and click on File Explorer add-ons from the left pane. Under Preview Pane and Icon Preview, click to turn on both "Enable SVG (.svg) thumbnails preview" options.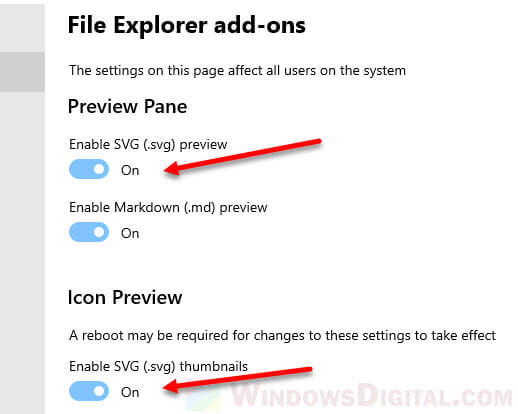 After enabling the options, restart your PC for the changes to take effect. Once restarted, you will be able to view SVG thumbnails in the File Explorer on Windows 10.