Twitch Drops have become a popular way for gamers to earn in-game rewards, exclusive items, and other perks by simply watching their favorite streamers. However, what if you want to enjoy these rewards without dedicating hours to watching streams? In this guide, we'll explore a couple of methods to help you get Twitch Drops without actively watching the streams. Whether you're on a mobile device or using Google Chrome on your PC, we have solutions for you.
Also see: Twitch Drops Not Working, Drops Not Showing Up in Game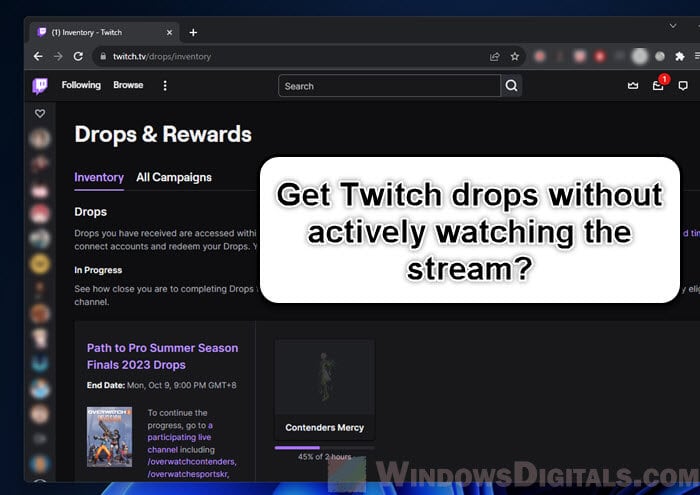 Disclaimer: The methods and tips provided in this article are for informational purposes only and do not constitute official advice or endorsement. By implementing these workarounds, users may be engaging in actions that may not align with the intended use of the Twitch platform. Readers are encouraged to consult Twitch's official Terms of Service and Community Guidelines before applying any of these methods. Users should be aware that using these methods could pose risks, including potential violations of Twitch's terms or policies, which might result in penalties, including account suspension. Proceed at your own discretion and risk.
Get Twitch drops on mobile without watching the streams
For those who primarily access Twitch via their smartphones, there's a neat workaround that allows you to get drops without consuming too much of your data. This method also ensures that the streamers still get the view count, creating a win-win scenario for both viewers and content creators. Here's how you can set it up:
Open the Twitch mobile app: Ensure you've got the latest version of the app installed to access all its features.
Navigate to the top left corner and click "Profile" to access your account.
Under the profile section, click "Account Settings".
Within this menu, find and select "Preferences".
In the preferences section, you'll come across an option named "Continue playing audio in background". Toggle this option and set it to "Always". This ensures that the stream's audio will continue to play even when you're using other apps or have locked your phone.
Now, head over to any Twitch stream that's enabled for drops. Once you're on their stream page, click on the settings wheel icon usually located at the top right of the video window. From the dropdown menu, select "Audio Only". This will switch the stream to an audio-only mode, thereby conserving your data.
Turn down your media audio to avoid any disturbances, especially if you're doing other tasks on your phone.
Once set, lock your phone. Ensure that the Twitch icon remains present in your notification tray – this is crucial. If it's visible, it indicates that the stream is still active in the background, and your drop percentage will keep increasing.
Note: For this method to work, you must ensure the Twitch window is active when you lock your phone. The presence of the "pause" option in your notification tray is a good indicator that everything is set correctly.
Related concern: Game Lag When Watching Twitch or YouTube on Chrome
Automate your Twitch drop claims with Chrome extensions
For those who prefer the bigger screen experience and primarily use Chrome to watch Twitch streams, there's a convenient extension to simplify the drop claiming process. This method doesn't bypass the need to open a stream, but it does automate the reward claiming process, ensuring you don't miss out on any rewards while you multitask. Here's how to make the most of it:
Open Chrome browser: Ensure you are using an up-to-date version of the Chrome browser for the best compatibility with extensions.
Navigate to the Chrome Web Store. In the search bar, search for an extension called "Automatic Twitch: Drops, Moments and Points".
Locate the extension from the search results and click on "Add to Chrome". This will install the extension to your browser. Make sure to grant it necessary permissions when prompted.
Once installed, you should see the extension's icon in the top right corner of your Chrome browser. Click on the icon to access its settings and ensure the toggle is set to "On". This step is crucial as it activates the auto-claim feature of the extension.
Ensure you are logged into your Twitch account on the browser.
Now, open any Twitch stream that offers drops. You don't have to actively watch the stream. Simply open the stream in a tab, and you can mute it if you wish. The extension will take care of the rest.
The magic of this extension lies in its ability to auto-claim drops for you. Traditionally, even if you've fulfilled the watch time required for a drop, you still need to manually claim it. If you don't, you get stuck on the first reward, and no further progress is made, regardless of your watch time. This extension bypasses this manual step, claiming rewards as they become available.
Linked issue: Twitch Causing High CPU Usage on Chrome or Firefox
Remember, while this extension automates the claiming process, it doesn't free you from the necessity of having a stream open. You can mute it, switch tabs, and go about your tasks while letting the stream and auto-claim run in the background. The beauty is in its convenience, ensuring you never miss a drop while multitasking or working on other things.
Conclusion
Twitch drops are an exciting way for viewers to receive in-game rewards and goodies simply by watching their favorite streamers. For those who can't always dedicate time to watch but still want the rewards, the methods described above offer valuable workarounds. However, always remember to support your favorite streamers by occasionally tuning in, interacting, and perhaps even subscribing – after all, it's their content that's giving you those coveted drops.