Windows setup could not configure windows to run on this computer's hardware is an error you may see in Windows 11 or Windows 10 during Windows Update or Windows installation, which stops the process in the middle of its installation.
What causes the error? It could be due to a number of reasons such as corrupted update's installation files (especially during a major Windows update), problem with the Windows Update services, Windows activation error (if you're installing Windows), OS system file error, or even conflicts between existing software.
We prepared a list of applicable solutions sorted by their importance. You certainly don't have to execute them all, but you can work your way down the list until a fix works for you.
If you see the error during Windows 11 or 10 installation
If you met the problem during Windows update, skip this fix. If you were installing Windows 10 and the error occurred, try the following steps.
On the exact screen where the error was shown, hit Shift + F10 keys to open command prompt directly from the screen. In the command prompt, enter the following two lines. Press the Enter key after each line.
CD C:\windows\system32\oobe
msoobe
The installation should be resumed now. When the installation asks you to fill up anything, just do so.
Check your hard disk status
It could be your hard disk or its storage controller driver that causes Windows to run into the particular error. If you have access to the internet from another computer, search and download the appropriate drivers for your hard disk drive from Intel website. Then burn it to a CD or USB flash drive and run it during the setup.
If you have no access to the internet at the moment or you simply do not know what that driver is about or how to find it, try to install Windows onto another hard drive and see if the "Windows setup could not configure windows to run on this computer's hardware" problem persists.
For users who encounter the error during Windows Update
The first thing to try is, of course, to restart your PC and re-run the Windows Update. It could be some of the installation files it downloaded earlier were corrupted or missing. Before you re-run Windows Update, go to this folder C:\Windows\SoftwareDistribution and move all the files to another folder (anywhere you like). These are the installation files Windows Update had downloaded and is prepared to be installed. You can straight away delete them, but we encourage to just move them to another location just in case if you need them again later, you can still retrieve them.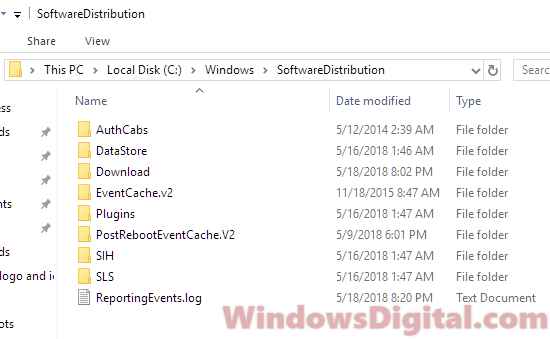 Generally, after removing the files in C:\Windows\SoftwareDistribution, Windows will re-download whatever it must when you run Windows Update again. So, try this and see if the problem can be fixed. If the same error shows up again, follow the next solution.
Run Windows Update Troubleshooter
The troubleshooters in Windows 11 and 10 has always been a hidden tool that most people neglect when they meet a problem. For most Windows related problem you encounter, the very first thing you should do is to run the troubleshooter for the problem area to see if it can resolve the issue automatically.
In this case, we should run Windows Update troubleshooter first. Follow the steps to do so.
Go to the Start menu or Windows Search.
Click on Settings, or search for "settings" and open it.
Select Update & Security.
From the left pane, select Troubleshoot.
Select Windows Update, then click Run the troubleshooter.
Wait for the process to complete. Run Windows Update again when it's completed.
Run DISM and SFC System file check
DISM, which stands for Deployment Image Servicing and Management, is a Windows built-in tool to automatically troubleshoot and fix problem such as Windows Update problem. While SFC is a tool to automatically scan and repair missing or corrupted system files in the Windows OS. Both have to be executed in command prompt with admin privileges. In our case, we will run SFC first and DISM after that.
Go to Windows Search.
Search for cmd.
Right-click command prompt from the search result, and select Run as administrator.
In the command prompt, enter the following commands.
sfc /scannow
The process may take a awhile. When it's completed, enter the following command to run DISM check. Press Enter key after each line of command.
Dism /Online /Cleanup-Image /RestoreHealth
When both commands are executed and their process completed, run Windows Update again. If the same error shows up again, try the next fix.
Install the latest update via Update Assistant or Media Creation Tool
Windows Update can be installed via several other methods such as using the update assistant or media creation tool. For major updates like the Windows April Update, we always recommend manually update to it using the two mentioned tools.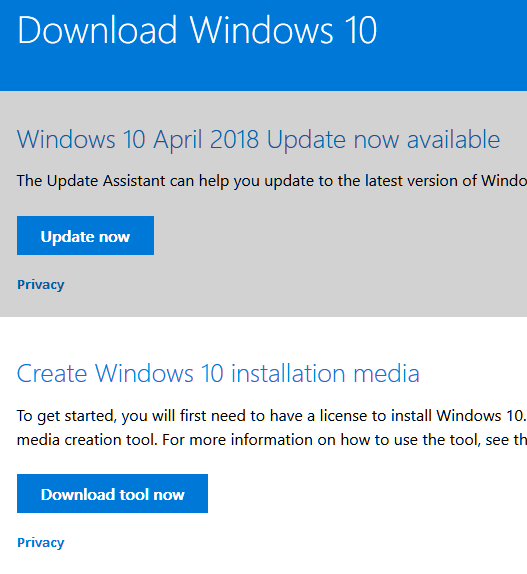 To run Windows Update Assistant, go to this page and download it. Run the tool and it should automatically detect what is needed to be updated. Follow the on-screen instructions for the rest of the procedure.
To run media creation tool, go to the same Microsoft's page. Scroll down until you see media creation tool. Download and run the media creation tool. Select Upgrade this PC now. It should start the update right away.