When copying files or photos from your iPhone or Android phone to your Windows 11 or Windows 10 PC, you may sometimes see an error message stating, "Error copying file or folder – The requested value cannot be determined". This guide explains why this error occurs, and what you can do to fix the problem and continue copying your files.
Also see: How to Transfer File From Android to Windows 11 via Bluetooth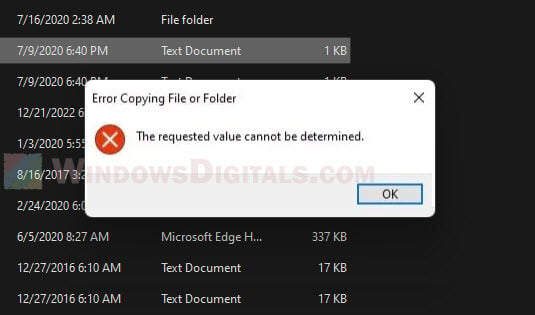 The requested value cannot be determined
In most cases, the issue happens when you try to copy a huge number of files and photos at once from your iPhone or Android to your Windows PC. If there are too many files and subfolders within the folder you are trying to copy, the error may occur.
In addition to this, there are also other reasons that can cause the problem, such as if a file is too large and your target drive only support a limited size (e.g. 4 GB file size limit on FAT32 drive), if you do not have the admin right or permission to write on the disk, if the one of more files are corrupted, if you use the wrong transfer protocol, etc.
Transfer those files several times separately
If "The requested value cannot be determined" error occurred when you copy one single huge folder (such as the DCIM or Camera folder) from your phone to Windows 11 or 10, try copying only one file or photo from that folder and see if that works. If you don't get any error when copying a single file, it probably means you were just copying too many files at once.
In this case, try transferring those files multiple times separately. Copy only a few files and folders at a time.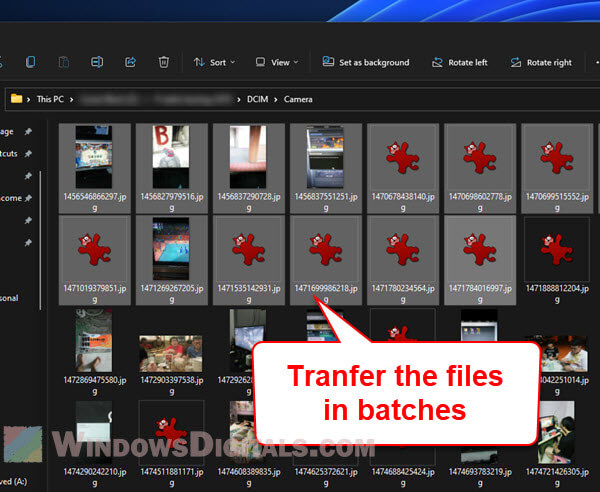 Choose MTP transfer protocol when connecting USB
When you connect your Android or iPhone to your PC via USB, you will usually get to select a USB configuration to let Windows and your phone know what the USB connection is for. When the prompt pops up, make sure to select MTP (Media Transfer Protocol). On some devices, it's also called "File Transfer".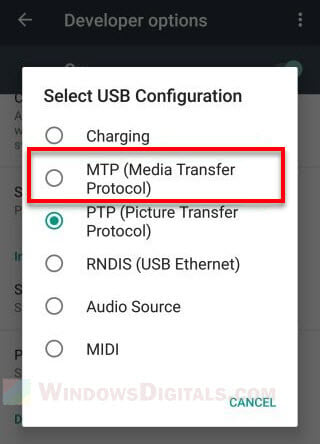 If that doesn't work and if you are transferring only photos, try choosing the PTP (Picture Transfer Protocol) instead and see if it works.
Reboot your phone and reconnect the USB
In addition, if you haven't already done so, try restarting both your phone and computer and reconnecting the USB connector to see if the problem can be fixed. Remember to choose MTP when your phone prompt you for USB transfer mode.
Use a different USB cable or port
In some rare cases, if the USB cable you use to connect your Android device or iPhone to your Windows computer is faulty, it may cause the same error. Try using a different cable and see if the issue is resolved. Also, try plugging the USB into a different USB port on your computer in case there is a problem with the port.
Try to transfer to a different drive or folder
If the user account you are currently logged into on Windows 11 or Windows 10 does not have the permission to write on the directory where you want to paste the files, it might cause the error – "The requested value cannot be determined" to occur, restricting you from copying files from your iPhone or Android device to your PC.
Try transferring the files to a different drive on your computer (if you have multiple drives) or other folder and see if it works.
If you are not sure if you have the permission to write on the folder you want to copy the files to, you can try to copy other files from your PC to the folder or create a new text document in the folder. If you can do so, it means you have the permission to write in the directory. In the contrary, if Windows prompt an error when you try to do so, it means you don't have the permission to write in that folder.
To manage permission for a specific folder, follow the steps below (only works if your user account has administrator rights).
Right-click the folder in question and select Properties.
Go to the Security Tab.
Next, under "Group or user names", click Edit.
In the permission window, select the user you want to manage and select "Full control" to allow all permission for the user.
Click Apply, then OK to save the changes.
Other fixes if the error persists
If the error is still showing up when you copy files from your phone to your PC, try the following workarounds.
Copy the files from your phone to another computer, then move the files back to the problem computer.
If the files you want to copy is saved in your mobile device's SD card, unplug the SD card and insert it into a card reader on your computer to copy the files. Most laptop computers have a SD card reader. You can also buy a portable card reader if your computer doesn't have one.
In case if it is your Windows user account issue that is causing "The requested value cannot be determined" error when copying files, you can try to create a new local administrator user account in Windows, then login the new account to copy the files. Read more: How to create local admin account without password on Windows 11/10.
Use other method to transfer the files. For example, upload your files to a cloud service (such as iCloud, Dropbox, or Google Drive) and then download them back to your Windows computer.