Where are sticky notes stored in Windows 10? This tutorial will show you the Microsoft Sticky Notes file location in Windows 10, and how to backup Sticky Notes in Windows 10 so that you can restore them later if the sticky notes go missing, can't open or simply not working.
Microsoft Sticky Notes app for Windows 10 doesn't allow you to synchronize your notes between devices even if you sign in with the same Microsoft account. So, there isn't any implemented built-in method to automatically backup your sticky notes. You will have to do it manually by copying the entire folder of the sticky notes app.
We strongly suggest to backup your sticky notes every once in a while via sticky notes location Windows 10. Just in case if things go wrong and you lose your notes, you would still be able to restore your sticky notes if you have a backup copy.
Sticky Notes Location Windows 10
The sticky notes file location in Windows 10 which we will show you later only applies to the Microsoft Sticky Notes app from Windows Store. If you are using any third party Sticky Notes, the file location would be different.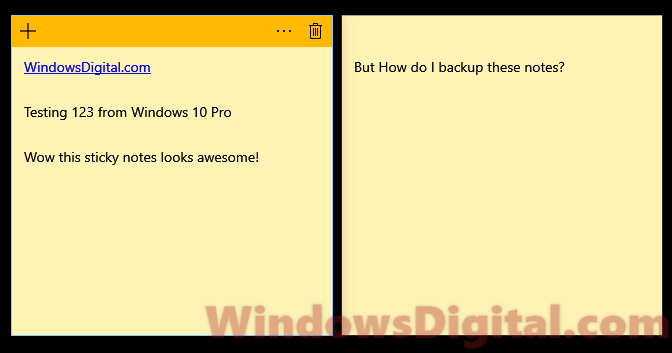 In order to be able to view the sticky notes folder location in Windows 10, you have to enable the Show hidden files option first. This can be done by going to File Explorer. Click on View from menu, then enable the "Hidden items" option.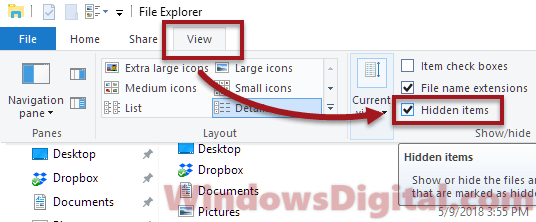 Once you can start viewing hidden items, navigate to the following folder (Sticky Notes location Windows 10).
C:\Users\YourUsername\AppData\Local\Packages\Microsoft.MicrosoftStickyNotes_8wekyb3d8bbwe\
Replace "YourUsername" with your own username. This particular folder is where all your sticky notes are stored in Windows 10.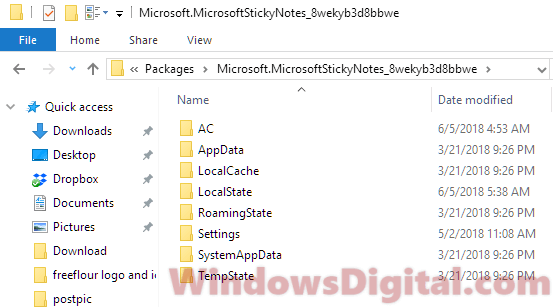 How to backup sticky notes in Windows 10
To backup sticky notes in Windows 10, just copy the entire folder of Microsoft.MicrosoftStickyNotes_8wekyb3d8bbwe and paste it to an external backup drive or anywhere else you like. We recommend to periodically backup the sticky notes folder so that you always have the latest copy of your sticky notes backed up in a safe place.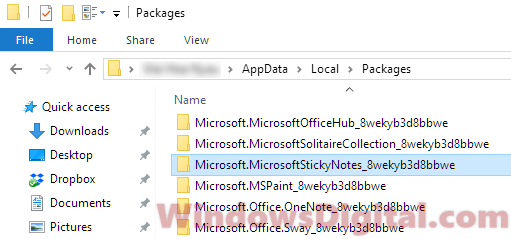 To restore sticky notes in Windows 10, or to move the sticky notes to other Windows 10 computers, simply paste the sticky notes backup folder to the Sticky Notes location Windows 10 mentioned above and override all the files. Before you paste it, make sure to close the Microsoft Sticky Notes app first, otherwise it won't work.
One other thing worth mentioning is that, old sticky notes in Windows 7 are not compatible with the new Microsoft Sticky Notes app in Windows 10. So, if you are thinking to copy the sticky notes from Windows 7 to Windows 10, it won't work.