Even if you change the default browser in Windows 11 to a different browser other than Edge, Windows 11 would still always open certain links, particularly the microsoft-edge:// links, in Microsoft Edge, ignoring the default browser settings. One obvious example is the browser used in the Start menu search in Windows 11. It will always open in Edge regardless of what default browser you have changed to.
To solve this, many of us (half a million users according to the developer) used to use a very popular tool called EdgeDeflector to redirect these links to the default browser instead of Edge. EdgeDeflector is able to intercept and rewrite links that are supposed to open in Edge to open in your default browser instead.
Unfortunately, Microsoft has released a build in Windows 11 which has completely block this app, causing it to no longer work in Windows 11. This guide will show you an alternative to EdgeDeflector for Windows 11 which can do just the same thing.
Also see: How to Remove Microsoft Edge as Default Browser in Windows 11
What is the alternative to EdgeDeflector for Windows 11
One amazing tool that continues to work so far is MSEdgeRedirect, which does almost the same thing as EdgeDeflector, if not better. Because MSEdgeRedirect is built differently and uses a different method to redirect Edge-specific links, the new build Microsoft released in Windows 11 does not affect this app.
To learn how to use MSEdgeDeflector to redirect all links to your default browser in Windows 11, follow the steps below.
Related: How to Change Windows 11 Start Menu Default Search to Google
How to redirect Edge links to default browser in Windows 11 using MSEdgeRedirect
1. First, make sure to change the default browser to open all link types (most importantly HTTP and HTTPS) and web-related file types from Microsoft Edge to Google Chrome (or any other browser you prefer). If you have not already done so, refer to this guide to learn how to change default browser in Windows 11: How to Set Chrome as Default Browser in Windows 11.
2. Download MSEdgeRedirect from: https://github.com/rcmaehl/MSEdgeRedirect/releases/. On the GitHub releases page, look for the post marked as "Latest" which indicates the latest release. Then, select the MSEdgeRedirect.exe under Assets to download the installer. If you are using 32-bit Windows, select MSEdgeRedirect_x86.exe instead.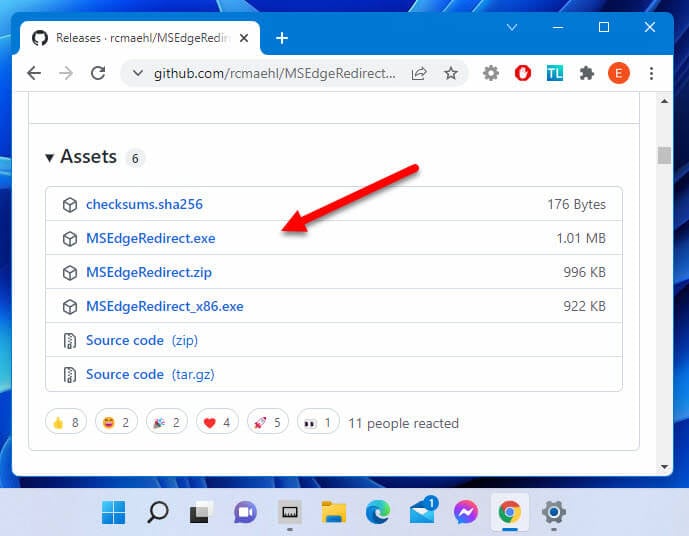 3. Once downloaded, run the installer to install the app. Note: If you have not changed the default browser, the MSEdgeRedirect installer will prompt a warning telling you so and you will not be able to install the app. Follow step 1 to change the default browser in Windows 11 before installing MSEdgeRedirect.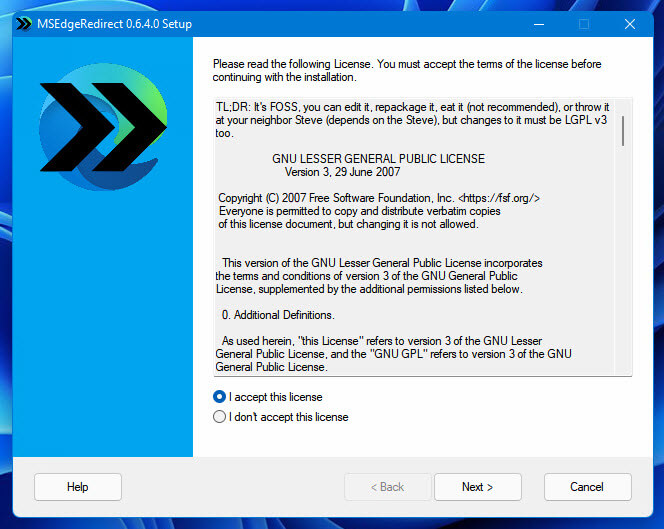 4. When you are asked to select a mode, the Active Mode is recommended if you have admin rights. If you do not have admin rights, the Service mode will be fine.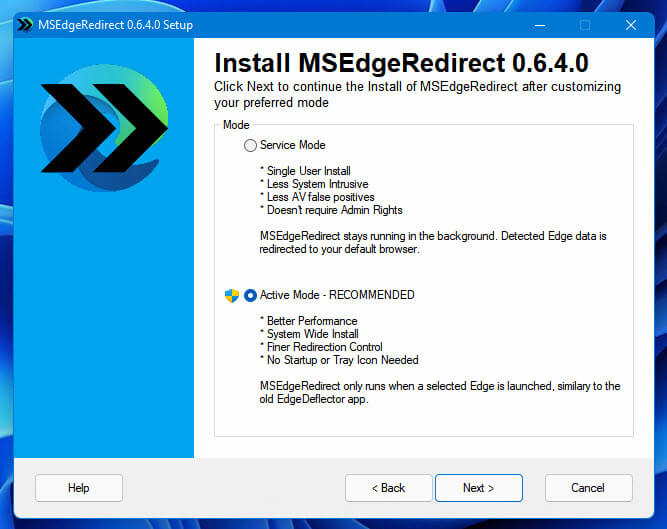 5. On the next screen, you can select the Active Mode options and apply additional redirections if you want to. For example, if you enable the Bing Search redirection, you can then select another search engine such as Google so that whenever a search query is requested, Windows 11 will perform the search in Google instead of Bing. Other redirections such as redirecting MSN Weather to Weather.com, PDF Viewer to your preferred viewer instead of Edge, etc. are all optional but can be useful.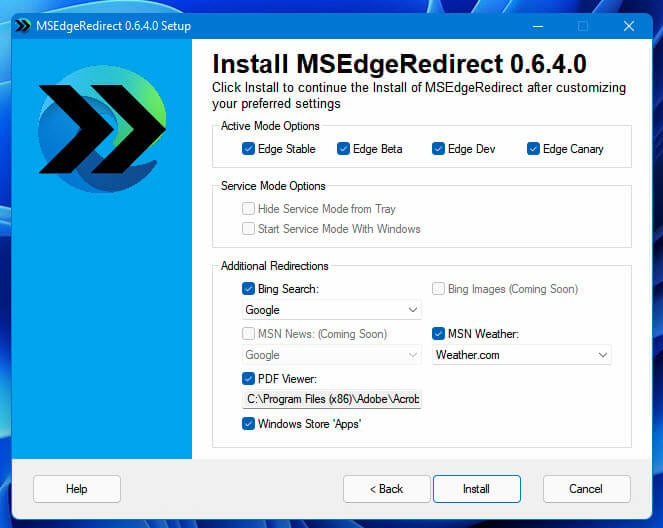 6. After selecting the options, click Install to install the app. That's it! From now on, every link that is supposed to open in Edge will be redirected to your default browser instead. All additional redirections you have applied will also be redirected accordingly.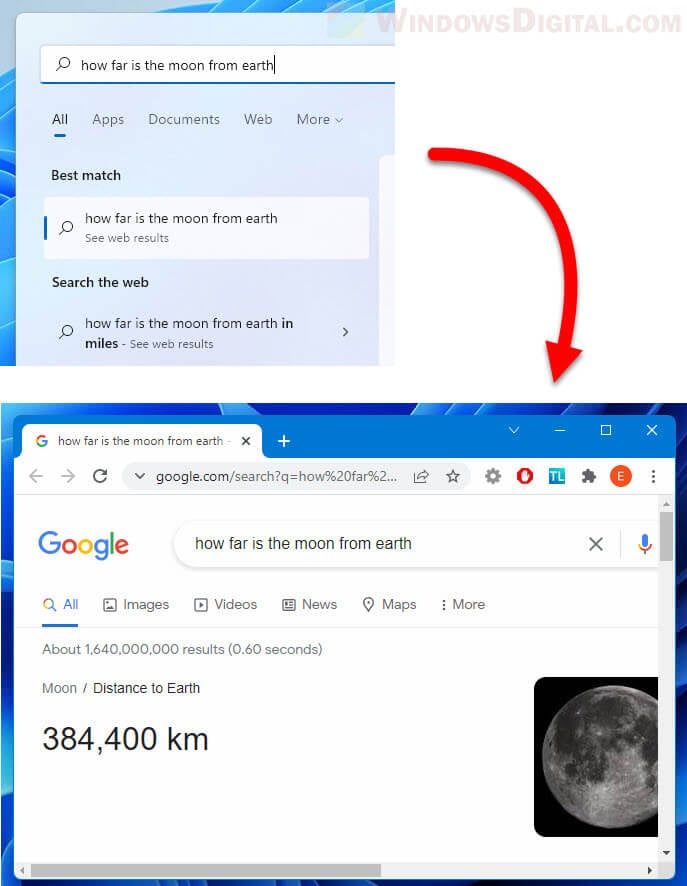 Once installed, you can test the redirection by simply searching for something via the Start menu search. Windows 11 should now open the search query in your default browser (If you set Chrome as the default browser, it will open in Chrome), and redirect the search query to Google instead of Bing if you have applied the Bing Search redirection earlier during the installation.