If you are seeing YourPhone.exe suddenly pops up in the task manager and using up heavy GPU resources as a background process, here's a short post about what is YourPhone.exe, what does it do and how to disable it in Windows 10.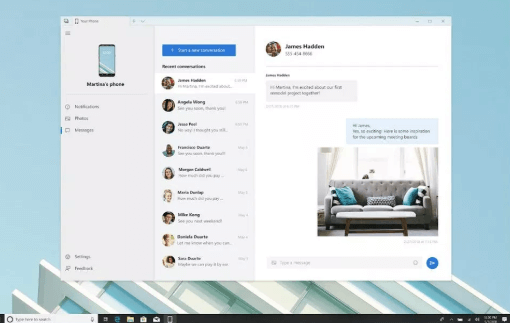 What does YourPhone.exe do in Windows 10?
YourPhone.exe is a background process of an app called Your Phone app. It is a built-in UWP app in Windows 10 recently introduced by Microsoft to allow syncing of files and data between PC and mobile devices. It allows you to transfer pictures, videos, texts, calls, contacts, emails and other data from your smartphone to your Windows 10 computer, or vice versa.
In most cases, you should leave the process alone. It is a pretty good app to sync contents with your device. You should give it a try. Just type Your Phone in the start menu or Cortana to open the app.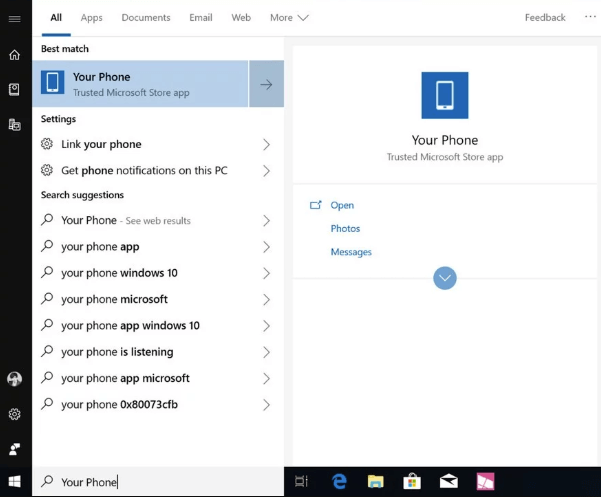 Is YourPhone.exe process safe? Can it be a virus?
Just as mentioned before, YourPhone.exe is a legit process from a Microsoft built-in app. It is, in most cases, a safe process. However, any malware or virus can still disguise itself to have the same name as YourPhone.exe. Though it may be very rare, it's best that you have an antivirus software protecting your PC.
How to disable and stop YourPhone.exe process from running again
If you insist to disable the app and stop the YourPhone.exe process from ever running again, here's how to do it.
Go to the start menu and type Windows PowerShell.
Right-click Windows PowerShell from the search result and click Run as administrator.
In the PowerShell, enter the following command. Then, hit Enter key to execute.

Get-AppxPackage Microsoft.YourPhone -AllUsers | Remove-AppxPackage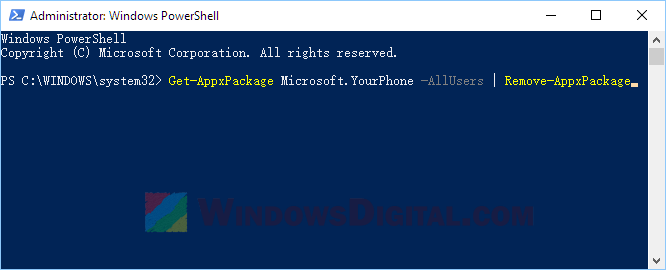 This command will completely uninstall the Your Phone app and its relevant background process – YourPhone.exe, from your Windows 10 system. After removing the app, on your next restart, the YourPhone.exe process will no longer appear in the task manager.
Alternatively, you can stop only the YourPhone.exe process from running in the background without uninstalling the entire Your Phone app. Here's how to do it.
Go to Settings app (search settings in the start menu).
Select Privacy.
On the left panel, scroll down and click on Background apps.
Under Choose which apps can run in the background, look for Your Phone and click the toggle to switch it Off.
Restart your PC.