Yahoo is one of the first few internet giants that provides mainly search engine service and its widely known Yahoo Mail email service. It is, until today, still one of the most popular email services in the world – used by billions of users around the globe. Well, whether you are new to Yahoo Mail or have been a veteran Yahoo users, here are some important Yahoo Mail login tips to better secure your Yahoo email account when you sign in to it, particularly on public devices.
How to Login to Yahoo Mail Inbox Page
Correct Yahoo Mail login page URL
Always make sure you are visiting the correct URL address of Yahoo Mail. There were many cases where people's Yahoo email accounts got hacked due to false login on wrong websites that pretend to be Yahoo Mail login page. When this happens and you actually entered your Yahoo mail account credentials in one of these fake websites, whoever behind the site will have your username and password.
A lot of malicious sites, phishing emails, programs or plugins have links to these fake sites trying to lure you into their traps. If you think you have accidentally caught into these fakes Yahoo Mail login sites recently, change you Yahoo Mail password immediately.
The point here is that you should only go to Yahoo Mail login page by manually entering the correct URL on a clean web browser. On any web browser, be it Mozilla Firefox, Google Chrome, Microsoft Edge or Internet Explorer, to visit a site, you should enter only the URL address of that site, in this case www.yahoo.com and nothing else.

If you enter a phrase, let's say "yahoo.com login email sign in", on the address bar in your web browser, your browser will perform a search on its default search engine instead. It will then show you a search result based on what you have just entered instead of directing you to where you want to be in the first place.
So, the very first step to securely login to your Yahoo Mail email account is by first enter the correct and only www.yahoo.com URL address onto the address bar of your browser, like how I would have done in the screenshot above.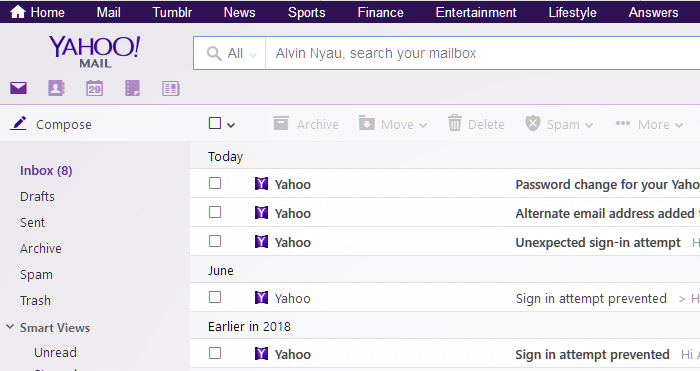 How to login to Yahoo Mail – step-by-step guide
To login to Yahoo Mail, follow the steps below.
Go to login.yahoo.com.
In the Yahoo Mail login form on the right, enter your Yahoo email address.
Click Next.
Normally it will prompt you to a CAPTCHA to prove that you're not a robot.
Simply click on the I'm not a robot checkbox to verify that you're actually a human, then click Continue.
On the next screen, enter your Yahoo Mail account's password.
Click Sign in.
You should then be redirected to Yahoo.com homepage.
From there, click on the Mail icon on the left to access to your Yahoo Mail inbox page.
To logout from Yahoo Mail, simply click on your name on the upper right corner of the page, then click on Sign out.
Do not stay signed in when you sign in to Yahoo.com email account on public devices
Let's say you an important email to check on and need to sign in to your Yahoo Mail email account on a public computer in an airport. When you sign in to Yahoo.com, you leave the option that says Stay signed in enabled in the Yahoo Mail login form and you proceeded. Once you have done checking your email and you close the browser without logout, the next person who visit to Yahoo.com will have access to your account.
This is because when the Stay signed in option is checked when you login to Yahoo.com, Yahoo Mail will stay signed in even when you close your browser.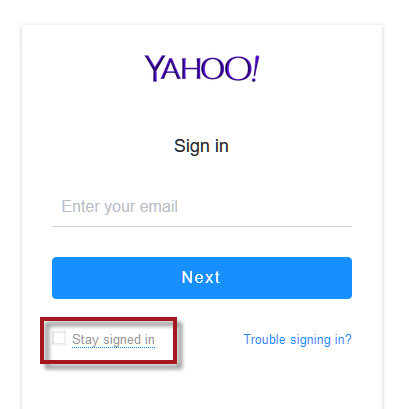 This can be especially dangerous for computers and devices that you have no control of, such as computers in public places like Starbucks, internet cafe, college or even your working office, where everyone else can use the computer.
So, only use the stay signed in option when you sign in to Yahoo Mail on computers that you trust or belong to you.
Use two-step verification for Yahoo.com Login Email Sign In
For better account security, we recommend turning on the two-step verification for Yahoo.com login email sign in. You will need to enter your phone number to enable two-step verification login method.
Once this security option is enabled, whenever you or someone else attempt to login to your Yahoo Mail account, a piece of verification code will be sent to your phone number which will be required to proceed with the Yahoo.com email login.
So, even if a hacker has your password to your Yahoo email account, he or she will also need that piece of code in order to login to your account. Unless the hacker also has access to your phone, there is no way they can login to your Yahoo Mail account without the verification code.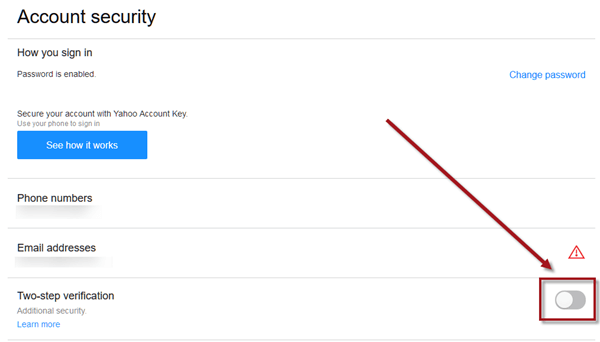 To enable two-step verification for Yahoo.com login email sign in, on the Yahoo Mail inbox page, click on the settings icon at the top right corner of the page. Click on Account info. On the next page, click on Account security from the left pane, then toggle on the option for Two-step verification.