If you have problem signing into your Gmail email account from www.gmail.com, you're certainly doing it wrong. Here's a few important things about how to safely login to Gmail mail account, especially for folks who are not very internet and computer literate.
Gmail Email Account Sign In www.Gmail.com Login Guide
Correct www.Gmail.com Login URL
Be it you're trying to log into your new Gmail account or an existing account, you should always go to the correct URL, which is www.gmail.com.
If you enter phrases such as "www.gmail.com login email account sign in" to your browser's address bar, it will open a search result instead of directing you to Gmail login page. And I bet that's what you just did.
So, the only way you should be doing it is to enter only www.gmail.com into your browser's address bar and hit enter right away without adding anything else. Doing this will allow your browser to identify it as a location instead of a search phrase.
Google account vs Gmail account Login Sign In
The very first thing you should know is that having a Google account is equivalent to having a Gmail account. By signing up for a Google account, you get to access to any of Google's product as you wish. When you sign up on Gmail page, you're actually signing up for a Google account.
So, the point is that there is no difference in you logging into Gmail via Google homepage or via www.Gmail.com login homepage. In fact, if you're not signed into any Google account yet, when you access to gmail.com login page, Google will always redirect you to its accounts.google.com login page where you will have to enter your Google/Gmail login credentials.
If you're already logged into Google account and your browser remembers you (as you've selected to remember your login session when you sign into your Gmail account last time), all you need to do is to visit www.gmail.com and you will be redirected to your Gmail email account inbox page right away.
Gmail Email Account Sign In Tutorial as of 2018
Just in case you need more in-depth guide on where and how to login to your Gmail email account securely, here's a detailed step-by-step guide (with screenshots) on how to correctly login to your Gmail account.
On your browser bar, enter www.gmail.com.
A page with the title "Google – Sign in to continue to Gmail" will be opened.
In the form, under Email or phone, enter your Google account / Gmail email address.
Click Next.
Under Enter your password, enter your Gmail account's password.
Click Next.
If the Gmail login credentials you've entered are valid, you'll then be redirected to your Gmail email inbox page.
That's the right way to login to your Gmail email account as of 2018 Google login interface. Well, I mentioned the date because Google has been changing their login interface occasionally to improve overall end user experience. It may differ in the future but we'll try to keep this post updated to reflect the change Google makes later.
How to Sign Out from Gmail
To know if you're logged in to Gmail already, check if there is any portrait at the upper right corner of Google homepage or Gmail screen. If it shows a Sign in button, you are not logged into any of your Gmail account yet. If you see your Gmail account's portrait, it means that you're already logged in.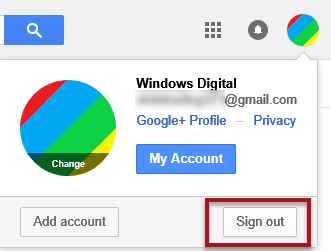 To logout of Gmail, click on your portrait. Then, click Sign out. Signing out of your Gmail account is important, especially when you use a public computer that anyone can access. If you're using a computer in the internet cafe, Starbucks, shopping center, airport or college, which basically everyone else can use, you should always sign out of your Gmail account as soon as you've finished using it.
Switching between multiple Gmail accounts
If you have multiple Gmail email accounts, you can login to them one by one. Then, switch between your Gmail email accounts by clicking the portrait and select any account you want to open.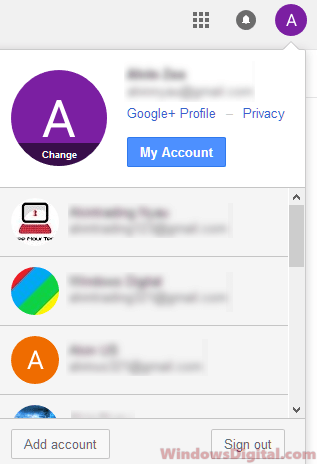 Allowing the computer to remember your Gmail accounts for easy switching is only recommend if you use your own computer. Do not sign into multiple Gmail accounts if you're on a computer that you can't control. The next person to open Gmail will be able to switch to your Gmail.com accounts if you did not logout your accounts.