It's important to know what version of Windows 10 you have – be it the build number, bit version, or the edition. Here's a simple way to find out what version of Windows 10 you have.
Whether you are trying to troubleshoot an error which requires you to know your Windows 10 build number, or that you simply want to figure out what version your Windows 10 is running, here's how to quickly check what version of Windows 10 you have.
Windows 10 version can be distinguished by the following differences.
System type – 32 bit or 64 bit operating system.
Home, Pro, Education or Enterprise Edition.
Version build number, for example, version 1607, 1709 or 1803.
What version of Windows 10 do I have?
To find out all the info about your OS and what version of Windows 10 you have, follow the steps below.
Press Windows key + I to open Settings app. Alternatively, you can open Settings (gear icon) from start menu.
Select System.
From the left pane, select About.
From there, you can learn everything about your Windows 10 – the version, edition, build number and more.
Information that can be viewed from the About page in Settings include the Edition, version and OS build number of Windows 10, the date it was installed on, your device name, processor, amount of installed RAM, Device ID, Product ID, and the System type – 32-bit or 64-bit operating system (x86 or x64 based processor).
A piece of advise – Never reveal your device specifications such as the Device ID and Product ID of your Windows 10 anywhere online.
How to tell or see what version of Windows 10 via Update history
The other method to find out the version and build number of your Windows 10 is by viewing the update history. To view update history, open Settings by pressing Win+I keys. Select Update & Security, then select Windows Update from the left pane. Click on View update history.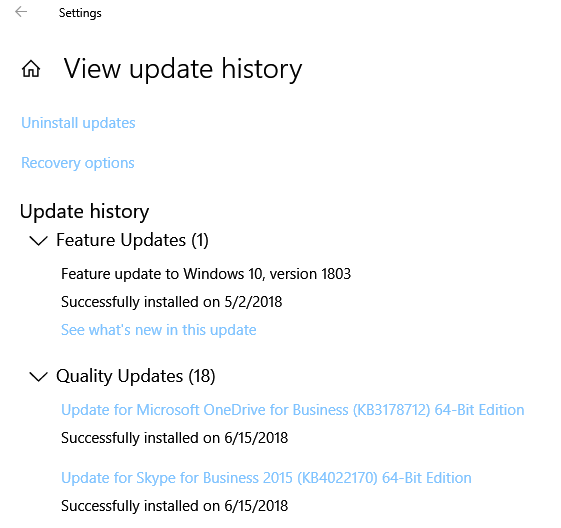 From there, you can view the most recently installed feature updates and all the latest quality updates of your Windows 10. The build version of Windows 10 is usually listed under the latest feature updates.
Why do I need to know what version of Windows 10 I have
Sometimes when you search for a solution for a problem you're currently facing, it helps when you also provide the build version of your Windows 10 when you do the search or ask a question on the community.
The build version, for example, 1709, 1607 or 1803 indicates the build installed by the most recent Windows Update. For instance, version 1803 was first released during the April 2018 major Windows 10 update. Computers that have installed the April update will show 1803 as the build version number.
It's also crucial to tell which bit version your Windows 10 is running, be it 32 bit or 64 bit. If you are to install a program or software, there will usually be two versions of installers for it – the 32 bit or 64 bit installer. A 64 bit program won't work on a 32 bit based Windows 10 OS, and vice-versa. Be sure to only install the correct version of software for your Windows 10 version, otherwise it won't work.
After checking the version of your Windows 10, if you realize that your Windows 10 version is too old compared to what's already available on Windows Update, run Windows Update to make sure your Windows 10 is always up-to-date.
If despite running Windows Update, your Windows 10 is still showing an old version number, Windows Update may have failed to install the latest update for your Windows 10 PC. In that case, read – Windows Update Troubleshooter Not Working in Windows 10, to learn how to troubleshoot your Windows Update issue.