VLC Media Player by VideoLan is the world most popular multi-format video player. It has been around for more than a decade now and is hitting 12 millions downloads (and counting). This post shows how to free download VLC Player portable 64 bit for Windows 11 or Windows 10 (exe in zip and no installation is required).
VLC Media Player is widely known for its ability to play nearly every type of video format ever existed. It is simply a magic player and is able to play all the popular formats such as AVI, ASF, MOV, FLV, 3GP, MPG, MPEG, MP4, WMV, MKV, H.264, SWF, AVCHD and DIVX. In recent years, a streaming feature is also added into VLC, allowing users to watch various streams using the player.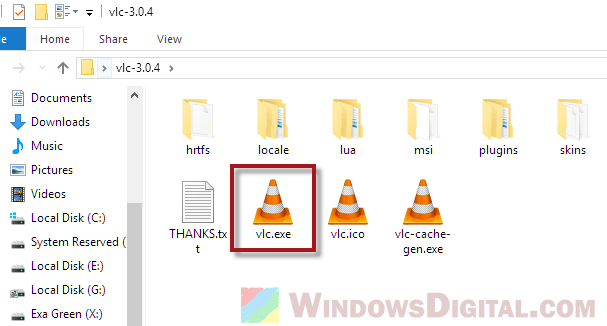 Why is VLC portable standalone player better?
Some people have difficulties trying to install the VLC media player via the standard Windows program installation method due to incompatibility issues or software restrictions. In that case, downloading the VLC player portable version can solve the problem since no installation is required on their end.
If installing a program troubles you, or you just prefer a portable software than installing it, the VLC player portable download for Windows may help. The VLC portable player comes in a zipped file. After extracting it, you can straight away run VLC.exe to open any video without any installation.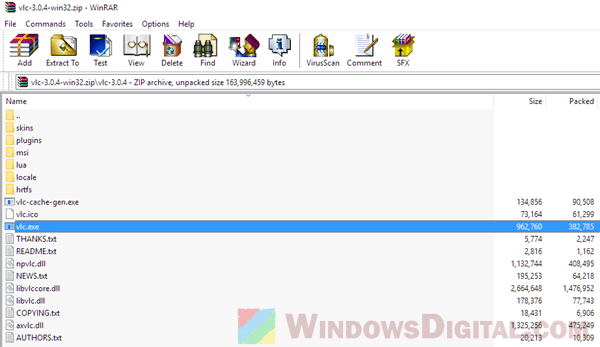 But Why VLC player portable 64 bit? The VLC portable 64 bit is of course for operating system with 64 bit architecture. However, the default VLC download page from Videolan doesn't have the download link for VLC player portable 64 bit, only the 32 bit version is available. The default download for VLC 64 bit is an offline installer which requires standard installation.
VLC Player Portable for Windows 11/10
The VLC Player portable is available in two zip formats – the standard .zip and .7z (7zip). Both have the same contents compressed with 7zip being considerably smaller in size. For computers with slow internet bandwidth, downloading the 7zip is recommended. If your PC doesn't have 7zip software installed, download the standard VLC portable .zip instead.
VLC Player portable version is available for Windows 11/10 64 bit or 32 bit. For VLC player portable 64 bit version, download the zip file from http://download.videolan.org/pub/videolan/vlc/3.0.16/win64/vlc-3.0.16-win64.zip.
Or, download the 7zip version from http://download.videolan.org/pub/videolan/vlc/3.0.16/win64/vlc-3.0.16-win64.7z.
This download is for VLC Media Player portable version 3.0.16 which is the latest version to date. We will keep this page updated with the latest version of VLC Player Portable 64 bit zip download links.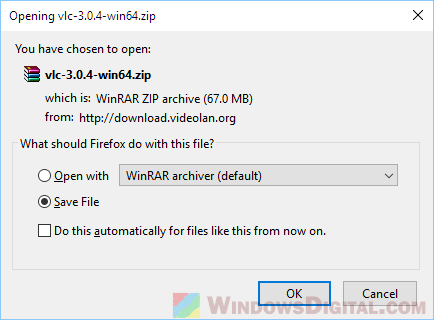 To download the latest version of VLC Player portable zip for 32 bit or the installers for ARM 64 bit, go to https://www.videolan.org/vlc/download-windows.html instead. Next to the "Download VLC" button, click the drop down menu and then select whichever option you want.