SHAREit is a cross-platform sharing application that allows users to share photos, videos, musics, Gifs, apps, documents, contacts and any other file across multiple platforms such as from Android to Windows PC or vice versa. It supports Windows 10, Windows 7, Windows 8, Mac OS, Android and iOS. Here's how to download SHAREit for PC Windows 10 64-bit or 32-bit latest version for free.
You can use Lenovo SHAREit to sync and share any file you want from any of its supported platforms to another. SHAREit was first developed by Lenovo and founded by Michael Qiu. It was first launched in 2012 with an old name of Anyshare, and later changed to SHAREit in 2015. Besides SHAREit app, the company also owns various products such as CLEANit, CLONEit, LISTENit and LOCKit.
SHAREit for PC Windows 10 64-bit Latest Version Download
Lenovo SHAREit is licensed as freeware for Windows 10 64-bit or 32-bit PC, meaning that it is free to download and use. Here's how to download SHAREit latest version for PC Windows 10 64-bit or 32-bit for free.
You can download SHAREit for PC Windows 10 64-bit from here. By default, it should be able to detect your OS and have Windows pre-selected. Otherwise, select Windows from the drop down menu beside the Download button. Then, click on the Download button.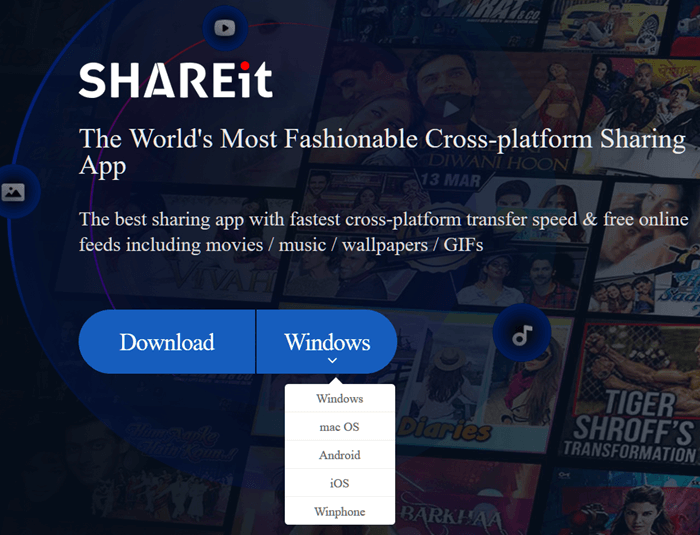 Click on Run to run the installer immediately after download is completed, or Save as to save the SHAREit for PC Windows 10 setup locally to your HDD.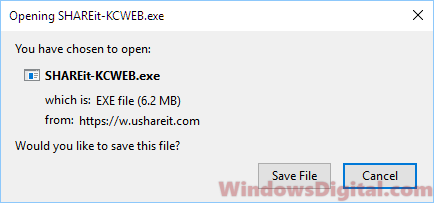 After the download is completed, open the SHAREit for PC Windows 10 exe installer. When UAC asks for permission to run it as administrator, select Yes.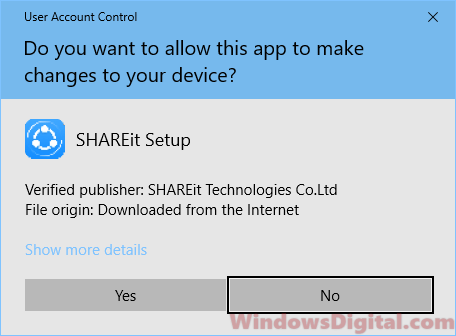 In the SHAREit for PC Windows 10 64-bit setup window, click Accept to agree with the license agreement and to proceed with the installation. Select your desired installation path and the install shall begin.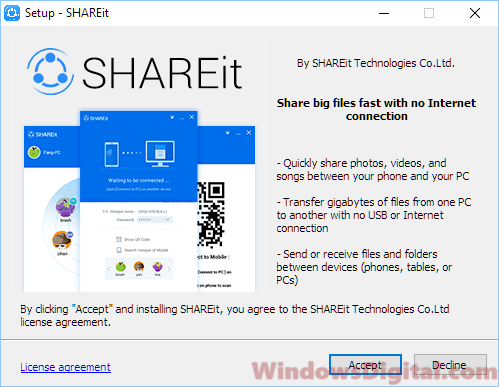 SHAREit app will only work when both your mobile device and PC have the app installed. SHAREit app will be able to connect your devices wirelessly without the need of internet connection, WiFi network or Bluetooth. Once connected, you can then start sharing and syncing files between your devices and your PC.
The SHAREit for PC Windows 10 64-bit download is an offline installer by default. Unlike a web installer, you can use the setup exe on any Windows PC even if it doesn't have internet access. You can also use the SHAREit for PC installer on multiple computers without repeating the download.
Related download: Download Xender for PC Windows 10 64-bit.
Download SHAREit for PC Windows 10 from official site
The download link provided above is the official website for the SHAREit app company. You should only download from the official site and not anywhere else.
If you download from external sources such as a file hosting site, you are risking installing something that may come with preinstalled malware or virus. It is especially important for app and apk that relates to sharing your medias and files.
So, it's always recommended to only download app or software from official sources to eliminate the risk of installing unwanted programs or malware. The SHAREit for PC download link as shown above has all the latest version of the app for all platforms it supports.