Safari is one of the most widely-used web browsers in the world. It is more common among Mac OS since Safari is their default browser for all Apple products such as iPhone and Mac. Well, Safari browser did have a version for Windows and it used to work like a charm. Here's what you need to know about Safari browser download for Windows 10 64-bit or 32-bit.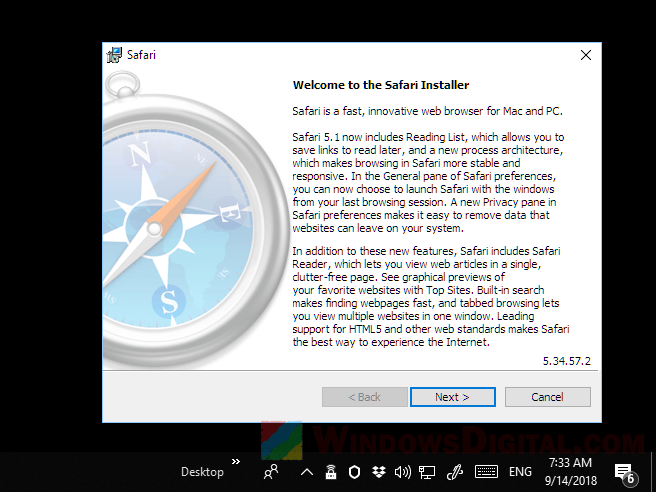 Download Safari Browser for Windows 11/10
Safari browser 5.1.7 for Windows
The latest version of Safari browser for Windows is 5.1.7, which was released several years ago. Since then, Apple has completely stopped supporting Safari for Windows entirely. It means that the Safari 5.1.7 is the last version for Windows PC, and it is now outdated.
You can still try to install and use Safari 5.1.7 for Windows 10, but we highly don't recommend doing so as you will risk getting infected by malware online or leaking your info and data due to security flaw that are not fixed.
Outdated software are more vulnerable to threats such as malware, viruses and spyware from modern websites. Generally for most web browsers, these loopholes get fixed and patched up on each software update periodically. Since Apple has stop supporting Safari for Windows, there hasn't been any update apply to it. Thus, these security loopholes are not fixed. Besides, it has already been years since the last update and so you can imagine the number of unfixed security flaws.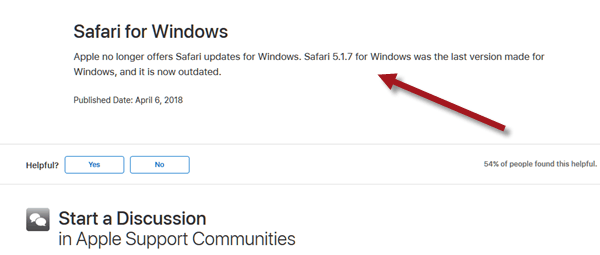 Here's a screenshot of published post by Apple stating that they no longer offers Safari updates for Windows, which render Safari 5.1.7 to be the last version made for Windows 10. It's also clearly stated that it is an outdated Safari version and is not recommended to use it.
Download Safari offline installer for Windows
If you insist to use Safari for Windows despite knowing it is outdated and vulnerable, here's a link to download Safari browser for Windows 10 64 bit version 5.1.7.
You can download Safari 5.1.7 offline installer for Windows from the page below (apple.com).
http://appldnld.apple.com/Safari5/041-5487.20120509.INU8B/SafariSetup.exe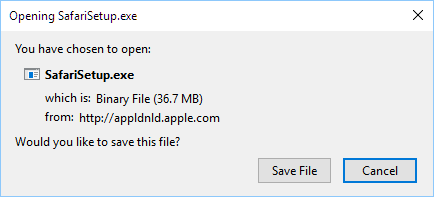 There are many sites providing Safari browser download for Windows 10 64 bit and they host the file on their own servers. It is advised not to download Safari or any other web browser from unofficial sources that are untrustworthy. Using setup from external sources may risk installing unwanted programs and possibly a web browser with already infected malware.
Thus, you should download Safari browser for Windows only from apple.com. Though the official link for Safari browser for Windows 10/11 cannot be found from Apple.com homepage, you can safely use the download link provided above because the setup file is hosted by apple.com (you can check the URL).