POF, short for PlentyofFish, is the world leading and most widely used online dating site on the internet. It requires a rather complicated sign up process to prove that you are who you are and not a scam. However, there are many cases where users just couldn't get past the first page of sign up form on POF due to repeating random errors. Why is it not working?
Why do I keep getting errors during POF sign up?
If you keep receiving errors such as "Password is too easy to guess" or "Username is taken" while you are sure that the password is as complicated as you could think of and the username is as unique as it can be, it "may" also indicate that the country (detected by your IP address) where you visit POF.com from is blacklisted by POF, thus, registration is not allowed.
In most cases, if your country is not accepted, you will instead receive the error that reads "You are attempting to sign up from a country we currently do not accept signups from your current location". But, that's not always the case.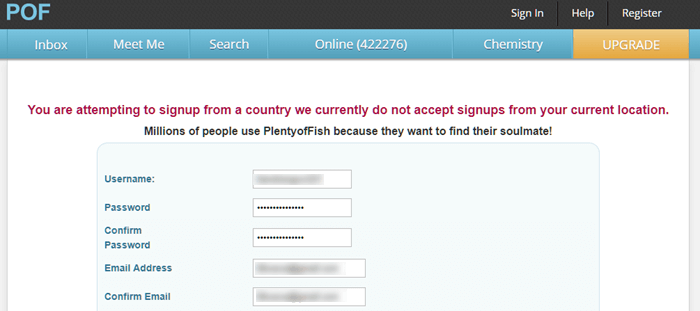 Some users reported that they keep receiving errors such as "username is taken" error no matter how many times they tried to change and fix the said problems, and only to realize that their countries are actually not allowed for registration on POF.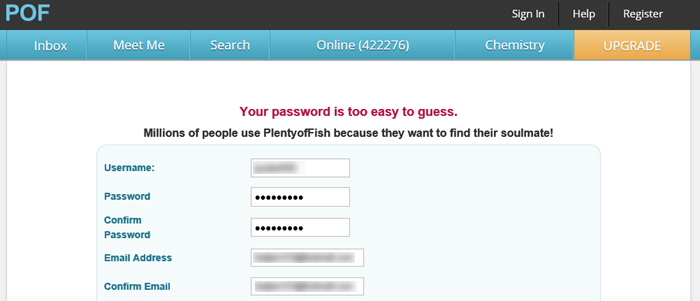 We have no idea which countries are not accepted by POF. There is very little information about this on their website. You may want to contact POF customer support to see if your country is accepted or not. This post is just to give you an idea what could be the cause of your repeating POF sign up issues. You will still have to figure it out yourself and find out whether your country is blocked by POF or not. If you are sure that your country is accepted by POF but you are still getting the username or password errors, you may want to check your registration input again.
Well, we have no clue why some countries are not accepted by POF (could be due to law issues in certain countries). If you are a citizen of a country in the POF whitelist but you are currently residing overseas in a country POF blacklisted, you can try to use a VPN to connect to your home country to sign up for a new POF account. Ultimately, if you are still unsure what causes issues to your sign up on POF.com, the best way is to contact their customer service.