POF, short for PlentyofFish, is the world most popular online dating site with over 100 millions users from all around the globe. POF.com is a simple and easy to use dating website, targeting users of all ages, yet some still find it difficult to correctly login to POF to check their inbox messages and to use the Search function.
Well, this guide will show you how to correctly sign in to POF (PlentyofFish) account and how to access to your POF inbox page and to the Search page.
POF Login Sign In to Inbox Guide
So, here's a simple step-by-step guide on how to sign in to POF on pof.com and how to access to your POF inbox page or to the Search page.
First of all, make sure you are visiting to the correct page at the correct URL – www.pof.com on your web browser. To login to your POF account, use the login form at the right side of the page. Enter your POF username (or email address) and password, then click Check Mail button to login to your account.

After you've successfully logged into your account, to check your POF inbox messages, click on the New tab from the top blue menu. Your POF inbox messages will be at the bottom of the page. Alternatively, you can click on "Sent Msg" to open the same inbox page.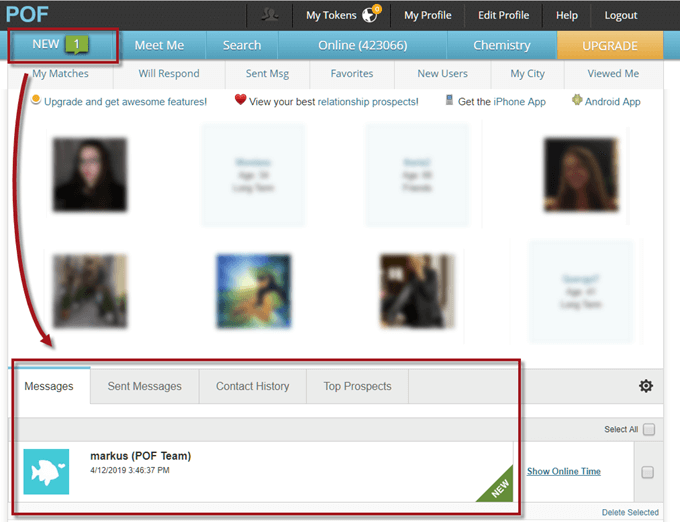 To access to the search form where you can search for a possible date, click on the Search button from the blue menu. In this page, you can choose to use default basic search or advanced search with more options.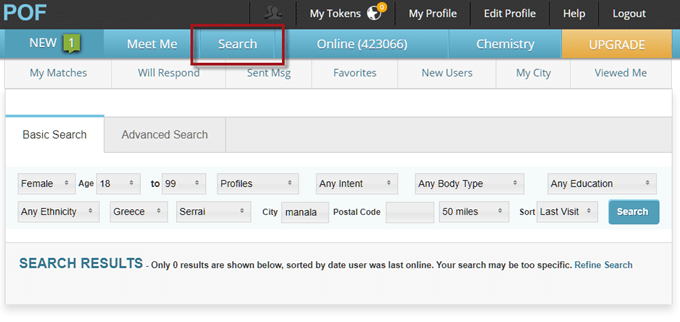 POF Login Problems
This guide is assuming that you already have an existing POF account that is active and not banned. If you are new to POF, click on the Register button instead on pof.com to sign up for an account first, before you can login to POF.
If you are faced with account password issue upon trying to sign in to POF, after failing your login, click on either the Forgot your password link or the Reset password link to reset your POF account password. In the next page, enter the email address you used when you first sign up with POF. A password reset link will then be sent to the entered email address.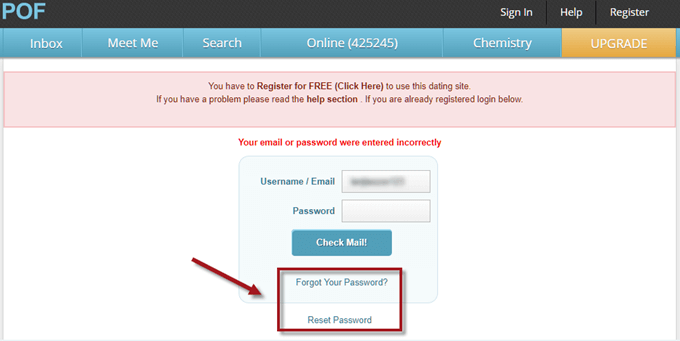 Apart from this, make sure the IP address you are logging in from is not blacklisted by POF. Some countries are blacklisted by POF. Users in these countries will not be able to sign up for or register a POF account. Even if you have an existing account, signing in from any POF blacklisted country will most likely fail.
POF Login with Facebook
As far as we know, POF does not offer login via Facebook or any other social media site. The only way to login to POF is to use your original POF account.