Since the release of the new generation graphic cards by Nvidia – the Nvidia GeForce RTX 2080 and RTX 2080 Ti, they are by far the most powerful graphic processing units purchasable by end-users like us. This guide will show you the best methods to correctly download and update MSI, Asus, Zotac, Gigabyte or EVGA Nvidia GeForce RTX 2080 or RTX 2080 Ti drivers for Windows 10 64-bit or 32-bit laptop or desktop computer.
Though most of the people who purchase them will probably use them for bitcoin mining, hardcore gamers from around the world would still invest to buy the expensive video cards for better gaming experience, especially for SLI enthusiasts.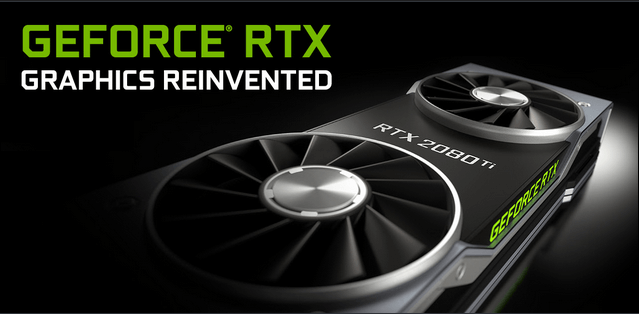 Nvidia GeForce RTX 2080 or RTX 2080 Ti Drivers Update for Windows 10 Download
There are several ways to manually or automatically update Nvidia GeForce RTX 2080 or RTX 2080 Ti on Windows 10 no matter its manufacturer, be it from EVGA, MSI, Gigabyte, Asus or Zotac. We will show you the most effective methods sorted from the easiest to most complex ways of updating the graphic drivers depending on your situations and needs.
Trying these methods to update your RTX 2080 may also solve problems such as Nvidia RTX 2080 drivers not installing or won't install issues, RTX 2080 drivers update crash issues, RTX 2080 Flickering or Stuttering issues, fan or dual monitor issues.
Via Nvidia GeForce Experience
The easiest and probably the best way to update drivers for any Nvidia based graphic card is by updating through Nvidia GeForce Experience. GeForce Experience is a software that works like a companion application to your GeForce graphic card.
It keeps your GPU drivers up to date by automatically scanning for latest available driver, notifying you when there is a new driver available. If you set it to also automatically download and update the drivers for you, it will do so without any work on your end.
It can also automatically optimize your game settings, when you allow it to do so, and have built-in gameplay screenshot capturing and twitch video streaming features.
You can download Geforce Experience from here. Install it and launch the app. It should then be able to detect your current graphic card and will find the latest and most suitable drivers for your Nvidia GeForce RTX 2080 or RTX 2080 Ti on Windows 10 64-bit or 32-bit.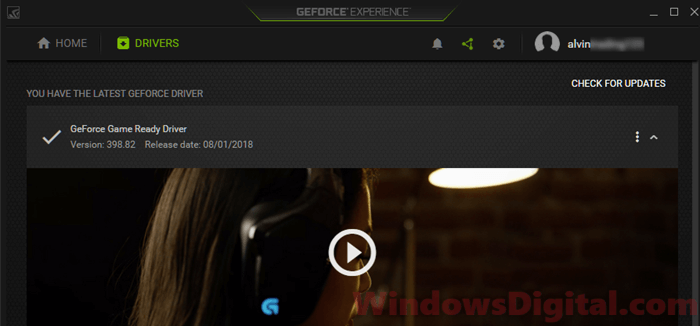 Related issue: Game lag or slow performance issue after Windows 10 Update.
Download RTX 2080 drivers from Nvidia.com
If you prefer to manually download the drivers, you can go to this page (Nvidia Drivers Download). Select GeForce as the Product Type, then select GeForce 20 Series as the Product Series. Next, select GeForce RTX 2080 or 2080 Ti from the Product list and finally select your operating system – Windows 10, Windows 8 or Windows 7 64-bit or 32-bit.
Click on Search and it should show you the latest driver version for Nvidia GeForce RTX 2080 or RTX 2080 Ti on the result page. Click on Download to download the suggested driver. After the download is completed, manually launch the setup exe to install the driver. Restart your PC for the driver to take effect.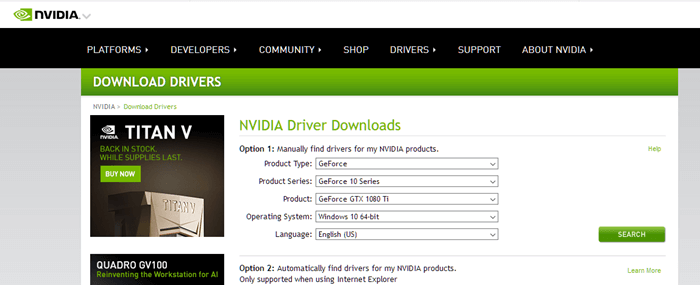 Update RTX 2080 drivers using Windows Update
Updating graphic drivers via Windows Update is easy, but not many people recommend it as the driver updates would sometimes be different from what's available on Nvidia.com. Windows Update will automatically detect your RTX 2080, find and download the most suitable driver from Microsoft's drivers repository, which sometimes can be different from the latest version that is available on Nvidia websites or GeForce Experience.
Though these drivers are usually tested to work perfectly on Windows 10, it may still cause issues on some games. If you are facing any crash, screen tearing, flickering or lag issues on any game when Windows Update is your only gateway to update your Nvidia RTX 2080 or 2080 Ti, you will always be advised to try updating manually by downloading from Nvidia.com or using GeForce Experience.
Otherwise, running Windows Update should get you the workable drivers for Nvidia GeForce RTX 2080 or RTX 2080 Ti on Windows 10.
Download drivers from manufacturer's websites
In most cases, the GeForce RTX 2080 drivers update using any of the methods listed above should work perfectly on Windows 10. However, for some specific overclocked (OC) cards, you may want to try to download the drivers from their manufacturer's websites.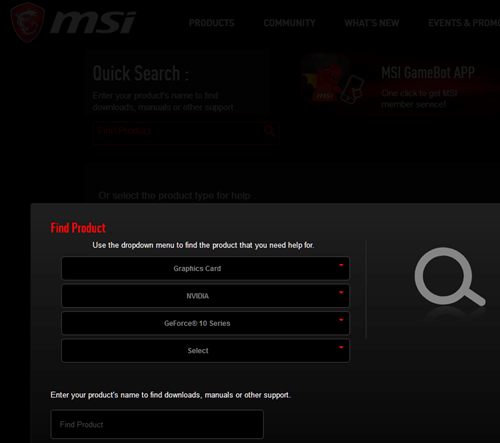 For example, if you have a MSI GeForce RTX 2080 Ti with OC and if the driver from Nvidia.com or GeForce Experience is not working on your Windows 10 PC, you can try to go to MSI.com and search for the latest driver for your RTX 2080 Ti model. It's not guaranteed that they will have the driver updates for your GC. In fact, most manufacturers recommend users to update their graphic drivers via Nvidia.com.
They may also have software like MSI Afterburner that your GC relies on to switch between different performance modes such as gaming mode, OC mode or idle mode.