The latest Microsoft Outlook for Windows 10 is part of the Microsoft's Office Suite. To acquire Microsoft Outlook, you will need to first obtain Office 365 – the latest name for Microsoft Office Suite for Windows OS.
Office 365, including Microsoft Outlook, has a 30 days free trials. During this period of time, the entire office suite which includes Outlook is free to download and use. Here's how to apply for a free trial license for Office 365 and download Microsoft Outlook for free on Windows 10.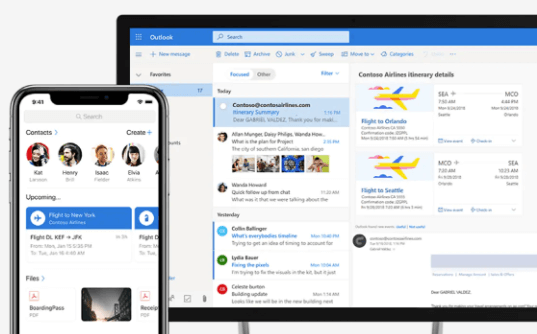 Microsoft Outlook Download Free For Windows 10 (Trial)
Here's how to download Microsoft Outlook for Windows 10 for free as part of the free trial program. During the 30 days free trial period, you are free to download and use Microsoft Outlook as well as other Office 365 software. After the trial ends, you will have to pay for its subscription to activate it.
Like most other free trial programs, you will have to provide your payment information in order to activate the free trials. The program will charge you when the trial ends, automatically. So, if you decided not to subscribe to it, to avoid being charged, cancel the subscription before the trial ends.
Go to https://products.office.com/en-us/outlook/email-and-calendar-software-microsoft-outlook.
Select Try for free, then select either For Home or For Business based on your preference.
On the next screen, click on the Try 1-Month Free button.
You will be asked to sign in to your Microsoft account (outlook.com or hotmail.com). Do so by entering your email address and password.
In the following screen, you will be shown the price of the subscription (usually per year basis) which they will charge you after the free trial ends. The pricing may defer based on your geographical location. Click Next to continue.
You will be asked to select a payment method – through credit/debit card, bank account or Paypal.
Then, enter your payment information.
In the next page, click on the Subscribe to start the free trial.
Select Install to download Office 365 offline installer (which includes Microsoft Outlook).
You will not be charged upon entering your payment info. However, when the free trial ends, the system will automatically charge you. To avoid being charged, you can cancel the subscription before the free trial is over.
Is there a free version of Microsoft Outlook?
Outlook has never been truly free in history of its existence. It usually comes as a part of Microsoft Office suite, which comes with a price. Microsoft Outlook is, however, sometimes included for free when you purchase certain packages of laptop or desktop computers that includes Office license as part of its offer.
Thus, any other free Outlook download that you see on the internet are either pirated or fake. These free Outlook downloads, especially pirated ones, can contain malwares that can track and steal away your Outlook data and possibly also infect your computer with other malwares and viruses.
Alternative free email clients in Windows 10
Microsoft Outlook is one of the best and easiest to use email clients to handle and manage your electronic mails, but it's definitely not the only one. There are many more other popular email clients that do as good as Outlook, for example, Mozilla Thunderbird, Mailbird, Inbox by Gmail, Windows 10 built-in Mail app, etc. Most of these mentioned email clients are completely free to download and use.