Kaspersky Total Security is one of the paid products by Kaspersky offering premium security solutions for Windows PC, Mac OS and mobile devices. This tutorial shows how to download Kaspersky Total Security offline installer for Windows 10 PC, instead of using the default web installer.
Kaspersky Total Securit is the most premium (around $79.95 per year for 1 device)  package among all three Kaspersky products. It includes every feature Kaspersky can offer – from the most basic protection to the advanced features such as Parental controls, computer privacy, password management and file protection.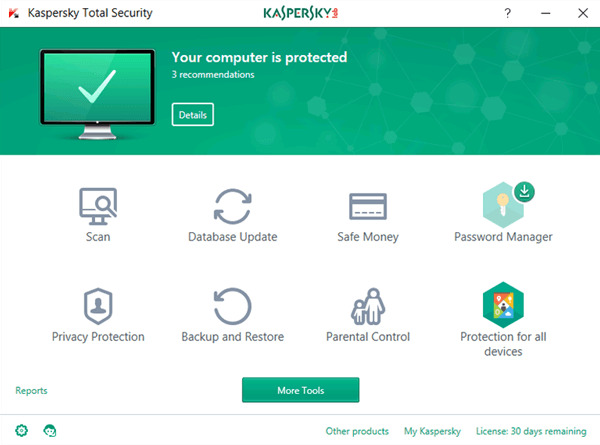 Kaspersky Total Security Offline Installer
How to install or upgrade from existing license
The Kaspersky Total Security offline installer can be installed and used as a 30 days free trial, if you don't already own a license. When the free trial expires, you will have to pay for the KTS 19 subscription package in order to continue using it.
On the other hand, however, if you already own the Kaspersky Total Security 2018 license and is currently using it on your PC, you can download and install the KTS 2019 offline installer without having to uninstall the older version. Your license will work fine for the 2019 version.
If you don't already have a previous version installed but you have the license, after installing KTS 2019, login to your account to activate the product.
Kaspersky Total Security changes in 2019
Every year there will be a major update for all Kaspersky security products. These upgrades will change the product names according to the latest year, thus the name – Kaspersky Total Security 2019. These yearly major updates usually bring huge improvements and lots of new features to the software.
In KTS 2019, the speed of the software is drastically increased,, with lesser CPU and memory resources required. The detection level is even more clever now in the 2019 version. Starting with the 2019 version, Kaspersky Total Security will detect and remove adware just as they do with malware and viruses.
Kaspersky Total Security system requirement
Kaspersky Total Security 2019 offline installer requires minimum 1 GHz of processor and 2 GB of free RAM for 64-bit operating systems (or 1 GB for 32-bit). It will work on Windows 10 64 bit or 32 bit, Windows 8 and Windows 7.
Why download KTS offline installer?
The default downloader that you get from Kaspersky homepage, like many other software, is a web installer. The web installer doesn't actually contain the installation files. It will act as another downloader for the installer when it runs. So, the setup will need internet connectivity so that it can download and install Kaspersky Total Security 2019 on your PC.
To install it on computers with no internet access, you will need to download Kaspersky Total Security 2019 offline installer instead. The offline installer can run without internet as it already include everything needed for the installation. It is especially useful if you are to install it on a lot of computers since you don't need to repeat the downloads for each installation.
However, you may still need to connect to internet connection for license verification and product activation, and for future virus database and software update.
Download Kaspersky Total Security Offline Installer
You can download Kaspersky Total Security 2019 offline installer from here (Update: Link has been updated to the Kaspersky Total Security 2021 official download page at kaspersky.com. Downloads for older versions of Kaspersky Total Security offline installers are no longer available. We recommend that you stick with the web installer for now to get the latest version of Kaspersky Total Security).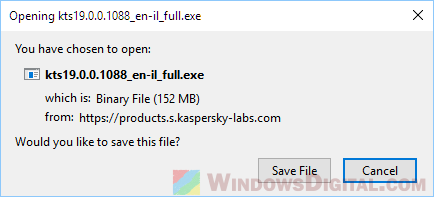 Once downloaded, to install it, run the KTS 19 full exe setup. When Windows 10 UAC asks for confirmation, click Yes to proceed. In the Kaspersky Total Security 2019 offline installer window, click on Continue button and follow the rest of the on-screen instructions to install the software.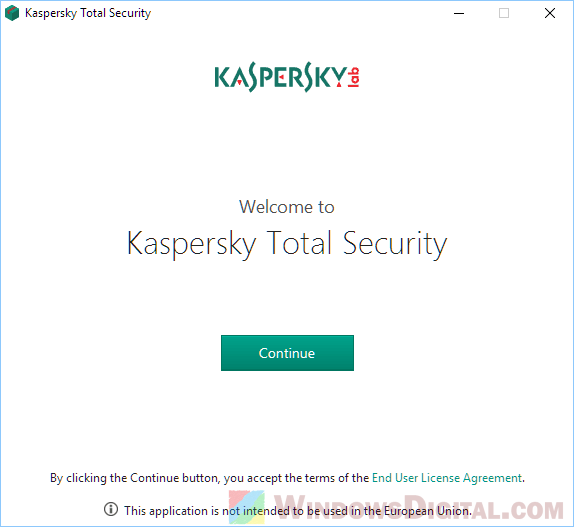 When the installation is completed, restart your PC and you are done. To ensure that your newly installed KTS is up to date, after installing it, run the software update by right-click Kaspersky icon from the taskbar and then select Run database update.