Java is a programming language developers use to create applications and programs. If you have a program or app written in Java runtime environment (JRE) by Oracle, you will need Java installed on your Windows 10 PC in order to run it locally or through your web browsers. Here's how to free download Java for Windows 10 64 bit offline installer latest version for laptop or desktop PC.
Java is also sometimes needed to run apps on some websites through your browsers. However, since Java is known for causing too much of security issues, many browsers such as Chrome and Firefox have stopped supporting it (NPAPI support), thus, installing Java for Windows 10 64 bit may not help running java apps on your browsers. However, Java can still be run on Internet Explorer, Safari or older versions of Firefox and Chrome.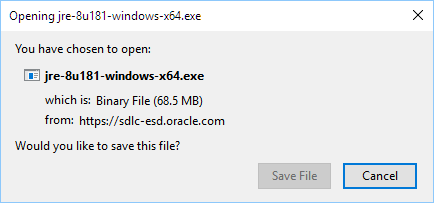 How to download Java for Windows 10
Java web installer vs offline installer
The default Java download from Oracle java.com is a web installer. A web installer is a small piece of setup exe file that doesn't actually contain the installation files. It will only start to download the necessary files for Java when you run the setup exe.
For some computers that do not have internet access, you will need to download Java offline installer instead. You can copy and transfer the Java offline installer via external drive such as a USB flash drive to use the setup on computers that don't have internet connection.
A misconception exists among some people that Java is the same as Javascript. The fact is that they are two entirely different things, besides their names. Java is used to run standalone apps that written in Java, whereas Javascript is normally used within HTML web pages. This can be confusing but they are different. Most websites use Javascript, whereas only a few use Java. Updating Java does not mean to also update Javascript.
Java offline installer for Windows 10
You can download Java for Windows 10 64 bit offline installer from https://java.com/en/download/manual.jsp. Click on the download link that reads Windows Offline (64-bit) from the Java download page. Additionally, Java is free to download and use. All the latest version of Java will be listed on that page.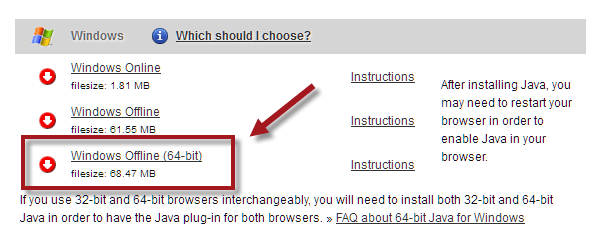 Once downloaded, open the Java installer. Click on the Install button and follow the rest of the on-screen instruction to complete the installation.
To run a Java app, you may need to restart your browser and your computer after installing Java.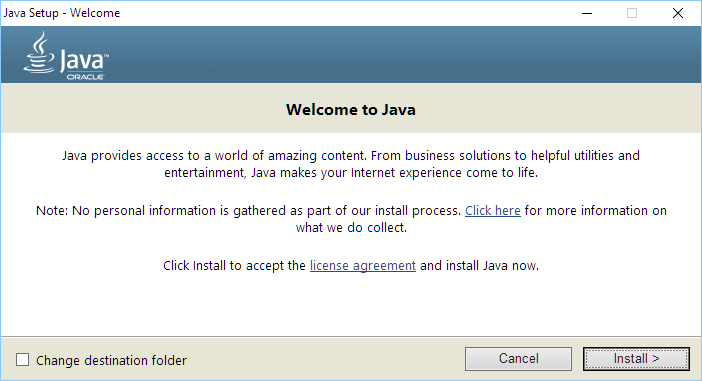 Note that if you are using a 32-bit browser on a Windows 10 64-bit PC, you will still need to download and install the Java for 32 bit in order for java apps to load on your 32-bit browser. If you have no idea what is your browser's architecture, you can just download both 32-bit and 64-bit Java for Windows 10.
What is the latest version of Java for Windows 10
As of the date this post was written, the latest Java version is Java 8 update 311. Java version 8 is backward compatible which means that Java 8 can run apps that written using Java 7 runtime environment. Thus, downloading the latest Java 8 for Windows 10 64 bit should be sufficient to run most Java apps.
You can check if your browser supports Java and what are the latest version of Java you can install from https://www.java.com/en/download/.
It is utterly important to keep your Java updated, especially for browsers. It's because Java is most notorious for exploits and vulnerabilities. Many developers and security experts discourage using Java and may even advise you to disable Java on your browser if it's not in used. If you are using it, always check if you have the latest Java version installed on your Windows 10 PC so that you get all the latest bug fixes, security patches and performance improvements.