When Windows Update is run, Windows will also check all your drivers to see if they are updated. If they detect outdated driver, it will pull the latest driver that best matches your device from Microsoft's driver repository and install it for you. This guide will show you how to stop automatic driver updates in Windows 10 update.
It was Windows' good intention to keep your drivers updated so that they would work compatibly with the latest updates in Windows 10. This shouldn't be a problem unless if the driver provided by Windows update kills your hardware settings, especially for gaming peripherals such as mouse, keyboard, headset, mic or graphic card.
If that's the case, follow the instruction below to stop automatic driver updates in Windows 10 update. Keep in mind that stopping the automatic driver software updates in Windows 10 update will stop all drivers being scanned can updated by any future Windows update. You'll have to manually update all the drivers yourself in order to keep them working with all the latest software including Windows 10.
How to stop automatic driver updates in Windows 10
Updated: Microsoft has patched the option and now it can only stop driver updates for certain drivers, excluding common drivers such as video card. With this setting set to No or Never, Windows update will still install and override your existing driver. To temporary stop the automatic driver update in an Windows Update, refer to the second method below.
Go to start menu.
Search for System and open it.
From the left pane, click Advanced system settings.
In the system window, go to Hardware tab.
Click on Device Installation Settings.
Select No (your device might not work as expected) under Do you want to automatically download manufacturers' apps and custom icons available for your devices.
Stop automatic driver updates using Show or hide updates troubleshooter
This method was first introduced in the Windows 10 anniversary update which once caused chaos in the Windows 10 communities. The update crashes so many PCs that Microsoft has decided to release this tool to allow users to choose and hide updates, including driver software, for the Windows Update they are about to install.
Download the show or hide updates troubleshooter from here. Whenever there is an update, run this troubleshooter to hide updates or drivers you don't want it to install.
Prevent installation of device in Group Policy Editor
I personally don't recommend this method unless you have no other choice but to use it. Doing this will stop and prevent any driver installation for that particular device, which means neither you or Windows Update will be able to install any driver for the device listed in the policy.
So, make sure you already have latest driver installed for the device before you do this. But, of course, if you want to update driver for this device again, repeat the steps below and remove the restriction before installation. Here's how to do it. (This is an advanced tutorial. Continue at your own risk.)
Go to start menu.
Search for gpedit, open Edit Group Policy.
From the left pane, navigate to Computer Configuration > Administrative Templates > System > Device Installation > Device Installation Restrictions.
On the right window, double-click Prevent installation of devices that match any of these device IDs.
Click Enabled, then click Show.
Enter the device ID to the value field. One device for each line.
Click OK and restart your PC.
To find the device ID of your hardware, go to Device Manager. Select and right-click your device. Click Properties. Go to Details tab. Select Hardware IDs from the drop down menu under Property. These are the Hardware IDs of your device. I would usually use the first one.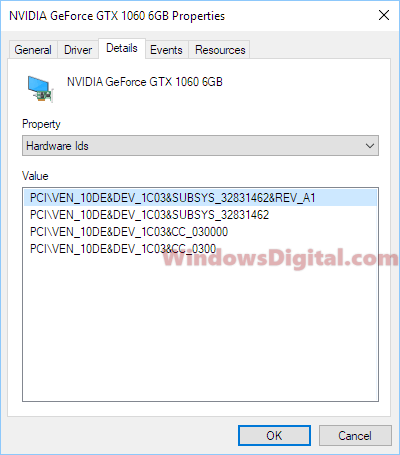 To update your driver again in the future, go back to the policy editor. In Prevent installation of devices that match any of these device IDs, select not configured or disabled. You can then update driver for the device.