WhatsApp is one of the most used instant messaging apps in the world. It was first introduced as a mobile app for smartphones and other mobile devices. After some time, WhatsApp Web was also made available to the users, allowing them to access WhatsApp using any browser on their Windows PC or Mac computers.
However, there are a few restrictions on what you can and cannot do using WhatsApp Web. For example, some users will not be able to make voice or video call via WhatsApp Web.
To use WhatsApp to its full extent on Windows PC, you can install WhatsApp Desktop for Windows PC from Microsoft Store. This guide will show you how to download and install WhatsApp Desktop for laptop or desktop PC on Windows 11.
Install WhatsApp Desktop on Windows 11
Before WhatsApp Desktop was released in the Microsoft Store, Windows users had to rely on android emulators to install WhatsApp app or by using WhatsApp Web on their laptop or desktop PC. Now that WhatsApp Desktop can be easily installed through Microsoft Store, you can install WhatsApp Desktop and use it like an app on your Windows PC.
To download and install WhatsApp Desktop on Windows 11, follow the steps below.
On Windows 11 desktop, click on Microsoft Store on the taskbar. If Microsoft Store wasn't pinned on the taskbar, go to Start and search for "Microsoft Store".
In Microsoft Store, by using the search bar at the top of the window, search for "WhatsApp". Then, select WhatsApp Desktop from the search result.
Click on the "Free" button to install WhatsApp Desktop on your PC.
Depending on the speed of your internet, it may usually take a short while for the download and installation of the WhatsApp Desktop app to be completed.
After the installation is completed, you can launch WhatsApp Desktop by clicking on the "Open" button in the store.
To make it easier to launch the app next time, go to Start, search for WhatsApp Desktop. Right-click on WhatsApp Desktop from the search result, then select Pin to taskbar to pin the app to taskbar for quick access.
How to use WhatsApp Desktop on PC
After installing WhatsApp Desktop via Microsoft Store on your Windows 11 PC, the very first time you open the app, WhatsApp will ask you to scan the QR code on your screen using the QR scanner from the WhatsApp app on your mobile device.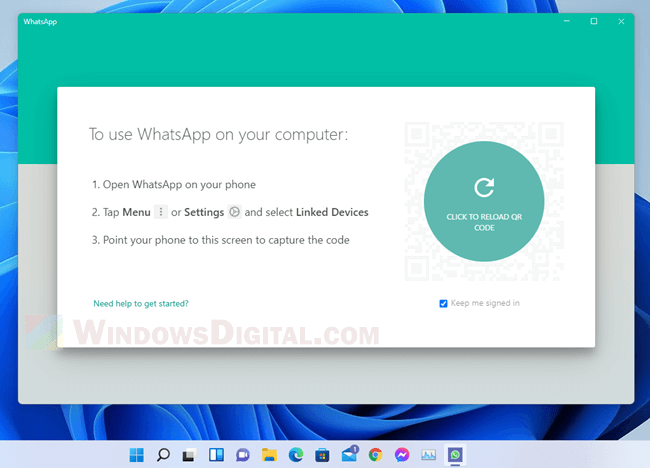 Unlike the usual username and password login method, this is the method WhatsApp uses to sign users into their accounts on WhatsApp Desktop or WhatsApp Web (by verifying your credentials via QR code scanning using your WhatsApp account on your phone).
To scan the QR code, you will have to open WhatsApp on your phone and navigate to Menu > Settings > Linked Devices. The two screenshots below show where the Linked Devices setting is in the mobile WhatsApp app.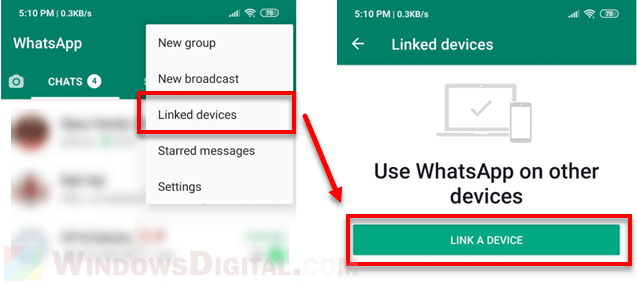 Click on the Link a device button and then point your phone's camera to your monitor screen where the QR code is to capture the code. If the QR code on the screen expires, click on the QR code again to reload it.
After signing into your WhatsApp account, you can start using WhatsApp Desktop like how you usually would on your phone.
Can you make voice or video call in WhatsApp Desktop on PC?
Yes, you can easily make voice call or video call to anyone by simply clicking on the voice call or video call button in a chat on WhatsApp PC, provided if your laptop or desktop computer has a camera (webcam) and/or mic. You can also make group call when you're in a group chat on WhatsApp PC.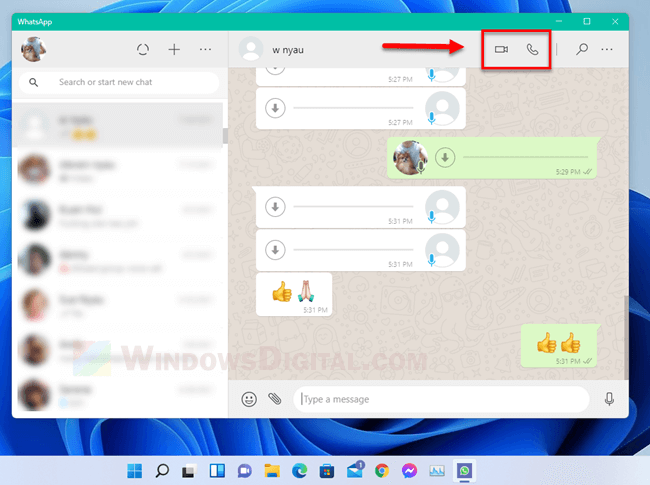 Generally speaking, WhatsApp Desktop on PC works mostly the same as the mobile version of WhatsApp app. Most functions and features that exist on the WhatsApp mobile version are also available in the WhatsApp Desktop for PC version.