Before we go deeper into explaining things about DirectX 12, you need to know that DirectX 12 is automatically included in Windows 11/10 by default and is only supported in Windows 10 and Windows 11. That being said, when you install or upgrade your system to Windows 10 or later, DirectX 12 will automatically be installed as well. You shouldn't need to download DirectX 12 if you're already running Windows 10/11. Here's what you need to know about DirectX 12 download for Windows 10/11 offline installer for games.
If your game's graphic requirement asks for DirectX 12, you must run it on a Windows 11/10 computer. But I doubt if there's any game at this point forcefully ask for only DirectX 12. Most Nvidia Geforce and AMD compatible games now would allow players to choose whether they want to run the game on DirectX 12 for better graphic qualities and performances, or older DirectX version such as DirectX 11 which they would run just fine.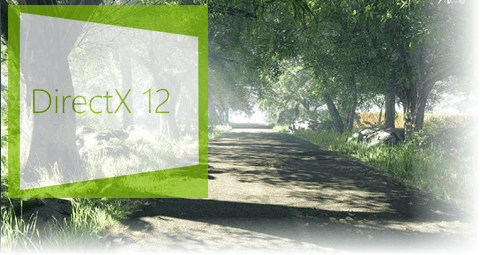 Download DirectX 12 for Windows 10/11
Though it's already auto included in the OS, Microsoft has been known to gradually release updates for DirectX 12 to fix known bugs and improve its performance.
The easiest way to download DirectX 12 for Windows 11/10 64-bit or 32-bit is by simply enabling and running Windows Update on your Windows system. To do so, press Win+i to open Settings and select Windows Update.
The alternative and more manual way to download it is by using the Microsoft's DirectX End-User Runtime Web Installer. Follow the steps below to do so.
Click on the big red Download button.
Microsoft will then recommend you some of their other products, and obviously if you're not interested, just untick all of them and hit Next.
Press Save File (or Save as if you're running IE) to save the installer to your computer.
Run the dxwebsetup.exe you've just downloaded.
Follow the on-screen instructions to complete the installation.
Restart your computer.
You should now have the latest DirectX version installed in your computer.
DirectX end-user runtime installer works for any version of Windows. It will detect which version of Windows your system is currently running and gives you the best match and latest version of supported DirectX.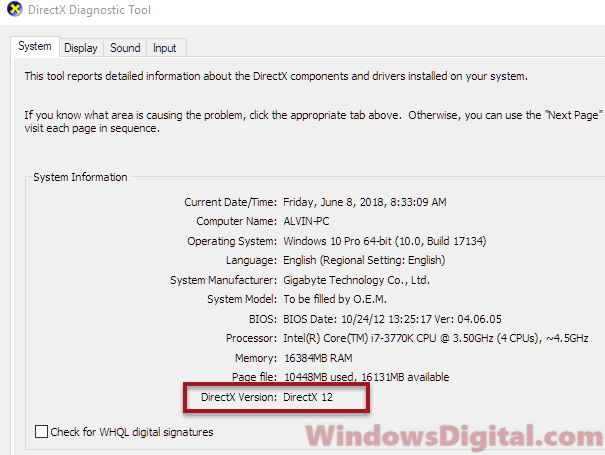 To find out what version of DirectX your system currently have, go to Start. Then, type "dxdiag" and hit Enter. It will show you every piece of information about your computer and DirectX in the DirectX Diagnostic Tool window.
DirectX 12 on Windows 8, Windows 7, Vista or XP
As far as we know, DirectX 12 is Windows 10 and 11 only DirectX version. There is no standalone version of it. It's been that way for years and there's no news so far if they will be made available for older Windows versions such as Windows 8, 7, Vista and XP 64-bit or 32-bit.
Here's a table of all Windows versions versus their latest supported DirectX version.
Windows 8.1 – DirectX 11.2
Windows 8, Windows 7 Service Pack 1 – DirectX 11.1
 Windows 7, Windows Vista SP2 – DirectX 11.0
Windows Vista SP1 or later – DirectX 10.1
Windows Vista – DirectX 10.0
Windows XP – DirectX 9.0c
You already have DirectX 12 for Windows 11/10, but an app requires DirectX 11 or older
DirectX 12 is backward compatible which means DirectX 12 will support any application or program that requires DirectX 11 or any version below it.
So, if you're running a Windows 11 or Windows 10 system, any app that ask for DirectX 11 would run just fine on your system.
You shouldn't have to worry about downloading DirectX 12 for Windows if you're already running Win 10 or 11. It is already preinstalled in your Windows 11/10 system. If you have a question about DirectX 12 for Windows, drop us a comment below.