GMX Free Email is one of very few free email services that still provides easy sign up, easily accessible and user-friendly webmail interface, one of the most secure email accounts in the world, and excellent email features such as automatic spam filter. This guide is to show you how to correctly and safely login to your GMX email account inbox page.
If you have troubles getting to the correct GMX email login page and signing into your GMX mail account, you may be doing it wrong. If you reach this site trying to login to GMX email account, you probably have found us through a search engine or from your Windows search bar, which is not a proper way of getting to the GMX email login page. Here are some best practices to help you safely and quickly visit to the correct GMX webmail login page and login to your GMX email account.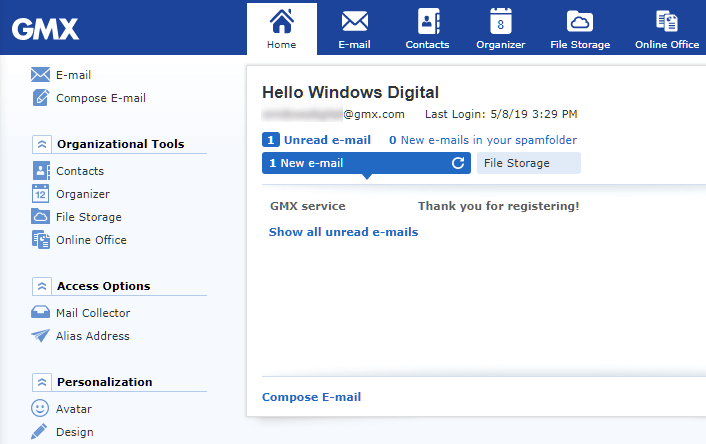 GMX Email Login My Account Sign In Guide
Making sure you are going to the right page
Instead of trying to search for GMX email login page from a browser, search engine or your Windows search bar, you should bookmark the official GMX email login page and visit only to the page whenever u want to login to your GMX mail account.
The correct URL to the official GMX home page is https://www.gmx.com. It is also the only URL you should visit to to login to your GMX email account. Make sure you are entering the full URL "www.gmx.com" onto your browser's address bar, instead of entering phrases such as "GMX email login".
Most browsers will take phrases (that is not URL formatted) you entered onto their address bar as search phrases, thus, bringing you to its search result upon pressing Enter. This is not the correct way of visiting to a page you've already decided to visit in the first place, because search engines do not always guarantee to show the genuine and right pages you want to visit. If you, however, do not remember the URL of the page you want to visit, well, this might be the only way to search for it.
The correct way to visit to GMX Email login page is by entering its full URL address – www.gmx.com, onto your browser's address bar and hit Enter. You can then bookmark the page for even easier access next time. This way will guarantee you visit to the correct and genuine GMX email sign in page, but not other pages that are non-relevant, fake or those that pretend to be the official GMX trying to steal people's accounts.
How to sign in to GMX Mail account
First, go to https://www.gmx.com on your browser. Then, click on the "Log in" button at the upper right corner of GMX home page.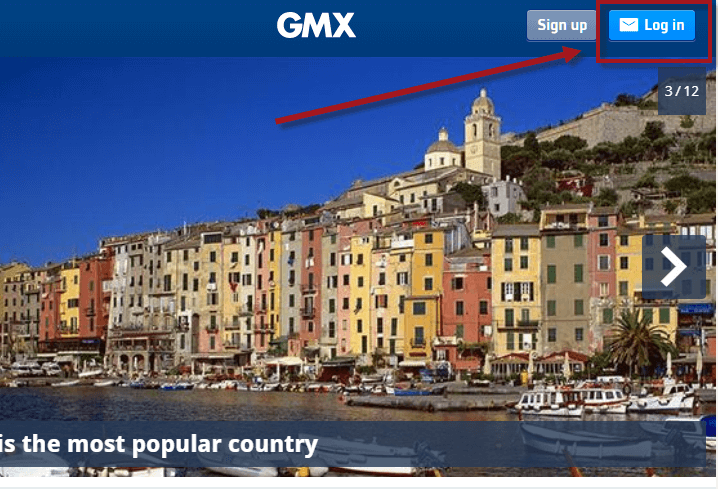 When the login form pops up, enter your GMX email account and password.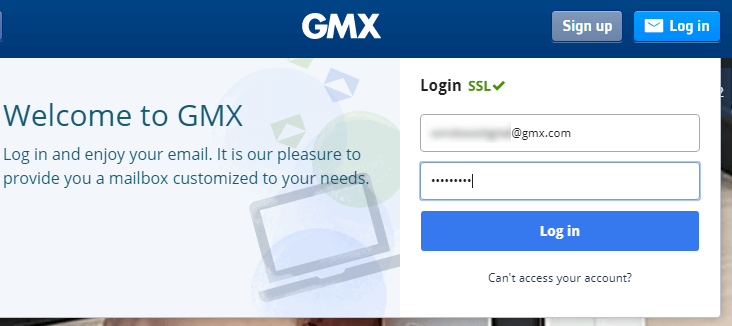 Upon clicking the Log in button, if the info entered are correct, it will then direct you to your GMX mail account inbox page where you can read and manage your emails.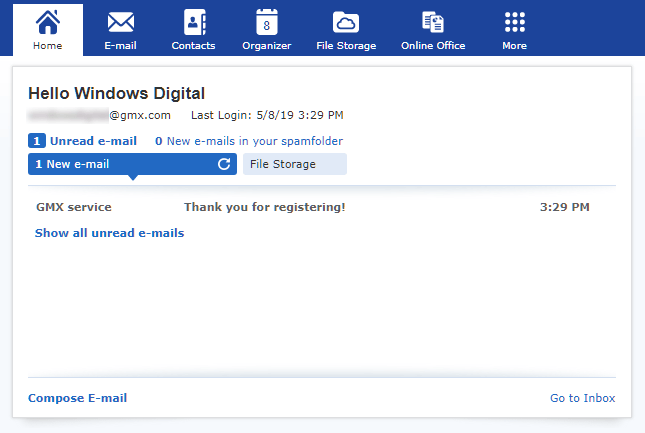 GMX Mail Account Sign Up
This GMX login guide is assuming you already have an existing GMX email account. If you don't already have a free email account with GMX, simply go to www.gmx.com and click on the Sign up button at the top right corner of GMX homepage. Fill up all the required fields in the sign up form and click "I agree. Create an email account now".

The sign up process is very simple with only a few required fields needed to be filled, and most importantly, it doesn't require phone number for verification (optional).
GMX Email Account Forgot Password
If you have forgotten your GMX account's password, unfortunately, there is no form for automatic password reset or retrieval. The only way seems to be to contact the GMX support team for password retrieval or reset. You can do this by clicking the Log in button from GMX home page and then click on the Can't access your account link.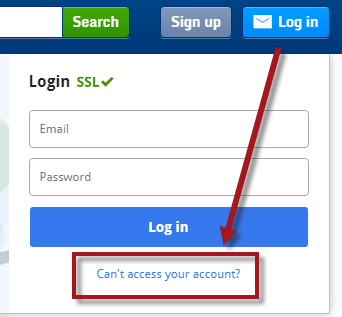 In the GMX Help Center page, click on Forgot your password category, and then Continue to get to the contact us form.