One of the most irritating and unexpectedly common Windows 10 error is that you may find yourself stuck with the error message – "Critical Error – Your Start menu and Cortana aren't working. We'll try to fix it the next time you sign in." (may happen with or without Cortana) where your start menu eventually freezes, Cortana doesn't respond to your typing, and Edge is not functional.
We have had this problem recently in one of our Windows 10 system despite this problem being so old. We have decided to summarize our findings to the problem in this post and show you the most effective fix after trying every possible solutions suggested on the internet.
If you did not receive the error but instead the start menu doesn't respond, won't open and show nothing when you try to open it by clicking the start menu icon or pressing the Windows key on keyboard, read – Start menu not working or won't open in Windows 10 Fix.

Fix 1: Apply Windows Update
As we have mentioned this problem is old. It first happened during the very first month when Windows 10 releases few years ago. Microsoft already have the fix in the latest patches. All you have to do is turn on your Windows Update to receive the latest patches, especially if you own an old copy of Windows 10 and have previously turned off your Windows Update long time ago.
For some reason, we did turned off the Windows update (which is not recommended) for one of our working computers. The "start menu isn't working" error eventually pops up and we solved it by re-enabling Windows Update.
Fix 2: Run Start Menu Troubleshooter for Windows 10
Start menu troubleshooter is a diagnostic troubleshooting wizard that scans, detects and attempts to solve the "critical error your start menu isn't working" problem.
The troubleshooter is provided by Microsoft and can be downloaded from here. Download and run the troubleshooter. Simply follow the on-screen instruction (a couple of Next clicking) to fix the problem.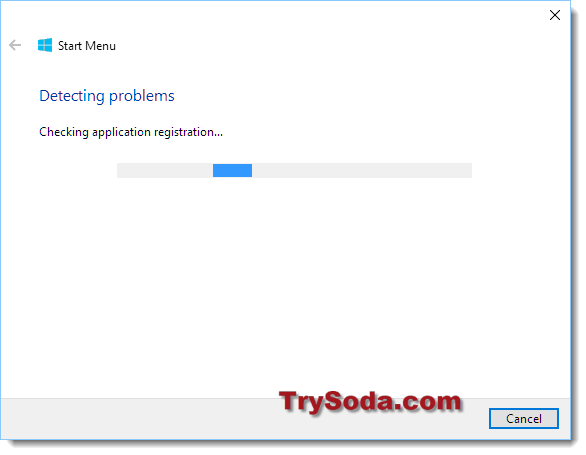 Fix 3: Temporary boot into Safe mode and back to normal mode
This error has been around for few years without an actual fix for all victims. Some still suffer this despite having the latest patches applied from Windows Update. Until today, there are still many people reporting the same exact problem in Microsoft's support forum even after applying all patches from Windows Update.
A representative from Microsoft has suggested to temporary boot your Windows 10 into safe mode and then back to normal mode. This may temporary get rid of the problem but eventually the start menu may crash and freeze again some time later. If the problem does come back, you will then have to do the workaround all over again.
To boot Windows 10 into safe mode:
Hold and press Win Key + R to open Run window.
Type msconfig and click OK.
Go to Boot tab.
Tick the "Safe boot" checkbox under boot options.
Restart your computer. It will automatically boot into safe mode.
When you are in safe mode, repeat step 1 to 3 to open msconfig.
Under Boot tab, this time, uncheck the "Safe boot" checkbox.
Restart your computer to boot into normal mode again.
Fix 3: Reinstall your antivirus software program
Some old antivirus software would interfere and cause Windows 10 interface to crash and freeze. If you are currently using an outdated antivirus software, update it to see if it solves the problem.
If it's already updated (and if you have already tried all the solutions above but to no avail), try to uninstall your antivirus software and reinstall it. Some have reported that this solved theirs.
If your problem persist, leave us a comment below and describe your situation. We will try to help.