Steam is a popular gaming platform used by millions of users from around the world. The default Steam installer which can be downloaded from Steam's official website will require internet connection to be installed and to sign into Steam. Here's what you need to know about Steam offline installer download for PC.
Though the Steam web installer should do the job just fine on most computers, some users would still look for Steam full standalone offline installer for Windows 10, Windows 7 or Windows 8 64-bit or 32-bit latest version full setup installation. This is because they want to install Steam on laptop or desktop computers that have no internet access, and to play games such as Dota 2, CS:GO, PUBG or Monster Hunter: World.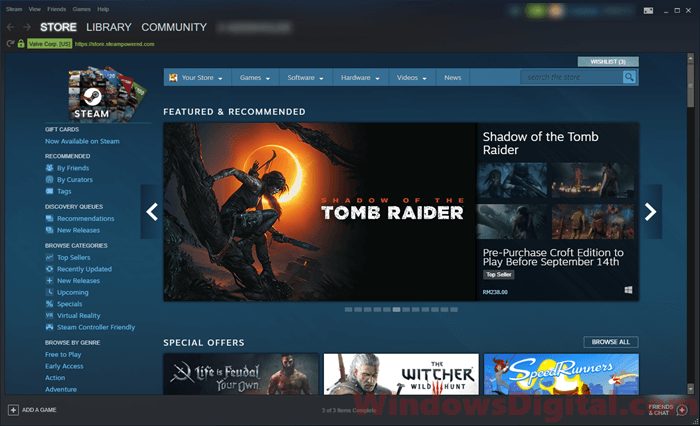 Download Steam Offline Installer
So, you want to install Steam on a computer with no internet connection, and you couldn't find a way. Is there a way to install Steam offline or download Steam offline installer for PC?
Well, the fact is, no, you cannot install Steam offline. Steam is an online gaming platform and is meant to be that way. It needs to authenticate your PC with its server when you first launch Steam on a new computer. So, there is no way to install Steam offline without connecting to the internet for at least once.
However, Steam itself when installed, can go offline. This should not be confused with Steam offline installation. That is provided your Steam client has been authenticated and that you've logged in to your Steam account for at least once, which requires internet access.
You can still install Steam offline, by using the method suggested below. But, you will have to temporarily connect to the internet when you first launch Steam to allow it to authenticate with the server for at least the first time. Otherwise, Steam won't open no matter what you try. After that, you can switch Steam to offline mode.
How to install Steam offline installer for PC
The workaround to install Steam offline is to copy the steam folder from another computer that has Steam installed, and paste the folder over to the new computer which you want to install it to. Here's how.
First, on the computer that has the working Steam installation, make sure Steam is closed by right-clicking Steam and select Exit.
Next, on your Windows 10 file explorer, navigate to your Steam folder. The default Steam directory should be in C:\Program Files\Steam. It could also be in other drive other than C: drive, depending on where it was installed.
Open the Steam folder and select everything EXCEPT the SteamApps folder. The SteamApps folder stores all the installed games and their settings. If you want a clean installation of only Steam, the folder should not be included.
Copy the selected folders to the new computer. Create a directory for C:\Program Files\Steam on the new computer and paste the folders onto it. You can transfer these files via external drive such as a USB flash drive, or transferring over your local network.
Alternatively, it's recommended that you zip all these folders first instead of just copying them directly before transferring. Zipping is better to avoid corrupted files upon transfer. You can copy the zipped file over to the new computer and unzip the files to wherever you want Steam to be installed.
How to start Steam offline mode
Now that you have the full Steam offline installation on the new computer. In order for it to work, like mentioned above, you will have to connect to the internet for the first time you start Steam for it to authenticate your new system with the server.
Once updated, sign into your Steam account. Steam will automatically detect your new computer and request an authentication code that will be sent to your Email account you've registered with Steam earlier.
Steam offline installer download from other places
As explained above, installing Steam offline is literally impossible. Every Steam offline installer from other random websites you manage to find through Google is either the default official Steam installer or a fake installer that isn't Steam. Downloading Steam installers from sites that are not trustworthy may risk installing unwanted programs or possibly malware or viruses.
Anyway, if you are looking for the default Steam setup latest version full installer 2018, you download it from here (from Steam's official site).