Since Microsoft introduces Windows 10, most software built using .NET Framework rely on the latest .NET Framework 4.5 to run. However, there are still some software that relies on .NET Framework 3.5 which doesn't come with Windows 10 or Windows 11 installation. Users will have to manually install it in order to run software programs developed using .NET 3.5. Here's how to download .NET Framework 3.5 offline installer for Windows 10/11 64-bit or 32-bit or Windows Server 2016 / 2012 R2.
Why .NET Framework 3.5 offline installer?
If you search on the web, you will most likely only get the .NET Framework 3.5 web installer. A web or online installer doesn't contain any installation files in actual. It will only start to download the core installation setup files when you run the installer.
So, if you run the setup on a computer which doesn't have internet connection, you wouldn't be able to install .NET Framework 3.5 on that PC.
In that case, you will have to instead download .NET Framework 3.5 offline installer for Windows 10/11 in order to install it on computers that doesn't have internet access. It would also be much easier to use the offline setup if you are to install it on many computers.
Download .NET Framework 3.5 Offline Installer for Windows 10/11
In most cases, downloading and installing the .NET Framework 3.5 Service Pack 1 should work to resolve any program or software issue that relies it to run.
You can download .NET Framework 3.5 offline installer from here (official download link from Microsoft.com).
When prompted for the download, click Save as or Run (to immediately open the installer). The .NET 3.5 setup download roughly weighs around 231MB.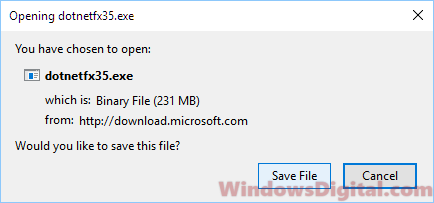 If you click Save as, once downloaded, run the dotnetfx35.exe installer from your browser's default download directory. Click Yes when UAC asks for permission to install the framework. In the setup window, click Next and follow the rest of the on-screen instructions to complete the installation.
Restart the computer after the installation is completed. Retry running the problem software again and this time it should be able to run.
In addition, the .NET Framework 3.5 offline download listed above also includes .Net Framework 2.0 and 3.0. If there is any program fails to run and asks for .NET 3.0 or 2.0, installing this .NET Framework 3.5 SP 1 should also works to fix the issue. The download also works for Windows 8, 7 and XP.
Related guide: .NET Runtime Optimization Service High CPU Usage in Windows 11/10
How to install Dot NET 3.5 on Demand
If you try to run a program that asks for .NET 3.5, you should see the Windows Features window that have the button to directly install the framework. If you see the following screen, the easiest way to download and install .NET 3.5 is by clicking on the Install this feature button.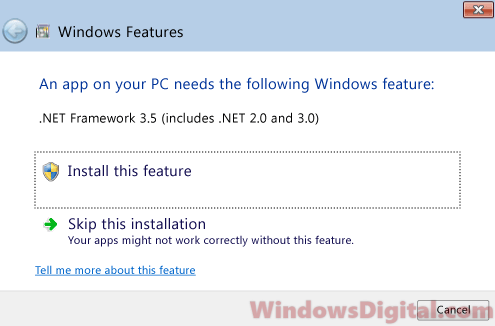 It's always recommended to download .Net Framework or any other Microsoft related software only from Microsoft official sites. Downloading else where will risk installing something that comes with preinstalled malware or virus.
Always check if a site can be trusted and that the download is from a legit and popular site before you install anything to your PC. Also, be sure to have at least one antivirus or anti-malware program installed and running active on your computer to protect you from malicious downloads and installations.