Until recently, Facebook Messenger can only be used on Facebook website through an internet browser such as Chrome, Firefox or Microsoft Edge. There was no other way to use FB messenger without the help of a browser if you're on a PC.
This has been causing an issue where people have to keep their browsers opened if they want to stay online on Facebook messenger. It has always been a challenge for most PC to keep a browser open as they are notoriously known for using up lots of RAM and CPU resources. It is especially challenging when you have something else to run simultaneously (like playing a game while keeping chrome running, you will surely have lots of lags).
Thus, to solve these issues, Facebook has recently released a standalone Facebook Messenger App for Windows 11 or Windows 10 64-bit or 32-bit PC users via Microsoft Store. As the new app barely uses any PC resources, you can keep it running in the background for as long as you want without causing lag to your games or whatever you run on your PC.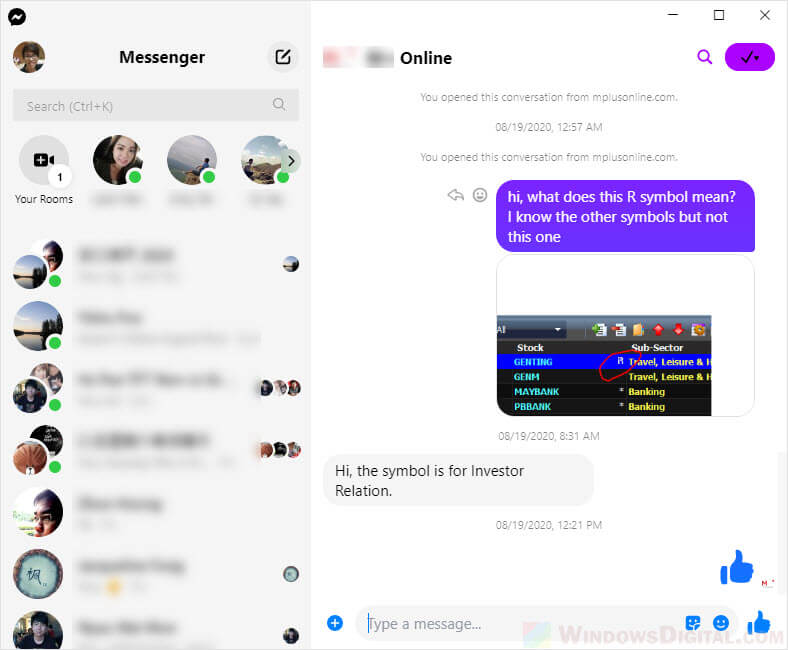 Download and Install Facebook Messenger on Windows 111/10
The official Facebook Messenger app (it's called Messenger) can only be downloaded from Microsoft Store. There is no downloadable standalone offline installer or such available for Facebook Messenger app from Facebook as of yet. You can only get it from Microsoft Store if you're on a Windows 11/10 computer. Here's how to download and install FB messenger on your Windows PC.
Step 1: On the Windows search bar or Cortana, search for and open Microsoft Store.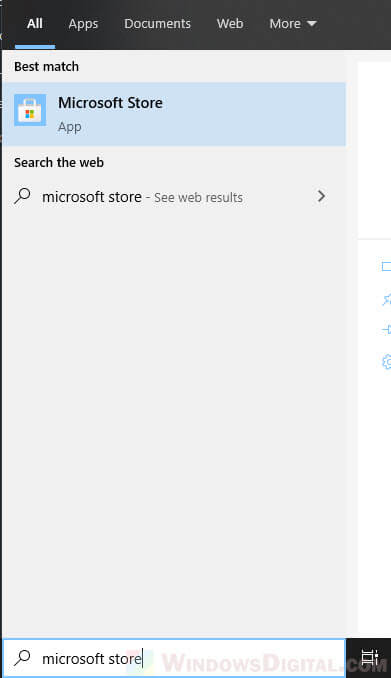 Step 2: In the Store window, click on the search icon and search for Messenger. Then, select the Messenger app from the search result.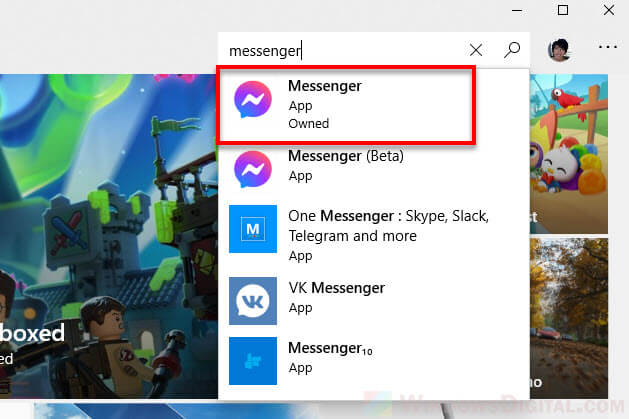 Step 3: Click on the blue Install button to start installing the Facebook Messenger app on your Windows device. Make sure the app you selected is similar to that in our screenshot below (as of 2021) and make sure it is developed by Facebook Inc. There are many other messenger apps in Microsoft Store that look like Facebook messenger but is not it.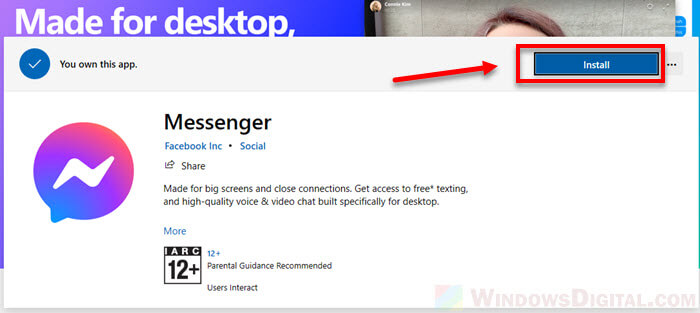 Step 4: The download and install process may take a while depending on your internet speed. Once it's completed, you can run it by clicking the Launch button.

To save you the hassles from having to find the Messenger app every time you want to run it, in the same Messenger store page, click on the triple dotted icon beside the "Launch" button, and then select Pin to Start or Pin the Taskbar (or both) based on your preference.

Once you've pinned it to, for example, the taskbar, you should then be able to launch it directly from your desktop taskbar as shown in the screenshot below.

Login to and start using Facebook Messenger App
You will be asked to sign in to your Facebook account when you launch the Messenger app for the first time. Click on Sign in with Facebook. It will then open up a browser for you to login to your Facebook account.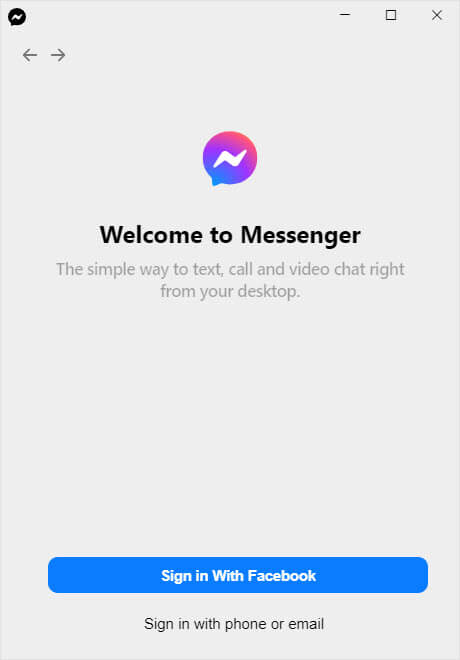 Once you've logged in, click on Open Messenger Desktop from the browser. It should then lead you back to the Messenger app with your account logged into it.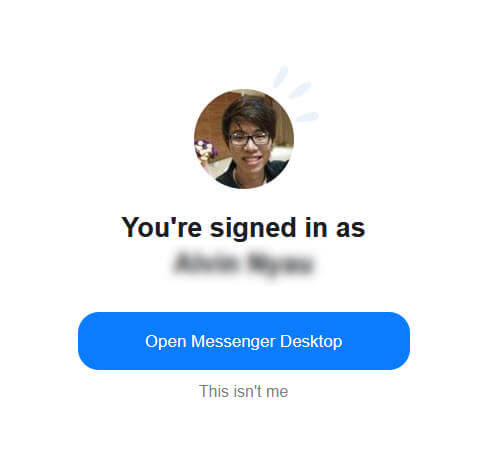 You can now start using the Messenger app to send messages, videos, pictures, voice calls, video calls or group calls like how you normally do on Facebook Messenger.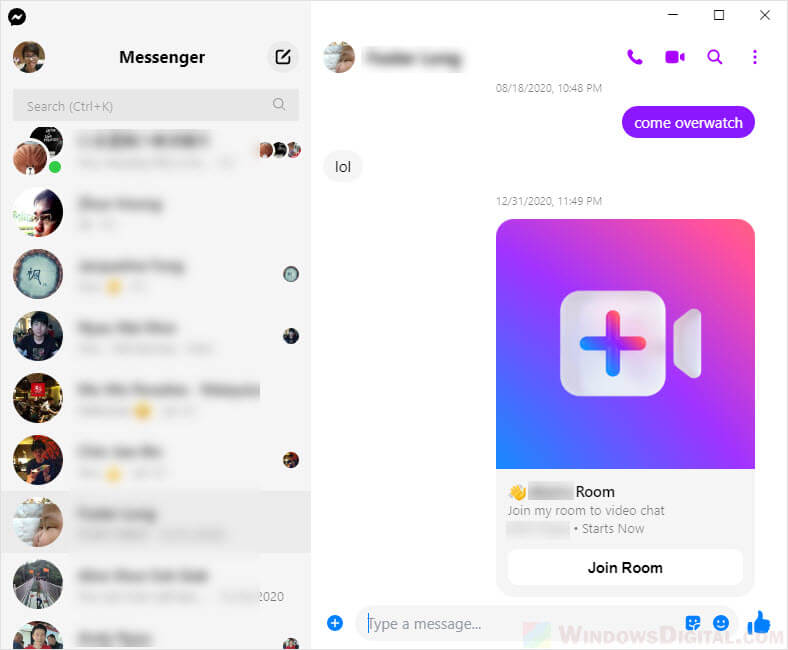 Messenger app Notifications, Languages, Account Settings
Additionally, you can configure settings such as whether to allow Messenger app to launch on startup (when you boot your Windows 10/11 PC), notifications settings such as do not disturb mode, languages settings, account settings and more from the Preferences. You can access to the Preferences by clicking on your profile icon, then select "preferences".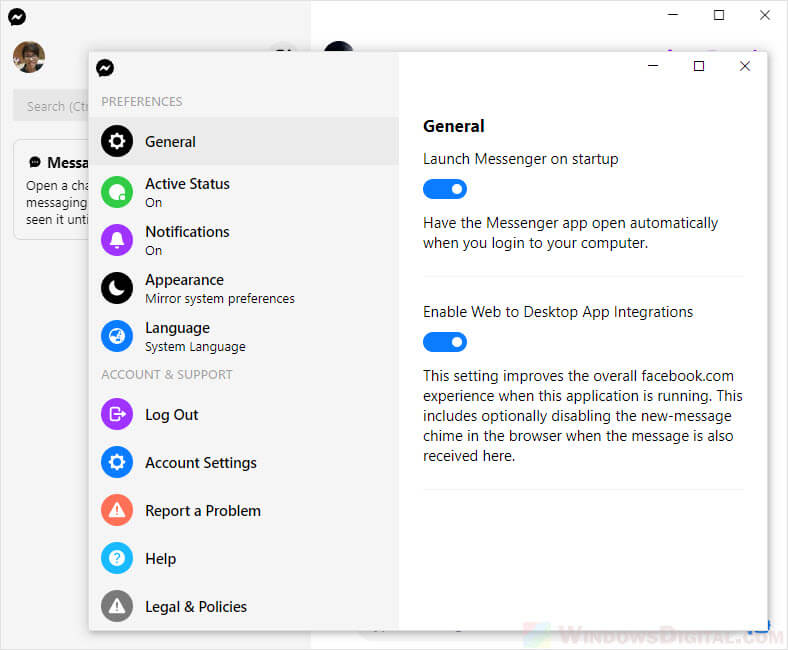 How to uninstall Facebook Messenger from Windows 11/10
If for any reason you would like to uninstall the Messenger app from your Windows PC, here's how to do it. Go to Windows search bar, search for and open Settings. Navigate to Apps > Apps & features.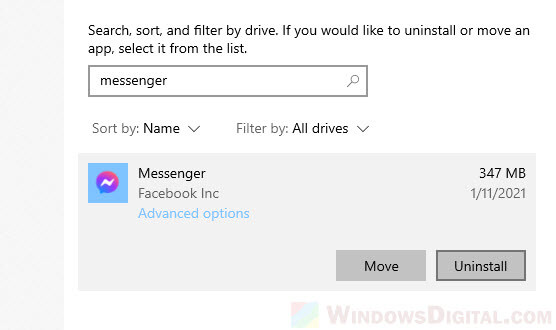 From the list of apps, search for Messenger. Select it then click Uninstall to fully uninstall Messenger app from your Windows device.